Manhattan
Borough in New York City and county in New York, United States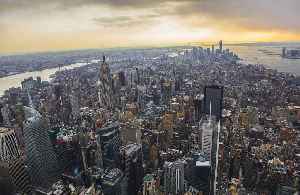 Manhattan, often referred to by residents of the New York City area as the City, is the most densely populated of the five boroughs of New York City, and coextensive with the County of New York, one of the original counties of the U.S. state of New York. Manhattan serves as the city's economic and administrative center, cultural identifier, and historical birthplace. The borough consists mostly of Manhattan Island, bounded by the Hudson, East, and Harlem rivers; as well as several small adjacent islands. Manhattan additionally contains Marble Hill, a small neighborhood now on the U.S. mainland, separated from the rest of Manhattan by the Harlem Ship Canal and later connected using landfill to the Bronx. Manhattan Island is divided into three informally bounded components, each aligned with the borough's long axis: Lower, Midtown, and Upper Manhattan.


Prosecutor can obtain Trump's tax returns, court rules

[NFA] President Trump's lawyer said Trump will appeal to the Supreme Court after a federal appeals court on Wednesday said Manhattan's district attorney can enforce a subpoena seeking Donald Trump's..
Credit: Reuters - Politics Duration: 02:05
Published
Indoor dining a step forward for NYC restaurants

Despite leading the way in controlling the coronavirus, New York City was among the slowest areas in the country to restart indoor dining - something it is now doing at just 25 percent capacity,..
Credit: Reuters - Politics Duration: 03:04
Published
Protesters in Manhattan demand more indoor dining

Hundreds of protesters marched in New York's Midtown Manhattan toward the governor's office, calling for indoor dining to be raised to at least 50% capacity. Restaurant owners also called for more..
Credit: Reuters Studio Duration: 01:33
Published
'Space bubbles' offer safety at NYC restaurant

Plastic bubbles were set up on the sidewalk next to Café du Soleil in New York City to protect customers from the spread of COVID-19 and shelter diners from cold and rain. Chris Dignam has more.
Credit: Reuters - Politics Duration: 01:58
Published
Eric Trump ordered to testify in probe before election

A New York judge on Wednesday ordered President Donald Trump's son Eric to make himself available by Oct. 7 to be interviewed under oath for a state probe into financing for properties owned by his..
Credit: Reuters - Politics Duration: 01:34
Published
Greenland ice sheet nearly double the size of Manhattan breaks off into the ocean | #TheCube

The Spalte Glacier breaking off Greenland's largest remaining ice sheet signals more bad news for climate scientists. It comes after two consecutive summers of record temperatures in the region.
Credit: euronews (in English) Duration: 02:25
Published
Couple Who Wouldn't Wear Masks Cited By Cops

A Brooklyn couple refused to wear masks on a New York City ferry Saturday night. The couple ended up kicked off the boat and cited for disorderly conduct. Gothamist has a number of videos of the..
Credit: Wochit News Duration: 00:36
Published
Jim Parsons Hosts Gay Bacchanal: 'Boys In The Band' Trailer

Audiences got a look at Netflix's starry adaptation of "The Boys in the Band" this week with the release of the film's first trailer, viewable above. Based on Mart Crowley's seminal 1968..
Credit: Wochit News Duration: 00:32
Published
Court blocks release of Trump's tax returns to DA

[NFA] A U.S. appeals court on Tuesday granted President Donald Trump's request to delay Manhattan's district attorney from accessing his tax returns in connection with a criminal probe of his business..
Credit: Reuters - Politics Duration: 01:52
Published
Mark David Chapman Denied Parole For 11th Time

Mark David Chapman has been denied parole for the 11th time. Chapman murdered John Lennon outside his Manhattan apartment in 1980. Officials said Chapman was denied after being interviewed by a parole..
Credit: Wochit News Duration: 00:32
Published
You Might Like



Trump Again Asks Supreme Court to Block Subpoena for His Tax Records

The president's personal lawyers say lower courts should not have upheld a broad subpoena by the Manhattan district attorney.




NYTimes.com - Published





Restaurant workers carry coffin to Cuomo's office

Hundreds of New York City restaurant workers and owners marched to New York Gov. Andrew Cuomo's office in Manhattan Monday to demand that restaurants be allowed a 50% indoor dining capacity. (Sept...




USATODAY.com - Published





Guess Who This Graduation Guy Turned Into!

Before this graduation guy was getting nominated for Academy Awards, he was just a scholar sweetie growing up in Manhattan, New York. This cap and tassel kid gained widespread recognition for his..




TMZ.com - Published





Macy's Thanksgiving Day Parade to be held without crowds due to coronavirus pandemic

The Macy's Thanksgiving Day Parade in Manhattan will be dramatically scaled back due to the coronavirus pandemic. This year, the parade won't go down the normal 2.5 mile route and there will be no live..




CBS News - Published





Manhattan skyline honored the victims of the WTC attacks in the 'Tribute in Light'

The lights reach up to four miles into the sky and are viewable from a 60-mile radius around lower Manhattan.




USATODAY.com - Published




Wall Street bombing: Looking back at the infamous terror attack 100 years later

Nearly a century ago on September 16, 1920, the worst terrorist attack in American history until the 9/11 terror attacks was carried out in New York City. A bomb delivered via dynamite and horse-drawn..




CBS News - Published





Light beams lit up NY skyline in 9/11 tribute

Powerful light beams lit up the lower Manhattan skyline on Friday as part of the annual Tribute in Light installation commemorating those who lost their lives on 9/11. (Sept. 11)  




USATODAY.com - Published





Nearly two decades after 9/11, sons continue father's FDNY legacy

Nineteen years after the deadliest terror attack on American soil in U.S. history, two brothers are honoring their father's sacrifice. New York City firefighter Leonard Ragaglia was killed on September..




CBS News - Published





Manhattan's Office Buildings Are Empty. But for How Long?

As they grow accustomed to working from home, many businesses are delaying signing new leases until rents drop and the pandemic passes.




NYTimes.com - Published





8/16: CBSN AM

Israel to allow Rashida Tlaib to visit country. Government relents on Michigan representative, Ilan Omar still barred after president's tweet. Police evacuate New York subway station. Suspicious..




CBS News - Published





Federal appeals court blocks release of Trump tax returns to Manhattan DA

The 2nd Circuit will hear oral arguments in the legal battle between President Trump and Manhattan District Attorney Cyrus Vance on September 25.




CBS News - Published





14 Injured in Bus Accident Near Port Authority

One person was critically hurt after a New Jersey Transit bus struck a barrier on a ramp at 39th Street and Ninth Avenue in Manhattan, the authorities said.




NYTimes.com - Published





NYC postal workers stage protest against cutbacks

Members of a postal workers union in New York gathered on the steps of a postal building in Manhattan on Tuesday to protest cutbacks to the postal service. (Aug. 25)  




USATODAY.com - Published





Manhattan DA holds off on enforcing subpoena on Trump's tax returns

Last week, a federal judge rejected Trump's latest efforts to withhold his tax returns from a Manhattan prosecutor investigating alleged hush money payments.




USATODAY.com - Published





Federal judge rejects Trump's efforts to block Manhattan DA's subpoena for tax returns

A federal judge on Thursday rejected President Donald Trump's effort to block a Manhattan prosecutor's subpoena for his tax returns, another major loss for Trump.




USATODAY.com - Published





Judge rules against Trump in tax case

A federal judge has dismissed President Trump's second attempt to block the Manhattan district attorney's subpoena to obtain his financial documents. But the legal wrangling over his tax records is..




CBS News - Published





Don't count on herd immunity for COVID-19 yet. A vaccine is the best way to get there.

Infection-acquired COVID immunity in Chelsea, Massachusetts won't do much to protect people in Chelsea, Manhattan, let alone people in Chelsea, London.




USATODAY.com - Published





Donald Trump's brother Robert Trump dies of undisclosed illness

Donald Trump's younger brother, Robert Trump, died just one day after the president visited him at New York-Presbyterian Hospital in Manhattan.




USATODAY.com - Published





Water main break floods area near Manhattan's Union Square

Several blocks flooded along Manhattan's Fifth Ave., and subway and bus service were disrupted




CBS News - Published





Increased security, cold temps for those celebrating in Times Square

About one million people are expected to pack New York City's Times Square for New Year's Eve and those celebrating in Manhattan will face bitter cold and heightened security. Elaine Quijano..




CBS News - Published





"Scariest moments of my life": Metro-North train passenger

Dennis O'Neill realized something was wrong moments before the train he was riding to Manhattan went off the rails and crashed, killing four people and injuring dozens more. O'Neill speaks with..




CBS News - Published





NYC train derailment passenger on terrifying ordeal

Dr. Joel Zaritsky was on his way to Manhattan when his train suddenly went crashing off the rails, killing four and injuring dozens more. Zaritsky recounts the frightening experience to CBS News' Don..




CBS News - Published





Gooding flaunts BLM mask as attorney speaks

Actor Cuba Gooding Jr. showed off a Black Lives Matter face mask after appearing before a judge Thursday in Manhattan. (Aug. 13)




USATODAY.com - Published




Retail Chains Abandon Manhattan: 'It's Unsustainable'

Some national chains, both retail and restaurants, are closing outlets in New York City, which are struggling more than their branches elsewhere.




NYTimes.com - Published





Canada's last intact Arctic ice shelf has collapsed

A 4,000-year-old chunk of ice larger than the size of Manhattan has collapsed into the Arctic Ocean.




CBS News - Published





Power outage hits parts of Manhattan

Con Edison said it was investigating a "problem on our transmission system that caused three networks in Manhattan to lose their electric supply."




CBS News - Published





For Sale: "Gargantuan" NYC mansion, home to Epstein horrors

The asking price for the property on Manhattan's Upper East Side is as massive as the home itself: $88 million.




CBS News - Published





Manhattan DA cites "possible criminal activity" at Trump Org in tax fight

The claim was made in a filing with the federal district court in New York City from lawyers with the Manhattan district attorney's office.




CBS News - Published





Trump investigation goes beyond hush money to alleged mistresses, Manhattan DA suggests

Manhattan District Attorney Cyrus Vance continued to fight to obtain eight years of Trump's personal and business tax records, with new documents.




USATODAY.com - Published





Protesters call for essential worker hazard pay

Protesters rallied in support of essential workers Monday, chanting and carrying signs outside the Trump International Hotel in Manhattan. The group is calling on Congress to pass the HEROES Act. (July..




USATODAY.com - Published





Personal assistant charged in tech CEO's killing

A personal assistant arrested Friday in the slaying of a 33-year-old tech entrepreneur who was found dismembered inside his luxury Manhattan condo was believed to have owed his boss a "significant..




USATODAY.com - Published




1 killed, 3 hurt in Manhattan scaffolding collapse

A person died and three others were injured Thursday after scaffolding on the outside of a Manhattan building collapsed, authorities said. (July 17)  




USATODAY.com - Published





Former Manhattan Federal Prosecutor Fired by Trump to Teach at Stanford

Geoffrey S. Berman will be a visiting professor of law at Stanford Law School.




NYTimes.com - Published





AP Top Stories July 9 P

Here's the latest for Thursday, July 9th: More than 1.3 million Americans filed for unemployment; U.S. Supreme Court rules on Trump taxes; Seoul missing mayor found dead; Black Lives Matter mural is..




USATODAY.com - Published





Pelosi on SCOTUS decision: Trump not above the law

Speaker of the House Nancy Pelosi applauded the Supreme Court's decision to uphold the Manhattan district attorney's demand for Trump's tax returns by 7-2 votes. (July 9)  




USATODAY.com - Published





Top Manhattan Prosecutor Ousted by Trump Details Firing

Geoffrey S. Berman told House investigators about a tense meeting in a luxury hotel room in which Attorney General William P. Barr pressured him to resign and he refused.




NYTimes.com - Published





Amy Cooper, white woman who called police on Black bird watcher in NYC, has been charged

Cooper is facing a misdemeanor charge of filing a false report, Manhattan's district attorney announced Monday.




USATODAY.com - Published




Black Lives Matter mural painted outside NY courts

Teams of painters and artists gathered for a second day on Thursday to paint a "Black Lives Matter" mural in the middle of a street that passes federal buildings in lower Manhattan. (July 2)  




USATODAY.com - Published





U.S. Attorney Ousted by Barr Will Testify Privately Before Congress

The interview with Geoffrey S. Berman, the former top federal prosecutor in Manhattan, is part of Democrats' inquiry into potential Justice Department politicization.




NYTimes.com - Published





Fmr SDNY: Berman firing a 'fire alarm moment'

While the standoff between Attorney General William Barr and the top federal prosecutor in Manhattan has ended, one former Assistant US Attorney is unsure the story is over. (June 22)  




USATODAY.com - Published





'Our Supreme Court did something': Iconic New York bar celebrates transgender ruling

A diverse crowd of New Yorkers wearing masks and waving the rainbow pride flag gathered on Monday at the Stonewall Inn, an iconic gay bar in Manhattan, to celebrate the Supreme Court's ruling making..




Reuters - Published





NYPD investigating after 3 officers were 'intentionally poisoned' at Shake Shack in Manhattan

The New York Police Department is investigating whether three officers were poisoned on Monday night at a Shake Shack restaurant in Manhattan.




USATODAY.com - Published




Gov. Andrew Cuomo pledges support for Christopher Columbus statue in Manhattan

Gov. Andrew Cuomo, an Italian American, said the statue has come to represent the "Italian-American legacy" in New York and the country.




USATODAY.com - Published





Cuomo expresses support for Columbus statue

Gov. Andrew Cuomo said Thursday that he supports a statue of Christopher Columbus in Manhattan. Statues of the colonizer have been targeted across the U.S. in recent days. (June 11)  




USATODAY.com - Published





Saks shields flagship New York store with razor wire, security dogs from looters

Razor wire, boarded up windows, security guards and dogs. That was the scene on Monday at the iconic Saks Fifth Avenue flagship store in Manhattan.




Reuters - Published





Stores ransacked in NYC shopping district

Early Monday morning in Manhattan's Soho neighborhood, mobs of people rampaged down the sidewalks, smashing into numerous luxury shops to steal merchandise. (June 1)  




USATODAY.com - Published





NY protest over Minneapolis man's death in custody

Demonstrators chanting "I can't breathe" and "Black lives matter" took to Manhattan's streets on Thursday in protest of the death of a black Minnesota man who died after a police officer spent minutes..




USATODAY.com - Published





Cuomo thanks essential workers on Memorial Day

Gov. Andrew Cuomo joined a private Memorial Day ceremony at the Intrepid Sea, Air & Space Museum in Manhattan, where he spoke of the sacrifices of military members and essential workers who lost their..




USATODAY.com - Published





NYC food pantry demand soars

The demand for food at a soup kitchen in Manhattan is doubling every couple of weeks. (May 20)  




USATODAY.com - Published





NYC store owner 'frustrated' by delayed stimulus

A merchant in New York City says he is still awaiting money from the federal paycheck protection program. Bijan Hedvat, who owns nine women's clothing stores in Manhattan, had to furlough his employees..




USATODAY.com - Published