Jeffrey Epstein
American financier and convicted sex offender (1953–2019)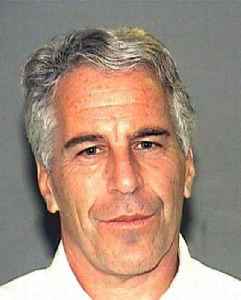 Jeffrey Edward Epstein was an American financier and convicted sex offender. He began his professional life as a teacher but then switched to the banking and finance sector in various roles, working at Bear Stearns before forming his own firm. He developed an elite social circle and procured many women, including underage girls, who were then sexually abused by Epstein and some of his contacts.


Ghislaine Maxwell can't keep Epstein testimony secret

A U.S. appeals court on Monday dealt Ghislaine Maxwell a blow by refusing to block the release of a deposition she gave concerning her relationship with the late financier and registered sex offender..
Credit: Reuters Studio Duration: 01:54
Published
You Might Like



Jeffrey Epstein's former girlfriend and associate Ghislaine Maxwell's 2016 deposition unsealed

Jeffrey Epstein's former close associate and girlfriend Ghislaine Maxwell's 2016 deposition was unsealed Thursday. The deposition was given as part of a civil suit filed by Epstein accuser Virginia..




CBS News - Published





Maxwell denies procuring underage girls for Andrew

Jeffrey Epstein's ex-girlfriend denied introducing Britain's Prince Andrew to underage sex partners in a defensive and combative deposition made public Thursday. (Oct. 22)  




USATODAY.com - Published





Epstein's ex denied seeing "inappropriate underage activities"

Jeffrey Epstein's ex-girlfriend Ghislaine Maxwell repeatedly denied hiring anyone under the age of 18 for him in newly released transcripts.




CBS News - Published





Fact check: Fauci, Gates, Epstein and Soros have no ties to drug company Moderna

A post makes several unfounded statements about George Soros, Anthony Fauci, Bill Gates and Jeffrey Epstein. We rate it false.




USATODAY.com - Published





8/20: CBSN AM

Epstein signed will 2 days before apparent suicide; plastic water bottle ban




CBS News - Published




What's next in the case against Jeffrey Epstein following his apparent suicide?

The FBI and Department of Justice have opened an investigation into the apparent suicide of Jeffrey Epstein in his New York jail cell. CBS News legal analyst Rikki Klieman joins CBSN AM to discuss the..




CBS News - Published





WorldView: Myanmar ordered to prevent Rohingya genocide and more headlines

The United Nations' top court has ordered Myanmar's military to prevent a genocide against the country's Rohingya Muslims. Ghislaine Maxwell, friend of Jeffrey Epstein, has had her phone hacked. And..




CBS News - Published





Sturgis Rally, Nagasaki anniversary, Epstein series: 5 things to know this weekend

No masks will be required as thousands flood Sturgis, Nagasaki marks the 75th anniversary of the US bombing and more news to start your weekend.




USATODAY.com - Published





For Sale: "Gargantuan" NYC mansion, home to Epstein horrors

The asking price for the property on Manhattan's Upper East Side is as massive as the home itself: $88 million.




CBS News - Published





How to talk about sexual violence allegations in high-profile cases like Jeffrey Epstein

Charges against Jeffrey Epstein and Harvey Weinstein gained worldwide attention, but some of the ways the allegations are frequently described may do even more harm to the victims. Gen by Medium senior..




CBS News - Published





President Trump Suggests Jeffrey Epstein Might've Been Killed in Jail

President Trump is doubling down on his well-wishes for alleged child sex trafficker Ghislaine Maxwell behind bars -- his reason ... Jeffrey Epstein might've been killed in there himself. DT sat for an..




TMZ.com - Published





How arrest of Jeffrey Epstein associate Ghislaine Maxwell changed Lifetime's new 'Surviving' documentary

The July arrest of Ghislaine Maxwell has impacted a Lifetime docu-series "Surviving Jeffrey Epstein" premiering over two nights beginning Sunday.




USATODAY.com - Published





Unsealed documents resurface accusations in Ghislaine Maxwell case

The judge in the case of Ghislaine Maxwell, charged with recruiting teenage girls for financier Jeffrey Epstein to sexually abuse, said Friday that her attorneys can't identify accusers.




USATODAY.com - Published





Fact check: Several celebrities are falsely linked to Jeffrey Epstein's flight logs

Theories about an elite pedophile ring tied to Jeffrey Epstein have spread across the internet, falsely accusing celebrities of involvement




USATODAY.com - Published





Epstein Mansions in New York and Palm Beach for Sale for $110 Million

Federal prosecutors said the homes were where Mr. Epstein operated a vast sex-trafficking scheme and sexually assaulted underage girls.




NYTimes.com - Published





Prince Andrew vs. the feds: Can he be forced to talk about Jeffrey Epstein, Ghislaine Maxwell?

Efforts by prosecutors to press Prince Andrew into cooperating in the Jeffrey Epstein/Ghislaine Maxwell sex-crimes case appear to be at a stalemate.




USATODAY.com - Published





Trump says of Ghislaine Maxwell, 'I wish her well'

President Donald Trump offered sympathetic words to Ghislaine Maxwell, Jeffrey Epstein's longtime companion who stands accused of facilitating the abuse of girls by the sex offender. But Trump says he..




USATODAY.com - Published





'Worried for my family': Chrissy Teigen blocks 1M Twitter accounts linking her to Jeffrey Epstein

Chrissy Teigen resorted to blocking 1M+ Twitter accounts propagating conspiracy theories linking her to convicted sex offender Jeffrey Epstein.




USATODAY.com - Published





Why the Ghislaine Maxwell case is so shocking to so many

Ghislaine Maxwell, accused of helping Jeffrey Epstein recruit, groom and sexually abuse girls, defies our stereotypes of a perpetrator, experts say.




USATODAY.com - Published




Mary Trump's tell-all book, Alabama Senate primary, Ghislaine Maxwell in court: 5 things to know Tuesday

Mary Trump's much-anticipated memoir is out, Jeffrey Epstein's longtime associate Ghislaine Maxwell is due in court and more news to start off your Tuesday.




USATODAY.com - Published





Prosecutors in Ghislaine Maxwell case say proposed $5 million bond is 'effectively meaningless'

Prosecutors in New York doubled down in their bid to keep Jeffrey Epstein associate Ghislaine Maxwell behind bars while awaiting trial.




USATODAY.com - Published





AP Top Stories July 10 5P

Here are the top stories for Friday, July 10th: Trump and Biden trade jabs on virus and economy; Trump cancels N.H. rally; Attorneys seek home confinement for Epstein associate; Hagia Sophia reverting..




USATODAY.com - Published




'Ghislaine Maxwell is not Epstein': Attorneys argue for bail ahead of detention hearing, cite COVID threat

Ghislaine Maxwell's attorneys seek bail; cite virus threat and distance socialite from Jeffrey Epstein




USATODAY.com - Published





Deutsche Bank to pay $150 million for dealings with Jeffrey Epstein, foreign banks

New York banking regulators reached a deal with Deutsche Bank to settle claims that it failed to respond to red flags with Jeffrey Epstein's accounts.




USATODAY.com - Published





Epstein associate transferred to NYC jail

Jeffrey Epstein's longtime confidante Ghislaine Maxwell has been transferred to New York City to face charges she recruited women and girls for him to sexually abuse. (July 6)  




USATODAY.com - Published





Days after Ghislaine Maxwell's arrest, Epstein accuser demands investigation into sexual battery allegation

Alicia Arden, a model, accused Jeffrey Epstein of groping her inside a hotel room during what she thought was supposed to be an interview.




USATODAY.com - Published





US DOJ: Would like Prince Andrew to talk Epstein

British socialite Ghislaine Maxwell was arrested by the FBI on Thursday on charges she helped procure underage sex partners for financier Jeffrey Epstein. (July 2)  




USATODAY.com - Published





Feds arrest Jeffrey Epstein associate Ghislaine Maxwell

Ghislaine Maxwell, the longtime associate of Jeffrey Epstein, was arrested Thursday morning as part of the continuing federal inquiry into the disgraced financier's child sex trafficking operation.




USATODAY.com - Published





U.S. prosecutors say Britain's Prince Andrew not cooperating in Epstein probe

U.S. prosecutors accused Britain's Prince Andrew on Monday of evading their efforts to question him over his contacts with the late financier Jeffrey Epstein, but lawyers for the prince accused them of..




Reuters - Published




U.S. says no extradition for Prince Andrew over Epstein case

U.S. Attorney General William Barr said on Monday there were no plans to extradite Britain's Prince Andrew to the United States for questionining in the sex crimes case involving late financier Jeffrey..




Reuters - Published




Lawyers for UK's Prince Andrew hit back at U.S. authorities over Epstein inquiry

Lawyers for Britain's Prince Andrew on Monday hit back at claims that he was not cooperating with U.S. prosecutors investigating the late financier Jeffrey Epstein, suggesting they were seeking..




Reuters - Published




UK Prince Andrew's lawyers hit back over U.S. inquiry into Epstein

Lawyers for Britain's Prince Andrew on Monday hit back at claims the royal was not cooperating with U.S. prosecutors investigating the late financier Jeffrey Epstein, suggesting they were seeking..




Reuters - Published




U.S. authorities seek to question UK's Prince Andrew over Epstein

The U.S. Department of Justice is seeking to question Britain's Prince Andrew as part of its investigation into possible co-conspirators of deceased financier and convicted sex offender Jeffrey..




Reuters - Published




Deutsche Bank faces action from NY regulators over Epstein ties: sources

Deutsche Bank could face enforcement action by New York regulators investigating its ties to the late U.S. financier and accused sex offender Jeffrey Epstein, two sources familiar with the..




Reuters - Published





Epstein estate, victims reach agreement on compensation fund

A fund to compensate victims of Jeffrey Epstein's sexual abuse may begin making payouts soon, after the deceased financier's estate, his accusers and the attorney general of the U.S. Virgin Islands..




Reuters - Published





Princess Anne talks younger generation of royals, brother Andrew's retirement after Epstein scandal

Princess Anne reflected on her brother Prince Andrew, nephew Prince Harry and niece-in-law Duchess Meghan all stepping back from the public eye.




USATODAY.com - Published





Appeals court upholds Jeffrey Epstein's non-prosecution deal

A federal appeals court on Tuesday upheld a 2007 deal between federal prosecutors and Jeffrey Epstein that allowed the financier to avoid federal sex trafficking charges, finding it did not violate his..




Reuters - Published





Harvard professor withdraws New York Times defamation lawsuit over Jeffrey Epstein story

A prominent Harvard Law School professor on Monday withdrew a lawsuit accusing The New York Times of "clickbait defamation" concerning his views toward the late financier Jeffrey Epstein, after the..




Reuters - Published





Virgin Islands at odds with Epstein estate over 'broad' liability releases

Women who say they were abused by deceased financier Jeffrey Epstein should not be required to sign broad liability waivers in order to get payouts from his estate, the attorney general of the U.S...




Reuters - Published





Facing death threats, ex-Jeffrey Epstein associate Maxwell sues his estate

Ghislaine Maxwell, the former girlfriend and longtime associate of Jeffrey Epstein, has sued the late financier's estate, seeking to recoup legal fees to defend against women's claims that she helped..




Reuters - Published





Prince Andrew 'shut the door' on Epstein probe cooperation: U.S. prosecutor

Britain's Prince Andrew has declined to cooperate with a U.S. investigation into possible co-conspirators of deceased financier and accused sex trafficker Jeffrey Epstein, a U.S. prosecutor said on..




Reuters - Published