Toronto
Provincial capital city in Ontario, Canada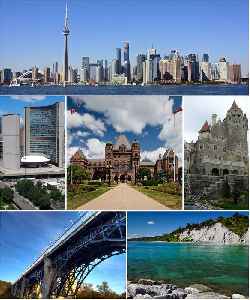 Toronto is the provincial capital of Ontario and the most populous city in Canada, with a population of 2,731,571 in 2016. Current to 2016, the Toronto census metropolitan area (CMA), of which the majority is within the Greater Toronto Area (GTA), held a population of 5,928,040, making it Canada's most populous CMA. Toronto is the anchor of an urban agglomeration, known as the Golden Horseshoe in Southern Ontario, located on the northwestern shore of Lake Ontario. A global city, Toronto is a centre of business, finance, arts, and culture, and is recognized as one of the most multicultural and cosmopolitan cities in the world.


Bruins' top line, Rask carry Boston over New Jersey, 5-1
Patrice Bergeron scored twice and reached the 30-goal mark for the fifth time as streaking Boston Bruins beat the injury-ravaged New Jersey Devils 5-1 to open a six-point lead over Toronto in the race..
USATODAY.com - Published
Rinne, Preds blank reeling Maple Leafs 3-0
Pekka Rinne shut out Toronto for the second time this season and Brian Boyle, Wayne Simmonds and Filip Forsberg scored goals to give the Nashville Predators a 3-0 win over the slumping Maple Leafs.
USATODAY.com - Published
FCA Recalls More Than 860,000 Vehicles
Automotive News reports that Fiat Chrysler Automobiles NV has recalled more than 860,000 gasoline-powered vehicles in the United States. According to the EPA, the recalled vehicles do not meet U.S...
Credit: Wochit News Duration: 00:46Published
Woman Stung By A Scorpion
According to Business Insider, "A woman was strung by a scorpion on board an Air Transat flight from Toronto to Calgary. She guessed the four-inch long critter had been on her lower back for about half..
Credit: Wochit News Duration: 00:35Published
Choose Your Avocado Based on Its Shape
Are you desperate for avocados but unsure of how to pick one out at the grocery store? What you want is a good, oblong avocado because of the pit, reports LifeHacker. In three different comparisons of..
Credit: Wochit News Duration: 00:48Published
Canadian Prime Minister heckled at political rally
Canadian Prime Minister Justin Trudeau has had his speech at a political rally interrupted by a heckler. Rough cut - no reporter narration.
Credit: Reuters Studio Duration: 00:35Published
Winter Weather Slams Both Coasts
According to Business Insider, More than 2,000 flights were canceled and another 5,000 delayed across the United States on Tuesday as winter weather bared down on wide swaths of the country. Flight..
Credit: Wochit News Duration: 00:34Published
Canadian Police Arrest Suspected Serial Killer
" Bruce McArthur, 67, was arrested by Toronto police on January 18 and has since been charged with eight counts of first-degree murder. He pleaded guilty to the eight counts for the deaths of Andrew..
Credit: Wochit News Duration: 00:55Published
Justin Trudeau Fires Canada's Ambassador To China
According to Reuters, Canadian Prime Minister Justin Trudeau has fired John McCallum, his ambassador to China. McCallum was let go over remarks he made regarding Huawei executive Meng Wanzhou's..
Credit: Wochit News Duration: 00:37Published
Search this site and the web:
You Might Like