United States courts of appeals
Post-1891 U.S. appellate circuit courts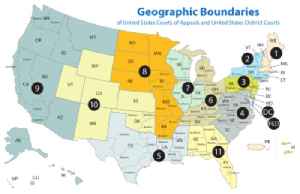 The United States courts of appeals or circuit courts are the intermediate appellate courts of the United States federal court system. A court of appeals decides appeals from the district courts within its federal judicial circuit, and in some instances from other designated federal courts and administrative agencies.


Appeals court allows U.S. to keep sending asylum seekers to Mexico
A U.S. Appeals Court ruled on Tuesday that the Trump administration could continue sending asylum seekers to wait out their cases in Mexico while the government appeals a lower court ruling that found..
Reuters - Published
Puerto Rico oversight board gets 60-day court extension for reappointments
A U.S. Appeals Court on Monday gave Puerto Rico's federally created financial oversight board another 60 days to allow for the constitutional reappointment of its members by President Donald Trump and..
Reuters - Published
Trump's Team Wants To Take Twitter Ruling To Court Again
A recent court ruling declared that President Donald Trump can't block people he doesn't like on Twitter. According to Gizmodo, Trump's team requested a rehearing with the 2nd U.S. Circuit Court..
Credit: Wochit News Duration: 00:32Published
Atheist prayers can be denied by House chaplain, appeals court rules
A federal Court of Appeals sided with Father Patrick Conroy, the House chaplain, in ruling that he could not be ordered to allow a self-described atheist to offer a secular prayer to Congress.
USATODAY.com - Published
Trump asylum policy gets temporary reprieve from Court of Appeals
The U.S. government can continue at least temporarily to send asylum seekers back to Mexico after President Donald Trump scored a rare ruling in his favor on Friday from the U.S. 9th Circuit Court of..
Reuters - Published
Trump administration seeks emergency court order to continue asylum policy
The Trump administration rushed to save its program of sending asylum seekers back to Mexico by filing an emergency motion with a U.S. Court of Appeals, asking it to block an injunction that is set to..
Reuters - Published
Court ruling in Puerto Rico bankruptcy fans revenue bond fears
A decision this week by a U.S. Appeals Court in a lawsuit related to Puerto Rico's bankruptcy raises concerns over the payment of municipal bonds backed by specific revenues during future Chapter 9..
Reuters - Published
U.S. court says immigrants can challenge quick deportations
A U.S. Appeals Court ruled on Thursday that immigrants ordered deported by U.S. authorities in a sped-up process have a right to take their case to a U.S. judge, giving them another avenue to challenge..
Reuters - Published
Immigration asylum-seekers have a constitutional right to appeal, says court
The U.S. Court of Appeals for the 9th Circuit ruled that asylum-seekers who are denied have been wrongly denied an opportunity to fully appeal.
USATODAY.com - Published
Muslim inmate executed after state denies request for inman present
The 11th U.S. Circuit Court of Appeals had stayed the execution over the religious arguments, but the U.S. Supreme Court cleared the way for it to proceed
CBS News - Published
You Might Like