Edinburgh
Capital of Scotland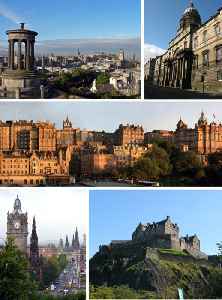 Edinburgh is the capital of Scotland and one of its 32 council areas. Historically part of the county of Midlothian, it is located in Lothian on the Firth of Forth's southern shore.


Encyclopedia Britannica: All the world at your fingertips
Two hundred and fifty years ago, in Edinburgh, Scotland, a printer, an engraver, and an editor teamed up to produce the first Encyclopedia Britannica, which contained scholarly essays and short..
CBS News - Published
A trip to a popular tourist attraction led this woman to discover she has breast cancer
Bal Gill, 41, noticed something unusual when she took a photo in the thermal camera at an Edinburgh tourist attraction.
USATODAY.com - Published
Hogmanay celebrations as Edinburgh welcomes start of 2020
Fireworks lit up the Edinburgh sky as tens of thousands welcomed the start of a new decade at Hogmanay celebrations. Auld Lang Syne rang out to begin the year 2020, sung by revellers packing the..
Credit: PA - Press Association STUDIO Duration: 00:40Published
Edinburgh Fireworks Display on New Year's Eve
Celebrations are already underway in Edinburgh, as the Scottish city prepares to see in the new year with a spectacular display of fireworks over its imposing skyline. Report by Chinnianl. Like us on..
Credit: ODN Duration: 01:45Published
Nicola Sturgeon calls for transfer of powers for 'IndyRef2'
Nicola Sturgeon has called on the UK government to negotiate a transfer of powers to Edinburgh to allow another independence referendum in a document containing her arguments and draft legislation that..
Credit: ODN Duration: 01:11Published
Nicola Sturgeon sets out SNP's post-election plans
Scottish First Minister, Nicola Sturgeon, speaks in Edinburgh of a "watershed moment" in politics. She sheds light on how she plans to secure a second independence referendum. Report by Woodsli. Like..
Credit: ODN Duration: 02:00Published
Jo Swinson gets in festive spirit with Christmas sing-along
Jo Swinson joined the residents of Manor Grange Care Home in Edinburgh for a Christmas sing-along on Thursday. The Lib Dem leader met and talked with residents and carers over a cup of tea as they..
Credit: ODN Duration: 00:59Published
UK PM Johnson booed by some people as he meets Scotland's Sturgeon
British Prime Minister Boris Johnson was booed by some members of the public as he arrived to meet Scottish First Minister Nicola Sturgeon in Edinburgh on Monday.
Reuters - Published
Search this site and the web:
You Might Like