Liverpool
City and metropolitan borough in England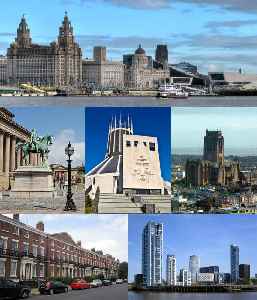 Liverpool is a city and metropolitan borough in Merseyside, England. Its population in 2019 was approximately 498,042. This makes Liverpool the tenth-largest English district by population, and the largest in Merseyside and the surrounding region. It lies within the UK's sixth-most populous urban area. Liverpool's metropolitan area is the fifth-largest in the UK with a population of 2.24 million.


Psychologist jailed for life after bludgeoning his mother to death

A sports psychologist who bludgeoned his mother to death to fund his "shamlifestyle" has been jailed for life. Robert Child, 37, inflicted a "mercilessattack" on his 64-year-old mother Janice..
Credit: PA - Press Association STUDIO Duration: 00:57
Published
Ministers and MPs criticise protesters for targeting printing presses

Protesters from Extinction Rebellion (XR) have blockaded two of NewsCorporation's major printing presses to stop a range of papers reachingnewsstands on Saturday. More than 100 protesters used..
Credit: PA - Press Association STUDIO Duration: 01:00
Published
Liverpool's Cavern Club could face closure due to Covid-19

Liverpool's famous Cavern Club, which helped launch The Beatles, is under threat of becoming another casualty of the Covid-19 pandemic - as it faces closing its doors for last time unless it gets more..
Credit: ODN Duration: 01:22
Published
Football rumours from the media

Liverpool are looking to add Greece left-back Konstantinos Tsimikas and Waleswinger David Brooks while Bournemouth's Josh King is attracting attention allover Europe in the latest Premier League..
Credit: PA - Press Association STUDIO Duration: 01:28
Published
Liverpool's Klopp wins LMA Manager of the Year award

Juergen Klopp named League Managers' Association (LMA) Manager of the Year after guiding Liverpool to their first top-flight title in 30 years.
Credit: Reuters - Sports Duration: 01:05
Published
Premier League 2019/20 in pictures

Liverpool were crowned top-flight champions for the first time in 30 years ina season which was extended by the coronavirus pandemic. Here, the PA newsagency picks out some of the best images from an..
Credit: PA - Press Association STUDIO Duration: 02:01
Published
You Might Like
On This Day: 28 February 1966
Fans occupied Liverpool's famous Cavern Club to protest its closure. (Feb. 28)  
USATODAY.com - Published
Johnson-Varadkar meeting was turning point in reaching Brexit deal: Barnier
An Oct. 10 meeting near Liverpool, England, between Irish Prime Minister Leo Varadkar and his British counterpart, Boris Johnson, was the turning point in reaching Thursday's new deal on Britain's..
Reuters - Published
British conservationists work to restore acclaimed slavery painting
Ahead of the annual remembrance day for the abolition of the slave trade, art conservationists are working to restore a rare painting of a kneeling African slave to go on display in the British port..
Reuters - Published
Anfield's next expansion may be larger than 1st planned
Next proposed expansion of Anfield may be more substantial than initially envisioned, Liverpool chief executive officer Peter Moore tells The Associated Press
USATODAY.com - Published
Almanac: Ringo Starr's birthday
79 years ago today, Richard Starkey was born in a tough neighborhood of Liverpool, England. He grew up to become known as Ringo Starr, the drummer who in 1962 joined John Lennon, Paul McCartney, and..
CBS News - Published
Search this site and the web: