Marines
Military service branch specialized in amphibious warfare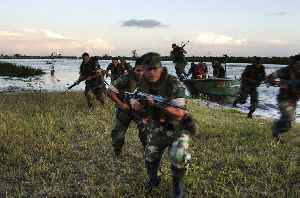 Marines, also known as naval infantry, are typically an infantry force that specializes in the support of naval and army operations at sea and on land and air, as well as the execution of their own operations. In many countries, the marines are an integral part of that state's navy. In others, it is a separate organization altogether, such as in the United States, where the Marine Corps falls under the US Department of the Navy, yet it operates independently. Marines can also fall under a country's army like the Troupes de marine and Givati Brigade.


Marine killed in Afghanistan honored with funeral procession from Delaware to New York
Firefighters from several states honored a fallen Marine and firefighter Monday by carrying his remains from the Dover Air Force Base to New York City.
USATODAY.com - Published
Marine heroically crawled to the finish line of the Boston Marathon
Micah Herndon, a Marine who was running to pay tribute to three Marines who he served alongside, had a Boston Marathon finish that won't be forgotten.
USATODAY.com - Published
Search this site and the web:
You Might Like