Rashida Tlaib
U.S. Representative for Michigan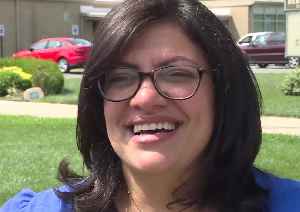 Rashida Harbi Tlaib is an American politician and lawyer serving as the U.S. Representative for Michigan's 13th congressional district since 2019. The district includes the western half of Detroit, along with several of its western suburbs and much of the Downriver area. A member of the Democratic Party, Tlaib represented the 6th and 12th districts of the Michigan House of Representatives before her election to Congress.


Tlaib Faces Hard Re-Election Bid

Rashida Tlaib is facing the fight for her political life. She is being challenged by Detroit City Council President Brenda Jones in the August 4th Primary for her House seat. Jones challenged Tlaib in..
Credit: Wochit News Duration: 00:32
Published
You Might Like



Rep. Tlaib: Inmates 'left to die' during pandemic

Rep. Rashida Tlaib, D-Michigan, is calling for the release of eligible inmates during the COVID-19 pandemic to prevent them from contracting the virus while in custody. She says mass incarceration..




USATODAY.com - Published





Rashida Tlaib apologizes for booing Clinton at Sanders rally.

"I allowed my disappointment with Secretary Clinton's latest comments about Senator Sanders and his supporters to get the best of me," said Ms. Tlaib.




NYTimes.com - Published





Rep. Rashida Tlaib boos Hillary Clinton at a Bernie Sanders event in Iowa over 'nobody likes him' comment

Rep. Rashida Tlaib, who booed Hillary Clinton at a Bernie Sanders event Friday, said she let her frustration and disappointment "get the best of me."




USATODAY.com - Published





Ayanna Pressley breaks with "Squad" to endorse Elizabeth Warren

Fellow House progressives Alexandria Ocasio-Cortez, Rashida Tlaib and Ilhan Omar have chosen to endorse Bernie Sanders




CBS News - Published





Freshman House Democrats weigh in on Rep. Tlaib's impeachment call

Reps. Max Rose of New York, Mikie Sherrill of New Jersey, Jahana Hayes of Connecticut and Colin Allred of Texas reacted Friday to their fellow freshman Democrat's call




CBS News - Published





Will Congresswoman Rashida Tlaib endorse Bernie Sanders?

Senator Bernie Sanders is set to hold a rally this weekend with Congresswoman Rashida Tlaib, but she has not yet officially endorsed him. Nina Turner, a co-chair of Sanders' campaign, joined CBSN's..




CBS News - Published





Trump impeachment T-shirts? Grow up, Rep. Tlaib. Removing a president is serious business.

If Donald Trump is her tutor on tactics, Rashida Tlaib is doing it wrong. Neither of them serve Americans well by appealing to their coarser appetites.




USATODAY.com - Published





Tlaib's campaign begins selling "Impeach the MF" T-shirts

"Together, we will fight back and protect our democracy," Tlaib tweeted with the launch of the T-shirts




CBS News - Published





Rashida Tlaib argues with pro-vaping witness during hearing: 'Are you a conspiracy theorist?'

"Are you a conspiracy theorist?" Rashida Tlaib asked the witness. "I think my politics are entirely irrelevant to this hearing," Vicki Porter replied.




USATODAY.com - Published





Rep. Rashida Tlaib's grandmother to Donald Trump: Let's talk about your peace plan

The White House will soon unveil its Middle East peace plan. A 90-year-old grandmother to Rep. Rashida Tlaib says she'd welcome President Trump to talk about it.




USATODAY.com - Published





Rep. Rashida Tlaib's grandmother has an offer for President Trump

Rep. Rashida Tlaib's 90-year-old grandmother has offered to host President Trump if and when his Israel-Palestine peace plan is put forth.




USATODAY.com - Published





Bill Maher mocks Rashida Tlaib's 'boycott': 'Some people have one move only'

Maher is firing back after the Democratic politician from Michigan suggested a potential boycott of his show.




USATODAY.com - Published





Trump: Jews who vote for Democrats show "lack of knowledge or great disloyalty"

During a wide-ranging press conference Tuesday, President Trump mentioned Representatives Rashida Tlaib and Ilhan Omar following their own press conference Monday to discuss Israel's controversial..




CBS News - Published





Rashida Tlaib and Ilhan Omar hold press conference after being barred from Israel

In a press conference on Monday, freshmen Democratic congresswomen Rashida Tlaib of Michigan and Ilhan Omar of Minnesota, addressed the Israeli government's decision to bar them from entering the..




CBS News - Published





8/19/19: Red and Blue

Rep. Omar and Tlaib address Israel controversy; Texas Democrats trying to oust Sen. Cornyn




CBS News - Published





Reps. Rashida Tlaib and Ilhan Omar address Israel travel controversy

Standing side by side, Democratic Reps. Rashida Tlaib and Ilhan Omar forcefully denounced the controversial decision by the Israeli government to deny them entry into the country, casting the travel..




CBS News - Published





After blocked visit, Tlaib gets emotional as Omar questions whether Israel is an ally

Reps. Ilhan Omar, D-Minn., and Rashida Tlaib, D-Mich., blasted both President Donald Trump and Israeli Prime Minister Benjamin Netanyahu during an emotional news conference Monday.




USATODAY.com - Published





Tlaib and Omar hold press conference about scrapped Israel trip

The Democratic lawmakers were barred from visiting Israel because of their support for boycotting the country




CBS News - Published





Politics week in review: Israel's travel ban on "Squad" members; Trump wants to buy Greenland

President Trump's battle against members of the so-called "Squad" of Democrats reached the international stage this week. On Thursday, Israel barred Reps. Rashida Tlaib and Ilhan Omar from visiting the..




CBS News - Published





"More than anything, I'm a granddaughter": Tlaib tells supporters

Irael upended diplomatic norms earlier this week by barring her and fellow freshman Congresswoman Ilhan Omar from joining a trip attended by other lawmakers




CBS News - Published





Congresswoman Tlaib speaks out on being barred from visiting Israel

Congresswoman Rashida Tlaib is speaking out for the first time about being barred from visiting Israel. She's upset she won't visit her grandmother in the West Bank. President Trump is also weighing in..




CBS News - Published





'A complete setup': Trump criticizes Tlaib for declining Israel's approval to see elderly grandmother

Citing "racist treatment" and "oppressive conditions," Rep. Rashida Tlaib, D-Mich., who is of Palestinian descent said she will not be going to the West Bank to visit her grandmother even though..




USATODAY.com - Published





Israel denying entry to members of Congress would be "damaging," former U.S. ambassador says

Israel's Prime Minister Benjamin Netanyahu moved to keep two Democratic members of Congress out of the country after pressure from President Trump. A humanitarian pass was eventually granted to..




CBS News - Published





Rep. Rashida Tlaib cancels trip to West Bank after Israel reverses ban

Congresswoman Rashida Tlaib says she will not go to Israel even though the country reversed its decision to bar her from entering. Dan Raviv, senior Washington correspondent at i24 News, joins CBSN to..




CBS News - Published





U.S. Rep. Tlaib rejects West Bank visit, citing Israel's 'oppressive conditions'

U.S. congresswoman Rashida Tlaib on Friday rejected an offer by Israel to let her travel to the West Bank, the latest twist in a dispute drawing Donald Trump and Benjamin Netanyahu together against..




Reuters - Published




Rep. Rashida Tlaib says she won't visit Israel after all

U.S. Congresswoman Rashida Tlaib has canceled plans to travel to Israel and the West Bank. Israel initially banned her before saying it would allow the trip on humanitarian grounds. CBS News' Nikole..




CBS News - Published





U.S. Rep. Tlaib refuses Israel's 'oppressive conditions' for West Bank visit

U.S. congresswoman Rashida Tlaib on Friday rejected an offer by Israel to let her travel to the West Bank, saying she would not visit her family there because the Israeli government had imposed..




Reuters - Published





Rashida Tlaib Says She Won't Visit West Bank Under Israel's Conditions

Israel said on Friday that Ms. Tlaib could visit her grandmother in the West Bank if she agreed not to "promote boycotts." Ms. Tlaib said she would cancel her trip.




NYTimes.com - Published

Also reported by •Reuters


Tlaib cancels Israel trip, citing "oppressive conditions"

"I can't allow the State of Israel to take away that light by humiliating me," Tlaib tweeted of her connections to the Palestinian people




CBS News - Published





8/16: CBSN AM

Israel to allow Rashida Tlaib to visit country. Government relents on Michigan representative, Ilan Omar still barred after president's tweet. Police evacuate New York subway station. Suspicious..




CBS News - Published





Eye Opener at 8: Israel to allow Rashida Tlaib in for humanitarian visit

A look back at what we've been covering on "CBS This Morning."




CBS News - Published





Israel says it will allow Rashida Tlaib to enter West Bank on humanitarian grounds

Israel reversed its decision to bar Democratic Rep. Rashida Tlaib from entering the country. She can see her grandmother in the West Bank.




USATODAY.com - Published





Israel will allow Rashida Tlaib to enter country but maintains ban on Ilhan Omar

Israel's government changed its mind overnight and will allow a visit from one of the two Democratic congresswomen it barred from entering the country. Rashida Tlaib will get a humanitarian pass to..




CBS News - Published





After ban, Israel permits U.S. Rep Tlaib to make humanitarian visit to family in West Bank

Israel decided on Friday to allow U.S. congresswoman Rashida Tlaib - a critic of Israeli policy toward the Palestinians - to visit family in the occupied West Bank on humanitarian grounds after barring..




Reuters - Published





Israel to let Rep. Tlaib pay humanitarian visit to grandmother

Government says day after rejecting joint trip by U.S. Democratic Reps. that Tlaib promised "not to promote boycotts" on visit to West Bank




CBS News - Published





Your Friday Briefing

Rashida Tlaib, Gamergate, Greenland: Here's what you need to know.




NYTimes.com - Published





Israel Says Rashida Tlaib Can Visit to See Her Grandmother

Israel had denied entry to two Congress members, Ms. Tlaib and Ilhan Omar, for supporting a boycott movement. The government now says Ms Tlaib can enter.




NYTimes.com - Published





Israel to allow U.S. Rep Tlaib to visit family in West Bank

Israel will allow U.S. lawmaker Rashida Tlaib to visit her family in the occupied West Bank on humanitarian grounds, the interior ministry said on Friday, after barring an official visit under pressure..




Reuters - Published





On Politics: Israel Denies Entry to Congresswomen

Israel on Thursday barred Representatives Rashida Tlaib and Ilhan Omar from visiting the Israeli-occupied West Bank, after President Trump's urging.




NYTimes.com - Published

Also reported by •CBS News


Israel blocks visit from Democratic Congresswomen who are Trump targets

President Trump's battle against the"Squad" Democrats reached the international stage on Thursday when Israeli leader, Benjamin Netanyahu, barred U.S. Reps. Rashida Tlaib of Michigan and Ilhan Omar of..




CBS News - Published





8/15/19: CBSN Evening News

Israel blocks Omar, Tlaib from entering country; Astronomers investigate flash of light




CBS News - Published





2020 Daily Trail Markers: Dems rally to Tlaib, Omar over Israel ban

Trump tweeted that the Israeli government "would show great weakness" if it allowed Reps. Ilhan Omar and Rashida Tlaib into the country




CBS News - Published





Bernie Sanders slams Israel's ban of Muslim Congresswomen Rashida Tlaib and Ilhan Omar

Vermont Senator and 2020 presidential candidate Bernie Sanders is calling out Israel for banning Muslim Democratic Congresswomen Rashida Tlaib and Ilhan Omar. Briahna Gray, national press secretary of..




CBS News - Published





Trump supports Israel's decision to ban Omar and Tlaib

President Trump defended Israel's decision to ban two members of Congress from entering the country, Democrats Rashida Tlaib and Ilhan Omar. "Face the Nation" moderator Margaret Brennan reports.




CBS News - Published





Reps. Ilhan Omar and Rashida Tlaib were barred from visiting Israel. Here's what we know

Reps. Ilhan Omar, D-Minn., and Rashida Tlaib, D-Mich., were going to travel to Jerusalem and the West Bank, among other stops, this weekend.




USATODAY.com - Published





Israel bars U.S. Democratic lawmakers Ilhan Omar and Rashida Tlaib under pressure from Trump

Prime Minister Benjamin Netanyahu on Thursday barred U.S. Democratic congresswomen Rashida Tlaib and Ilhan Omar from making a planned trip to Israel, shortly after U.S. President Donald Trump called on..




Reuters - Published




Israel bars Congresswomen Tlaib and Omar from visiting

Israel says U.S. Representatives Ilhan Omar and Rashida Tlaib will not be allowed to enter the country on a trip they had planned. The two have been outspoken supporters of Palestinian rights. Former..




CBS News - Published





U.S. House Speaker Pelosi urges Israel to reverse decision to block lawmakers' visit

U.S. House of Representatives Speaker Nancy Pelosi said on Thursday Israel's decision to block a visit to the country by Democratic congresswomen Ilhan Omar and Rashida Tlaib was "deeply disappointing"..




Reuters - Published





Israel blocks U.S. congresswomen from visiting the country

The Israeli government says it will not let U.S. Reps. Ilhan Omar and Rashida Tlaib visit the country as planned this weekend. The two Democrats, who are both Muslim, have been outspoken in support of..




CBS News - Published





Senate Democratic leader urges Israel to reverse ban on lawmakers' visit

Israeli officials should reverse their decision to block a visit by two U.S. Democratic lawmakers -- Representatives Rashida Tlaib and Ilhan Omar -- who have been critical of the country, U.S. Senate..




Reuters - Published