Brooklyn
Borough in New York City and county in New York state, United States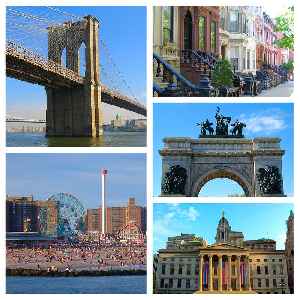 Brooklyn is a borough of New York City, coterminous with Kings County, located in the U.S. state of New York. It is the most populous county in the state, the second-most densely populated county in the United States, and New York City's most populous borough, with an estimated 2,648,403 residents in 2020. Named after the Dutch village of Breukelen, it shares a land border with the borough of Queens at the western end of Long Island. Brooklyn has several bridge and tunnel connections to the borough of Manhattan across the East River, and the Verrazzano-Narrows Bridge connects it with Staten Island.


Ghislaine Maxwell Moved To NYC Facility, Begins Quarantine

Newser reports Ghislaine Maxwell, the girlfriend of the late Jeffrey Epstein, is now in a federal detention center in New York City. However, it isn't the one where Epstein died last year. The British..
Credit: Wochit News Duration: 00:34
Published
Birthday boy nails basketball full court trick shot

College basketballer Larry Moreno goes viral with an incredible full court basketball trick shot. Video courtesy: INSTAGRAM/LCF_LARRY
Credit: Reuters - Sports Duration: 00:19
Published
'I'm black and I'm proud' -kids march in protests

Kids marching alongside parents has the littlest among us making history. This report produced by Lisa Bernhard.
Credit: Reuters Studio Duration: 00:46
Published
Trump says national guard 'cut through' protests 'like butter'

Protesters defied curfews and threats of military force on Wednesday in nationwide protests across police brutality, while President Donald Trump touted the use of the National Guard to tamp down..
Credit: Reuters Studio Duration: 02:03
Published
U.S. protesters defy curfews, threats of military force

Peaceful marches and demonstrations were marred by instances of looting and attacks on police officers as protesters decried police for the use of force against minorities. This report produced by..
Credit: Reuters Studio Duration: 02:51
Published
'Not acceptable' for police to drive into a crowd: NYC Mayor

After some criticism over his initial reaction to video of police driving into a crowd of protestors on Saturday, New York City Mayor Bill de Blasio on Monday called the incident "not acceptable" and..
Credit: Reuters Studio Duration: 01:56
Published
U.S. coronavirus deaths top 100,000 -Reuters tally

U.S. deaths from the novel coronavirus topped 100,000 on Wednesday, according to a Reuters tally. Chris Dignam has more on the ongoing battle to contain the deadly disease.
Credit: Reuters - Politics Duration: 03:47
Published
Circles promote social distancing at Brooklyn park

A park in the Williamsburg neighborhood in Brooklyn has installed social distancing circles to help people enjoy the outdoors while respecting the latest coronavirus guidelines.
Credit: Reuters Studio Duration: 00:49
Published
Andrew Cuomo Rejects Gas Pipeline In New York

New York Gov. Andrew Cuomo rejected a permit to build a controversial pipeline. The proposal was for the Northeast Supply Enhancement Pipeline, known as the Williams Pipeline. The Oklahoma company..
Credit: Wochit News Duration: 00:32
Published
You Might Like



FDNY responds to building collapse in Brooklyn, NY

A three-story building collapsed in Brooklyn, New York on Wednesday. New York City Fire Department and emergency services determined there was no one in the building at the time of the collapse. (July..




USATODAY.com - Published





ShowBiz Minute: MTV, Kardashian West, Dr Dre

Despite pandemic, MTV VMAs to take place August 30 in Brooklyn; Kim Kardashian West sells stake in beauty brand for $200M; Dr. Dre's wife of 24 years, Nicole Young, files for divorce. (June 30)  




USATODAY.com - Published





How Covid-19 Is Threatening Alaska's Wild Salmon Fishing Season

A Brooklyn winemaker travels north to Bristol Bay each summer to net the red salmon that support his family. This year he's faced with a tough ethical and economic choice.




NYTimes.com - Published





A N.Y. Street Is Named for Robert E. Lee. Officials Want That Changed.

Mayor Bill de Blasio joined two congressional lawmakers in urging the military to rename General Lee Avenue, a main street on an Army base in Brooklyn.




NYTimes.com - Published





NYC police officer charged with shoving protester

A New York City police officer who was caught on video violently shoving a woman to the ground during a Brooklyn protest over the death of George Floyd was charged Tuesday with assault and other..




USATODAY.com - Published





NYC police officer who shoved protester charged with assault

A New York City police officer who shoved a demonstrator to the ground during a protest against police brutality has been criminally charged over his alleged conduct, the Brooklyn district attorney's..




Reuters - Published





To Reach a Single A.T.M., a Line of Unemployed Stretches a Block

"It's terrible," said a woman who spent 45 minutes traveling from her Brooklyn home to the A.T.M. It took her more than two-and-a-half hours to reach the machine.




NYTimes.com - Published





Floyd's brother calls for peaceful protests

Terrence Floyd calls for peaceful non-violent protests as hundreds joined in a George Floyd memorial in Brooklyn. (June 4)  




USATODAY.com - Published





NYC mayor condemns attack on police officers

Mayor Bill de Blasio condemned an attack on police officers on anti-looting patrol in Brooklyn Wednesday as "unacceptable." Two other officers suffered gunshot wounds to the hands and all three are..




USATODAY.com - Published





One NYPD officer stabbed in neck, two shot

A New York City police officer on an anti-looting patrol was ambushed Wednesday in Brooklyn by a man who walked up behind him and stabbed him in the neck. The alleged assailant was shot, and two other..




USATODAY.com - Published





New York police say officer shot, another knifed, but unclear if protest related

New York police said an officer was shot and another knifed in the borough of Brooklyn shortly before midnight on Wednesday, but it was unclear if the attack was related to mass protests over the death..




Reuters - Published




Second man accuses Brooklyn bishop of sexual abuse

The Roman Catholic bishop of Brooklyn, already under a church investigation for alleged sex abuse, has been accused by a second man who says he was molested in the 1970s. Bishop Nicholas DiMarzio has..




USATODAY.com - Published





Suspect killed by police in Brooklyn unrelated to protests

A male suspected of shooting another male was shot dead by police in Brooklyn, New York on Tuesday in an incident that police said was not linked to mass demonstrations over the death of George Floyd..




Reuters - Published





Suspect in critical condition, one officer injured in Brooklyn shooting: police

A suspect was in critical condition, and at least one police officer was injured, after police responded to a shooting in Brooklyn, New York on Tuesday night, police said.




Reuters - Published





Five injured, including two officers, in Brooklyn police shooting: media

At least five people were injured, including two police officers, in a police shooting in Brooklyn, a local television station reported.




Reuters - Published





Inside a Huge George Floyd Protest in Brooklyn

A demonstration that began at the Barclays Center drew New Yorkers from many backgrounds. They worried that their goals were being hijacked by looting and violence.




NYTimes.com - Published





New York protesters set fires, clash with police

New York protesters angry over the death of George Floyd in Minneapolis clashed with police Saturday night in Brooklyn, setting fire to police cars and throwing bricks, rocks and fireworks at officers..




USATODAY.com - Published





NYPD arrests hundreds after violent Floyd protest

New York City Mayor Bill de Blasio says protesters and police officers will be held accountable for acts of violence at a demonstration in Brooklyn that left people bloodied and vehicles burned. (May..




USATODAY.com - Published





Police van burns in Brooklyn protest

Police van burns in Brooklyn protest  




USATODAY.com - Published





Brooklyn butcher keeps shop open during pandemic

While the COVID-19 pandemic has severely affected meat and vegetable producers, one butcher shop in New York City is making ends meet and continues to serve its customers. (May 21)  




USATODAY.com - Published





Circles enforce social distancing in NYC park

White circles keep people six feet apart at a park in Brooklyn to prevent the spread of the new coronavirus. (May 20)  




USATODAY.com - Published





Up-and-coming rapper Nick Blixky shot dead at 21 in Brooklyn, police say

Up-and-coming rapper Nick Blixky was shot and killed late Sunday in New York City. He was 21. He was planning to release his first mixtape in June.




USATODAY.com - Published





Designers put business on hold to create PPE, jobs

Two Brooklyn designers have put their businesses on hold to make personal protection equipment (PPE) for a New York City hospital and create jobs in the process. (May 8)  




USATODAY.com - Published





Brooklyn pier turned into morgue

The city has assembled a fleet of refrigerated morgue trucks on the 39th Street Pier as the city deals with thousands of dead from the coronavirus pandemic. (May 6)  




USATODAY.com - Published





During this time of pandemic fear, I see baseball through my son's eyes

Coronavirus is taking lives, jobs. But where I see masks, my 8-year-old sees his baseball glove and lives for Wiffle ball hits at Brooklyn's Prospect Park.




USATODAY.com - Published





Dozens of bodies found in trucks at NY funeral home

Police were called to a Brooklyn funeral home Wednesday after it resorted to storing dozens of bodies on ice in rented trucks. (April 30)  




USATODAY.com - Published





NYC Mayor Bill de Blasio: Bodies in trucks is 'unconscionable'

New York City Mayor Bill de Blasio is calling the actions of a funeral home in Brooklyn "unconscionable," after police found at least 50 bodies stored away on ice in rented trucks outside the business..




USATODAY.com - Published





Coronavirus Live Updates: Federal Social-Distancing Guidelines Set to Expire

The weekly jobless report is expected to add millions to unemployment rolls, increasing pressure on states to ease restrictions. Dozens of bodies were found decomposing in two trucks at a Brooklyn..




NYTimes.com - Published





NYC funeral home overwhelmed by coronavirus deaths stores bodies in moving trucks

Police were called to a Brooklyn neighborhood Wednesday after a funeral home resorted to storing dozens of bodies on ice in rented trucks.




USATODAY.com - Published




One good thing: accordion brings cheer from stoop

Paul Stein felt useless -- stuck in his Brooklyn brownstone apartment, watching his neighbors suffer deprivations as COVID-19 swept the city. He knew what he had to do. He took out his accordion. And..




USATODAY.com - Published





Jeffrey Wright helps feed healthcare workers

"Westworld" star Jeffrey Wright and local Brooklyn restaurants have teamed up to help feed New York healthcare workers and first responders on the front lines of the coronavirus pandemic. (April..




USATODAY.com - Published





Zoom Shivas and Prayer Hotlines: Ultra-Orthodox Jewish Traditions Upended by Coronavirus

Hundreds of ultra-Orthodox Jews are estimated to have died in Brooklyn. Here's how the pandemic is changing their longstanding rituals.




NYTimes.com - Published





Dog barks to cheer on health care workers in New York

Oliver the dog loves to join in with the rest of Brooklyn to cheer on health care workers during "thank you hour."




USATODAY.com - Published





Empty pews, empty collection baskets: coronavirus hits U.S. church finances

St. Anselm Roman Catholic Church in New York's Brooklyn borough is used to limping along, month after month, at a budget deficit of several thousand dollars a week.




Reuters - Published





'This is very real': from their window, New York couple sees refrigerated trucks remove bodies

A New York couple has seen the cityscape outside their Brooklyn apartment change dramatically in recent weeks, as refrigerated trucks line up in the lot below to receive the remains of COVID-19 victims..




Reuters - Published





The Last Responder: A day with an NYC undertaker

The Associated Press spent a day on the road with a Brooklyn funeral director overwhelmed by demand due to the coronavirus outbreak. (April 6)  




USATODAY.com - Published





Coronavirus-infected New York nurse finds hospital transformed as a patient

When the coronavirus struck Sylvia LeRoy, she turned to the hospital she knew best - Brooklyn's Brookdale University Hospital Medical Center - where she has worked for seven years as a labor and..




Reuters - Published





AP Top Stories March 31 P

Here's the latest for Tuesday March 31st: US death toll from coronavirus climbs past 3,500; Bodies in Brooklyn are being stored in refrigerated trucks; Trump admin. rolls back fuel standards; goats..




USATODAY.com - Published





Dead moved onto trucks outside NY hospital

Bodies were seen being moved from a Brooklyn hospital Tuesday that has been treating patients affected by the new coronavirus. (March 31)  




USATODAY.com - Published





NY design companies team up to make face masks

Two design companies have teamed up in a makeshift assembly line in Brooklyn to help meet New York's demand for face shields to protect medical professionals dealing with the coronavirus crisis. (March..




USATODAY.com - Published





Over hectic weekend, New York factories retool to make coronavirus face shields for nurses

It had never occurred to Michael Bednark to make face shields at his Brooklyn factory before last week, but by Sunday he was carrying a prototype into New York City's health department headquarters, to..




Reuters - Published





Meditation, sound immersion meet prayer in church

An Episcopal church in Brooklyn is offering a service that combines hymns and prayers with the sound of singing bowls, chimes, tuning forks and a gong. The goal is stress relief and self-examination...




USATODAY.com - Published





Sen. Chuck Schumer's threatening rhetoric to Supreme Court justices crosses a line

Schumer tried to walk it back with I'm-from-Brooklyn equivocation. As they might also say in Brooklyn, it was a day late and a dollar short: Our view




USATODAY.com - Published





A German Mine Hit and the Ship Split in Half

We were returning to our home port in Brooklyn when there was a sudden explosion. Everyone on board had to abandon ship.




NYTimes.com - Published





Women Holocaust survivors meet for meals, exercise

Women Holocaust survivors meet several times a week at a Jewish community center in Brooklyn for meals, conversation, Torah readings and exercise. "It keeps us going a little," says one survivor. (Feb...




USATODAY.com - Published





Rapper Pop Smoke killed by masked gunmen

LOS ANGELES (Variety.com) - Brooklyn rapper Pop Smoke was fatally shot Wednesday morning at a home in the Hollywood Hills, law enforcement officials confirmed to the Los Angeles Times. He was 20.




Reuters - Published





ICE officer shoots man during arrest attempt in New York

ICE officers were involved in the shooting of a man in Brooklyn during an immigration arrest. Federal authorities are investigating the case in a city whose sanctuary policies defy the government.




USATODAY.com - Published




R. Kelly's sexual abuse trial in New York delayed to July

A federal judge on Thursday delayed R. Kelly's racketeering, sexual abuse and bribery trial in Brooklyn, New York to July 7, so it would not conflict with the singer's upcoming trial in a separate..




Reuters - Published





New York Guardian Angels patrol a Jewish neighborhood on edge

On a windy January night in Brooklyn, a young Jewish woman wary of rising anti-Semitism in her city threw a man who had confronted her to the sidewalk.




Reuters - Published





LeBron James, Lakers meet Bill Clinton after game in Brooklyn

LeBron James said it was "just surreal" to speak briefly with the former president on the floor after the Lakers defeated the Nets at Barclays Center.




USATODAY.com - Published