Macy's
Department store chain in the United States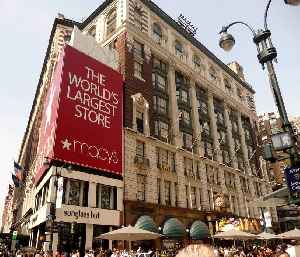 Macy's is an American department store chain founded in 1858 by Rowland Hussey Macy. It became a division of the Cincinnati-based Federated Department Stores in 1994, through which it is affiliated with the Bloomingdale's department store chain; the holding company was renamed Macy's, Inc. in 2007. As of 2015, Macy's was the largest U.S. department store company by retail sales. As of February 2019, there were 584 full-line stores with the Macy's nameplate in operation throughout the United States, Puerto Rico, and Guam. Its flagship store is located at Herald Square in the Manhattan borough of New York City. The company had 130,000 employees and earned annual revenue of $24.8 billion as of 2017.


Walmart, Macy's warn China tariffs mean higher prices for U.S. shoppers
"Increased tariffs will increase prices for customers," CFO of world's biggest retailer told Wall Street analysts.
CBS News - Published
Macy's warns more China tariffs would hit its customers
CEO Jeff Gennette's appraisal put a damper on the retailer's first-quarter results, which smashed expectations
CBS News - Published
Walmart says tariffs will boost prices for U.S. shoppers
Shoppers in the U.S. will soon face higher prices at Walmart for goods imported from China. As Fred Katayama reports, that's because President Donald Trump raised tariffs on $200 billion worth of..
Credit: Reuters Studio Duration: 01:27Published
Macy's says tariffs will dent its furniture business
Macy's CEO also said additional U.S. trade leveies on Chinese goods would leave its clothing and accessory business vulnerable. Fred Katayama reports.
Credit: Reuters Studio Duration: 01:06Published
Macy's digital transformation continues to fuel profit
Macy's topped first quarter estimates and comparable sales, reporting profit of $136 million, or 44 cents per share, beating Wall Street expectations.
USATODAY.com - Published
Different Paths for Felicity Huffman and William H. Macy in Admissions Scandal
Ms. Huffman, the Hollywood actor, was charged in the college admissions fraud scandal. Her husband, Mr. Macy, also an actor, was not charged.
NYTimes.com - Published
Search this site and the web:
You Might Like