Jamal Simmons
American journalist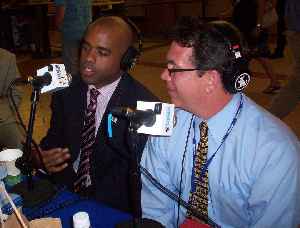 Jamal Simmons is an American political analyst and television commentator seen on MSNBC, ABC News, CBS News and CNN. Simmons graduated from Detroit's Cass Technical High School, with a Bachelor of Arts from Morehouse College and a master's degree in Public Policy from the John F. Kennedy School of Government at Harvard University.


Face The Nation: Amy Walter, Jamal Simmons, Ramesh Ponnoru
Missed the second half of the show? The latest on politics, football and campaign 2020.
CBS News - Published
Will more GOP senators go against Trump on foreign policy?
Mark Landler, Ramesh Ponnuru, Jamal Simmons and Amy Walter discuss the decision by 12 Republican senators to rebuke President Trump and what it means for 2020 Senate races.
CBS News - Published
Is there a place for Joe Biden in the 2020 Democratic field?
Ed O'Keefe, Jamal Simmons and Amy Walter join Margaret Brennan to discuss the growing Democratic field of 2020 candidates and whether or not Joe Biden will decide to run.
CBS News - Published
Full transcript: Mar. 17
Mick Mulvaney, Sen. TIm Kaine, Preet Bharara, Ed O'Keefe, Jamal Simmons, Amy Walter, Ramesh Ponnuru, Mark Landler, and James Brown appeared on this broadcast of "Face the Nation."
CBS News - Published
Search this site and the web:
You Might Like