Midwestern United States
One of the four census regions of the United States of America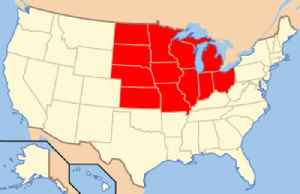 The Midwestern United States, often referred to simply as the Midwest, is one of four census regions of the United States Census Bureau. It occupies the northern central part of the United States. It was officially named the North Central Region by the Census Bureau until 1984. It is located between the Northeastern United States and the Western United States, with Canada to its north and the Southern United States to its south.


U.S. hospitals strained amid COVID-19 surge

Several U.S. states, many of them in the Midwest, reported record single-day increases in COVID-19 infections on Thursday, further evidence that the pandemic is accelerating anew as cooler weather..
Credit: Reuters Studio Duration: 01:16
Published
The US Faces 3rd And Deadliest Wave Of COVID Yet

The US has entered its third wave of coronavirus infections. New cases are spiking in the Midwest, according to reports from Business Insider. Public-health experts worry this wave could be the..
Credit: Wochit News Duration: 00:36
Published
COVID-19 cases rise to record highs in Midwest

[NFA] Wisconsin and other states in the U.S. Midwest are battling a surge in COVID-19 cases, with new infections and hospitalizations rising to record levels - a sign of a nationwide resurgence as..
Credit: Reuters - Politics Duration: 02:21
Published
COVID-19 Cases Surging In The Midwest, Western States

COVID-19 cases are on the rise again in the US, according to Business Insider. This is especially true in Midwestern and western states. Experts predict this is the start of a second wave of the..
Credit: Wochit News Duration: 00:39
Published
U.S. records over 7 million COVID-19 cases

The number of novel coronavirus cases in the United States topped 7 million - more than 20% of the world's total - as Midwest states reported spikes in COVID-19 infections in September, according to a..
Credit: Reuters - Politics Duration: 01:45
Published
U.S. COVID-19 deaths near 190,000

Cases are surging in Iowa and South Dakota, and the top U.S. infectious disease expert warned "we need to be doing much better." This report produced by Zachary Goelman.
Credit: Reuters - Politics Duration: 01:34
Published
Beachgoers seek relief as heat wave bakes California

A dangerous heat wave was baking swaths of the western United States through the weekend, and many locations in California registered record-high temperatures on Sunday. Libby Hogan reports.
Credit: Reuters - Politics Duration: 01:24
Published
Trump making Kenosha trip to 'increase love'

[NFA] GRAPHIC WARNING: Despite calls from local officials to reconsider the visit to the Midwestern city as emotions are still running high in the wake of Jacob Blake's death, President Donald Trump on..
Credit: Reuters Studio Duration: 01:55
Published
U.S. coronavirus cases top 6 million

U.S. cases of the novel coronavirus surpassed 6 million on Sunday as many states in the Midwest reported increasing infections, according to a Reuters tally. This report produced by Yahaira Jacquez.
Credit: Reuters - Politics Duration: 01:43
Published
You Might Like



October snow falls in the Midwest create winter weather advisories

Parts of South Dakota saw as much as four inches of snow.




USATODAY.com - Published





Live Updates: U.S. reports more than 60,000 new COVID-19 cases

In at least four Midwestern states — South Dakota, Iowa, Idaho and Wisconsin — an alarming 20% of recent tests are positive.




CBS News - Published





Voters speak out in the battleground state of Ohio

Until recently, Ohio was considered to be comfortably red, but a recent Biden surge has put the Midwest state in play. Tony Dokoupil's RV tour of American Crossroads makes a stop in Ohio, to find out..




CBS News - Published





Fall foliage season is here! Despite chilly weather, colors are still 'vibrant' in parts of Northeast, Midwest

Chilly weather in the Northeast and Midwest has put leaf-peeping season slightly ahead of schedule. But colors are still vibrant.  




USATODAY.com - Published





Biden pledges to make Roe v. Wade "law of the land"

Even with Roe intact, access to abortion is hanging on by a thread in states across the South and Midwest.




CBS News - Published





COVID-19 cases rise in Midwest states as Wisconsin outbreak accelerates

The coronavirus outbreak in Wisconsin continues to worsen as state leaders urge people to stay home and hospital beds fill up. Leading vaccine candidates move closer to finishing trials as some..




CBS News - Published





Midwest sees surge in coronavirus cases as U.S. deaths top 207,000

Midwest states are reporting more COVID-related deaths as well as new positive cases, prompting officials to implore residents to stay home. Meg Oliver reports.




CBS News - Published





Report shows Biden gaining ground in Midwest states

A new report from Sabato's Crystal Ball at the University of Virginia's Center for Politics shows several Midwestern states favoring Joe Biden. Kyle Kondik, managing editor of Sabato's Crystal Ball,..




CBS News - Published





Coronavirus cases surge in the U.S.

Coronavirus cases are trending upward in the U.S., which could lead to new restrictions to keep the virus under control. In the Midwest, daily cases are spiking in nearly every state. Lilia Luciano has..




CBS News - Published





Covid-19 Live Updates

A surge of infections in the Southwest and the Midwest is partly driving an uptick in cases nationally. The eight remaining members of the Supreme Court are expected to hear arguments next month via..




NYTimes.com - Published





In Final Stretch, Biden Defends Lead Against Trump's Onslaught

The president is attempting to overtake his Democratic challenger with a strategy of racial polarization in heavily white Midwestern states, even as Democrats make inroads in the Republican-leaning..




NYTimes.com - Published





3/20: CBSN AM

Historic flooding cripples Midwest; Formerly homeless student heading to dream school




CBS News - Published




Swift Storm Left Iowa in Tatters

Nearly two weeks after a destructive derecho storm swept through the Midwest, residents of eastern Iowa are still digging themselves out.




NYTimes.com - Published





Extreme heat wave hits West Coast as Midwest cleans up from derecho storm

The heat wave in the West is shattering dozens of temperature records. Meanwhile Iowa is still assessing damage from a powerful derecho. CBS News meteorologist and climate specialist Jeff Berardelli..




CBS News - Published





Democrats call on Midwest voters to unite for win

U.S. Sen. Bernie Sanders and rising stars in the liberal wing of the Democratic Party are calling on Democrats from key Midwestern states to work together to defeat President Donald Trump. (Aug...




USATODAY.com - Published





How to Help Derecho Victims in the Midwest

A week after a series of storms devastated certain areas of the Midwest, people are still in dire need of support.




NYTimes.com - Published





Michigan Governor Whitmer on her DNC speech, Democratic nominee Biden's chances in the Midwest

Michigan Governor Gretchen Whitmer joined "CBS This Morning" to discuss her speech at the Democratic National Convention, and how she sees Democratic nominee Joe Biden's chances of turning her state..




CBS News - Published





Warmer Midwest temperatures could bring powerful storm

Meteorologist Megan Glaros, of Chicago's WBBM, has the complete national forecast.




CBS News - Published





Nasty winter storm slams Midwest, heads east

A thick snowfall, blustery winds and fresh layers of ice confronted the Midwest Monday as local governments struggled to meet another winter challenge. Winter weather advisories are in effect across..




CBS News - Published





Cold paralyzes Midwest, South facing snow

Dangerous wind chills are causing schools closures, flight cancellations and slowed public transit in the Midwest. Also, winter storm warnings are in effect across a huge portion of the South. CBS News..




CBS News - Published





Bitter cold impacts millions from Midwest to Northeast

The eastern half of the county is experiencing more dangerous icy weather. CBS Minneapolis station WCCO's Nina Moini tracks the freezing temperatures.




CBS News - Published





1/19: Bitter cold returns to the Midwest; Sochi Olympics ticket sales dented by terror threat

After a relatively mild stretch of weather, cold, wintry weather is returning to areas that were hard-hit by a record cold snap less than three weeks ago; and, Ticket sales to the Sochi Olympics have..




CBS News - Published





1/6: Dangerous cold grips the Midwest; Photographer conquers waves with flippers and a camera

It's colder in Chicago than it's been in two decades, with frigid temperatures forcing schools to close and freezing up critical parts of public transport; and, Clark Little used to head into the ocean..




CBS News - Published





1/5: Dangerous cold invades upper Midwest; deadly plane crash in Aspen

As a historic cold snap grips the Midwest, the worst of the cold is affecting Minnesota and North Dakota, where wind chills of 60 below zero have been recorded; and, A small private jet carrying three..




CBS News - Published





Polar vortex brings record low temperatures

Much of the Midwest could experience some of the coldest weather it has seen in decades and forecasters say the arctic air will likely linger for a couple of days. CBS News national correspondent Dean..




CBS News - Published





Wind chill warning from Montana to Alabama

Temperatures in the Midwest could be some of the lowest in decades, and in some cities, could be the lowest temperature ever. WBBM's meteorologist Megan Glaros tracks the latest.




CBS News - Published





Bitter blast of Arctic air hits upper Midwest, Plains

Winter storm warnings posted for parts of the West and upper Midwest as heavy snowfall is expected to affect much of the area. Temperatures are expected to plunge well below normal. Meteorologist Megan..




CBS News - Published





Dozens of tornadoes tear through Midwest

Forecasters in the Midwest received at least 80 reports of tornadoes Sunday. CBS News correspondent Dean Reynolds reports from Washington, Ill., where some of the worst damage is reported.




CBS News - Published





Tornado outbreak: 80 twisters touch down in several states

The storm that tore through the Midwest is now moving past the East Coast. CBS Chicago station WBBM's meteorologist Ed Curran reports on the storm system.




CBS News - Published





Ferocious fall storm eyes the Midwest

A strong storm system that dumped more than 2 feet of snow in the higher elevations of Washington state is bringing damaging winds and severe thunderstorms. Lauren Casey of WCCO-TV in Minneapolis..




CBS News - Published





Monday's derecho damaged 10M acres of crops in Iowa; 600K still without power in Midwest

Iowa was especially hard hit, as the potent windstorm devastated the state's power grid and flattened valuable corn fields.




USATODAY.com - Published




Eye Opener: Severe storm tears through parts of Midwest

A severe storm slammed into parts of the Midwest, knocking down trees and power lines. Also, President Trump's coronavirus briefing was interrupted after Secret Service agents were involved in a..




CBS News - Published





Powerful storm leaves devastation across Midwest

A rare storm packing 100 mph winds and with power similar to an inland hurricane swept through the Midwest on Monday, blowing over trees, flipping vehicles, and causing property damage and power..




USATODAY.com - Published





AP Top Stories August 11 A

Here's the latest for Tuesday August 11th: 20 million coronavirus cases confirmed worldwide; Trump expresses willingness to do COVID relief deal with Democrats; Severe windstorm strikes Midwest;..




USATODAY.com - Published





Unusual 'Derecho' Storms Rip Through Midwest

The powerful storms, which covered hundreds of miles, brought winds exceeding 100 miles per hour to Iowa, Nebraska, Illinois and Indiana.




NYTimes.com - Published





Storm with 100 mph winds rips through Midwest

The storm caused widespread property damage and left hundreds of thousands without power.




CBS News - Published





Americans risk COVID-19 spread in push for normalcy

Midwestern states with previously low coronavirus infections are now seeing new cases surge. CBS News correspondent David Begnaud has the latest developments on the virus' spread, and Dr. Dyan Hes..




CBS News - Published





Schools Debate Closing as Students and Staff Test Positive

As schools in the South and the Midwest reopen this week, officials must decide what steps to take as staff members and students test positive.




NYTimes.com - Published





Live Coronavirus Updates: Tracking Global News, Cases and Deaths

Hard-hit Florida faces hurricane season. The virus is picking up speed in the Midwest, and in other states that thought they had already seen the worst of it.




NYTimes.com - Published





After Plummeting, the Virus Soars Back in the Midwest

States like Missouri, Illinois and Wisconsin are riding a frustrating seesaw during the pandemic, with new coronavirus cases rising again after apparent progress.




NYTimes.com - Published





Video shows Minnesota tornado, damage

Severe storms in parts of the Midwest produced at least one powerful tornado that damaged farms and killed one person and injured two others in western Minnesota. (July 9)  




USATODAY.com - Published





Remnants of Cristobal to merge with another storm, wallop upper Midwest with rain, wind

The remnants of what was Tropical Storm Cristobal walloped portions of the Midwest on Tuesday, unleashing downpours and bringing gusty winds.  




USATODAY.com - Published





Michigan governor largely rescinds lockdown, retailers to reopen

Michigan Governor Gretchen Whitmer on Monday moved to further reopen the Midwest state's economy, largely rescinding a stay-at- home order in place since March and allowing retailers and restaurants to..




Reuters - Published





Exclusive: Poll signals strengthening support for Biden over Trump in three battleground states

((This April 22 story has been corrected to remove references to Midwest in headline, paragraphs 1,7 and 10))




Reuters - Published




More U.S. states make plans to reopen; California holds firm

More states in the U.S. South and Midwest signaled readiness on Wednesday to reopen their economies in hopes the worst of the coronavirus pandemic had passed, but California's governor held firm to..




Reuters - Published





Midwest states to partner on reopening economies

Wisconsin's governor and six others in the Midwest say they'll coordinate on reopening their economies. The other states are Michigan, Ohio, Minnesota, Illinois, Indiana and Kentucky. (April 16)  




USATODAY.com - Published





U.S. Midwest governors to coordinate reopening economies battered by coronavirus

Governors of seven U.S. mostly Midwestern states on Thursday said they will work in close coordination to reopen their economies battered by efforts to contain the coronavirus, echoing similar moves..




Reuters - Published





Seven governors in U.S. Midwest to work together to reopen their economies

Governors in seven U.S. Midwest states on Thursday said they will work in close coordination to reopen their economies battered by efforts to contain the coronavirus, echoing similar moves made by 10..




Reuters - Published





U.S. Midwest exploring cooperation around reopening as coronavirus eases: Illinois officials

U.S. Midwest governors are talking about regionally cooperating to reopen their economies as the coronavirus pandemic begins to ease, echoing a similar approach being taken by states on the East and..




Reuters - Published





Holdout States Resist Calls for Stay-at-Home Orders: 'What Are You Waiting For?'

A small number of states in the Midwest and the South are under growing pressure to order all residents to stay at home to fight the coronavirus.




NYTimes.com - Published