Boeing
Aerospace and defense manufacturer in the United States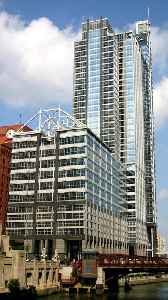 The Boeing Company is an American multinational corporation that designs, manufactures, and sells airplanes, rotorcraft, rockets, satellites, telecommunications equipment, and missiles worldwide. The company also provides leasing and product support services. Boeing is among the largest global aerospace manufacturers; it is the second-largest defense contractor in the world based on 2018 revenue, and is the largest exporter in the United States by dollar value. Boeing stock is included in the Dow Jones Industrial Average. Boeing is incorporated in Delaware.


US investigation faults Boeing, FAA for 737 Max crashes


Credit: FRANCE 24 English Duration: 02:15
Published
New Report Gives 'Disturbing Revelations' About Boeing 737 Max Crashes

On Wednesday, the U.S. House Transportation and Infrastructure Committee released a 245-page report about the deadly Boeing MAX jet crashes. The two plane crashes in 2018 and 2019 weren't a result of..
Credit: Wochit News Duration: 00:30
Published
Lawmakers blame Boeing, FAA for 737 MAX failures

Two Boeing 737 MAX crashes that killed all 346 passengers and crew aboard were the "horrific culmination" of failures by the planemaker and the Federal Aviation Administration, a U.S. House panel..
Credit: Reuters Studio Duration: 01:44
Published
How Much Is Buffett's Apple Stake Worth?

Business Insider reports that Warren Buffett's Apple position is worth more than Starbucks, Boeing, or IBM. Buffett's Berkshire Hathaway has a 5.7% stake worth $123 billion. His stake surpasses the..
Credit: Wochit News Duration: 00:29
Published
The reign of Boeing's Queen of the Skies

Boeing is winding down production of the 747 jumbo jet, which democratized global air travel in the 1970s but fell behind modern twin-engine aircraft. Megan Revell walks through the iconic jet's..
Credit: Reuters Studio Duration: 03:19
Published
You Might Like



Congressional report blasts Boeing for deadly 737 Max jet failures

A scathing new report from the House transportation committee reveals Boeing engineers and pilots warned about the potential dangers of the 737 Max jet, years before two deadly crashes that killed 346..




CBS News - Published





House panel blasts Boeing, FAA over fatal 737 Max crashes

House Transportation Committee found that both "share responsibility for the development & certification of an aircraft that was unsafe."




CBS News - Published





'Grossly insufficient': House report excoriates Boeing, FAA over mistakes that led to 737 Max crashes

The latest version of the 737 jetliner was plagued by a series of mistakes, mismanagement and deception in the certification process.




USATODAY.com - Published




Boeing's Starliner spacecraft returns to Earth after failed docking mission

Boeing's Starliner spacecraft landed safely in the New Mexico desert Sunday after a failed mission to dock with the International Space Station. The re-entry and landing was a success, and the space..




CBS News - Published





12/20: CBSN AM

Candidates look ahead to 2020 after sparring in debate; Boeing capsule successfully launches into space




CBS News - Published





NASA and Boeing make plans for second Starliner test flight

The follow-on test flight will come a full year after problems marred an initial mission




CBS News - Published





Female astronaut prepares to make her mark on history

Jeanette Epps will join Boeing's first "operational" crewed mission next year and become the first Black woman on an extended mission to the International Space Station.




CBS News - Published





NASA astronaut Jeanette Epps could become first Black woman to live on the International Space Station

NASA announced astronaut Jeanette Epps will join Sunita Williams and Josh Cassada on Boeing's Starliner-1 mission.




USATODAY.com - Published




Boeing may be tackling 737 Max's PR problem with a new name

The plane that's been grounded since figuring in two crashes may be getting a new name, a step toward solving an image problem.




USATODAY.com - Published




Boeing to stop production of 747 jumbo jet in 2022

Boeing rolled out its first 747 at its Everett, Washington, plant in 1968. The jumbo jet quickly revolutionized air travel for the world. But its days are numbered. Kris Van Cleave reports.




CBS News - Published





FAA orders emergency inspections of 2,000 Boeing 737s after engine failures post-coronavirus storage

The FAA's emergency Airworthiness Directive, sparked by concerns about dual engine failure, does not apply to the grounded Boeing 737 Max.




USATODAY.com - Published





Boeing's 737 Max Will Return to a Devastated Aviation Industry

Airlines have canceled orders for hundreds of the troubled jet because of its safety problems and the pandemic, but others are still eager to buy them.




NYTimes.com - Published





Today in History for July 15th

Highlights of this day in history: President Richard Nixon announces his breakthrough trip to China; Fashion designer Gianni Versace slain; Aerospace giant Boeing founded; Dutch painter Rembrandt born...




USATODAY.com - Published





Boeing's 737 Max is Being Readied for a Comeback. What Travelers Need to Know

The plane has been grounded since March 2019 after two deadly crashes, but could fly again by the end of the year. Answers to questions about the process.




NYTimes.com - Published





U.S. Watchdog's Report Faults Boeing's Disclosures on 737 Max Software

Boeing has completed a series of test flights, but a return to the skies will depend on more safety milestones.




NYTimes.com - Published





Transparency needed to restore trust after 737 MAX crashes: FAA chief

U.S. FAA chief Steve Dickson will tell a Senate committee at a hearing on Wednesday that transparency is key to restoring public trust in the agency and planemaker Boeing Co in the wake of fatal 737..




Reuters - Published





Taiwan eyes further U.S. arms purchases with new anti-ship missile

Taiwan plans to buy land-based Boeing-made Harpoon anti-ship missiles as part of its military modernisation efforts, its defence ministry said on Thursday, the latest purchase from the United States to..




Reuters - Published





Boeing CEO predicts coronavirus pandemic will claim a major U.S. airline. He didn't name names

Boeing CEO Dave Calhoun tells "Today" co-host Savannah Guthrie that low traffic will put pressure on airlines and that one likely won't survive.




USATODAY.com - Published





Boeing cuts 10% of work force as air travel stalls

Boeing is cutting about 10% of its work force and slowing production of planes to deal with a downturn in business that started with the grounding of its best-selling jet and has accelerated because of..




USATODAY.com - Published





Boeing, Expecting a Long Slump, Will Cut 16,000 Jobs

The company, which saw sales plunge in the first quarter, said air travel might not recover for years.




NYTimes.com - Published




Boeing employees return to work amid virus worries

Boeing is reopening factories in Washington state this week after the aircraft manufacturer was shut down by the coronavirus outbreak. The company has new measures to keep employees safe, but workers..




USATODAY.com - Published





AP Top Stories April 21 A

Here's the latest for Tuesday April 21st: President Trump says US to suspend immigration; Governors say White House must help obtain more coronavirus tests; Boeing puts thousands back to work;..




USATODAY.com - Published





German plan sees Eurofighter, F-18 mix replacing Tornado: source

A German procurement proposal to replace Germany's aging fleet of Tornado fighter jets foresees the purchase of up to 93 Eurofighters, and up to 45 F-18s from Boeing, a German Defense Ministry source..




Reuters - Published





Boeing to Restart Production in Washington State With 27,000 Workers

The aerospace giant said employees in the Puget Sound area would begin manufacturing commercial planes at the end of next week.




NYTimes.com - Published





Boeing's Problems Predate the Virus. Should the U.S. Come to Its Rescue?

The nation's largest aerospace company is in discussions about three different federal aid programs amid confusion created by its new chief executive about its intentions.




NYTimes.com - Published





Take Government Aid? We'll See, Some Businesses Say

Executives at Boeing, for one, have indicated that they might not accept money authorized by the stimulus if they dislike the terms.




NYTimes.com - Published





Why Boeing might not need a bailout despite coronavirus, 737 Max crises

Boeing could get up to $17 billion from the federal government's $2 trillion stimulus package to shore up its operations. But is it necessary?




USATODAY.com - Published





Exclusive: Japan favors home-grown design for next-generation fighter after rejecting foreign plans: sources

Japan wants to develop a stealth fighter domestically, rejecting designs from Lockheed Martin Corp and Boeing Co in the United States and Britain's BAE Systems PLC, three sources with knowledge of the..




Reuters - Published





Fine Print of Stimulus Bill Contains Special Deals for Industries

Small banks, retailers and for-profit colleges got provisions they wanted. So did Boeing. Among those who could potentially benefit: President Trump's company.




NYTimes.com - Published





Boeing to temporarily shut down Puget Sound operations amid coronavirus pandemic

Boeing is temporarily shutting down its Puget Sound sites in the state of Washington as the aircraft maker grapples with the coronavirus pandemic.




USATODAY.com - Published





Boeing worker at Everett plant dies from coronavirus: Seattle Times

A worker at Boeing Co's Everett factory outside Seattle who had the coronavirus has died, the Seattle Times reported on Sunday, citing co-workers, a union official and a Facebook post by the man's..




Reuters - Published





Former UN ambassador Nikki Haley resigns from Boeing board over company's bailout request

Nikki Haley, formerly the governor of South Carolina and US ambassador to the UN, has resigned from Boeing's board over the company's bailout request




USATODAY.com - Published





Boeing Said to Add Another Fix to 737 Max to Appease Regulators

The wire bundles were so close together that, in rare circumstances, they could cause a short circuit and lead to a catastrophic failure.




NYTimes.com - Published





Boeing says employee tests positive for coronavirus

Boeing Co said late on Monday an employee at its Everett facility in Washington state has tested positive for the coronavirus and has now been quarantined.




Reuters - Published





Ethiopia Airlines crash report focuses on Boeing's faulty systems

Ethiopian investigators singled out faulty systems on a Boeing 737 MAX plane in an interim report on last year's Ethiopian Airlines crash that killed 157 people, piling pressure on the U.S. jetmaker on..




Reuters - Published





Ethiopia says faulty sensor reading preceded Boeing crash

A faulty sensor reading and the activation of an anti-stall system on a Boeing 737 MAX preceded the crash of an Ethiopian Airlines flight in 2019 that killed 157 people, an interim report by the..




Reuters - Published





Ethiopian draft report blames Boeing for 737 MAX plane crash: sources

A draft interim report from Ethiopian crash investigators circulated to U.S. government agencies concludes the March 2019 crash of a Boeing Co 737 MAX was caused by the plane's design, two people..




Reuters - Published





Ethiopian investigators set to blame Boeing for plane crash: Bloomberg News

Ethiopian crash investigators have tentatively concluded that the crash of a Boeing Co 737 MAX last year was caused by the plane's design, Bloomberg News reported on Friday, citing a draft report being..




Reuters - Published





'It's More Than I Imagined': Boeing's New C.E.O. Confronts Its Challenges

In a candid interview, David Calhoun largely laid the blame for the company's 737 Max crisis on his predecessor.




NYTimes.com - Published





Federal Prosecutors Investigating Whether Boeing Pilot Knowingly Lied to F.A.A.

In questions before a grand jury, prosecutors have focused on whether a top pilot misled regulators about new flight control software in the 737 Max plane.




NYTimes.com - Published





Boeing, to Fend Off Sanctions, Backs Ending State Tax Breaks

Washington State is expected to approve legislation removing what the World Trade Organization says are unfair subsidies.




NYTimes.com - Published





Boeing's Starliner spacecraft under extra scrutiny in wake of 737 Max crashes

The spacecraft failed to reach the International Space Station during a pivotal test flight in December. Boeing cited a software glitch.  




USATODAY.com - Published





U.S. Transportation Dept. IG to audit FAA pilot training requirements after Boeing 737 MAX crashes

The U.S. Transportation Department's Office of Inspector General said on Monday it will audit Federal Aviation Administration pilot training requirements for U.S. and foreign air carriers after two..




Reuters - Published




What Needs to Happen to Get Boeing's 737 Max Flying Again?

The plane could be back in the air relatively soon, but the company, regulators and airlines must do several things first.




NYTimes.com - Published





Boeing plane makes hard landing in northwest Russia, all 94 on board safe

A Boeing 737 airliner with 94 people on board made a hard landing in northwestern Russia on Sunday, carrier UTair said, but no one was badly hurt.




Reuters - Published




Boeing Refuses to Cooperate With New Inquiry into Deadly Crash

Dutch lawmakers are reviewing an investigation into a 2009 accident with striking parallels to the recent 737 Max crashes. American safety officials have also declined to participate.




NYTimes.com - Published





What's next for the 737 MAX – and Boeing

Graphics: How the 737 MAX 8 became the poster child for corporate error




USATODAY.com - Published





Lawsuit against Boeing alleges 'dirty little secret' on flight: Contaminated air

Flight attendants filed a lawsuit this week against Boeing, alleging contaminated air made it onto a flight and left passengers and flight crew sick.




USATODAY.com - Published