Kansas
State in the United States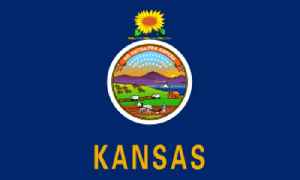 Kansas is a U.S. state in the Midwestern United States. Its capital is Topeka and its largest city is Wichita. Kansas is bordered by Nebraska to the north; Missouri to the east; Oklahoma to the south; and Colorado to the west. Kansas is named after the Kansas River, which in turn was named after the Kansa Native Americans who lived along its banks. The tribe's name is often said to mean "people of the (south) wind" although this was probably not the term's original meaning. For thousands of years, what is now Kansas was home to numerous and diverse Native American tribes. Tribes in the eastern part of the state generally lived in villages along the river valleys. Tribes in the western part of the state were semi-nomadic and hunted large herds of bison.


U.S. states see record rises in COVID-19 cases

Nine U.S. states have reported record increases in COVID-19 cases over the last seven days, as colder weather arrives. This report produced by Chris Dignam.
Credit: Reuters - Politics Duration: 01:46
Published
You Might Like



Kansas county draws backlash after $350K in COVID relief money goes to soccer complex

The Overland Park city council plans to use funds from the federal CARES Act to purchase video cameras to stream local soccer games on the internet.




USATODAY.com - Published





Trump Holds Small Lead in Conservative Kansas, Poll Shows

President Trump won Kansas by more than 20 points, but he leads Joe Biden by only seven in a Times/Siena College poll. The Republican Senate candidate leads his Democratic rival by an even smaller..




NYTimes.com - Published





Coronavirus kills 10 in Kansas nursing home

Ten residents of a nursing home in northwest Kansas have died from the coronavirus, health officials said. All 62 residents of the Andbe Home in Norton County as well as an unspecified number of..




USATODAY.com - Published





AP Top Stories October 21 A

Here's the latest for Wednesday October 21st: CDC says 300,000 more deaths than usual in US during pandemic; Trump says US is crushing the coronavirus; Pelosi says COVID aid talks progressing; Virus..




USATODAY.com - Published




All 62 residents at Kansas nursing home have COVID, 10 have died

Department of health in hard-hit Norton County, Kansas, says an unspecified number of staff at the Andbe Home also have the disease.




CBS News - Published





New England-Kansas game postponed after positive COVID-19 tests

CBS Sports confirmed Newton was added to the Reserve/COVID-19 list and would not play.




CBS News - Published





FBI opens civil rights investigation into fatal 2018 police shooting of Kansas teenager

Police shot and killed John Albers, 17, in January 2018 after the teen's friends called 911 to report he was making suicidal comments.




USATODAY.com - Published




Guess Who This Snoozin' Sweetie Turned Into!

Before this sleeping sweetheart was an integral member of a funny famous family, he was just another cute kid catching some z's in Kansas City, Kansas. This snoozing toddler is known for his silly..




TMZ.com - Published





Kansas woman uncovers long-lost WWII medals in her house, gives vet 'a trip down memory lane'

"Oh gosh," Crosby Powell, a 96-year-old WWII veteran, said when he saw the box of artifacts. "Where did you find those?"




USATODAY.com - Published




Covid-19 News: Live Updates

Canada reported no deaths linked to Covid-19 in a 24-hour period. But officials in Kansas reported 21 new deaths, a single-day record for the state.




NYTimes.com - Published





12/18: CBSN AM

Full House to begin vote on impeachment; Ducks in Kansas unhappy about winter weather




CBS News - Published




Roger Marshall bests Kris Kobach in Kansas GOP race, plus other key takeaways from Tuesday's primaries

Michigan, Arizona, Kansas, Missouri and Washington all held primaries Tuesday. And the results are still slowly coming in.




USATODAY.com - Published





Primary Election Voters Start a Virus-Era Wait for Results

In states including Michigan, Missouri and Kansas, mail voting was put to the test as some of both parties' fiercest advocates for their bases competed for the House and Senate.




NYTimes.com - Published





Two-year-old hears for the first time after cochlear implants

A little girl from Kansas finally got to experience something most of us take for granted. Janet Shamlian has the story. 




CBS News - Published




Kansas Republicans in tight race in Senate primary

The Senate primary race in Kansas is crucial as the Republican Party tries to maintain its slim majority. Kansas City Star Washington correspondent Bryan Lowry joins CBSN's "Red and Blue" to discuss..




CBS News - Published





Five states holding primaries August 4

A crowded Republican Senate primary in Kansas. A "Squad" member facing a rematch. Another chance for a candidate to unseat a longtime Democratic incumbent by running to the left. These are some of the..




CBS News - Published





What to watch for in the August 4 Congressional primaries

A crowded Republican Senate primary in Kansas. A "Squad" member facing a rematch. Another chance for a candidate to unseat a longtime Democratic incumbent by running to the left.




CBS News - Published





Will Tlaib take her primary? Who will win the Kansas GOP Senate race? What to watch for Tuesday's election

Rep. Rashida Tlaib is facing a primary challenger and other races to watch during Tuesday's primary.




USATODAY.com - Published





Today's Primary Elections: What to Watch For

Kris Kobach is competing in a Senate primary in Kansas that has Republicans nervous, and Rashida Tlaib is hoping to hang on against a Democratic challenger in a Michigan House race.




NYTimes.com - Published





Kansas Senate Primary Has Arrived, and the Anxiety Over Kobach Is High

Republicans worry that if Kris Kobach, a polarizing figure in the state, wins the nomination, it would pave the way for Democrats to capture the seat and perhaps gain control of the Senate.




NYTimes.com - Published





Settlement overshadows anniversary of football player Braeden Bradforth's death

Two years after football player Braeden Bradforth died of exertional heatstroke at a Kansas junior college, his mother continues to fight for change.




USATODAY.com - Published





Republicans and White House at Odds Over Kansas Senate Race

Some in the G.O.P. want President Trump to endorse the opponent of Kris Kobach, who they worry could cost them a traditionally safe Senate seat. So far, the White House has declined to do so.




NYTimes.com - Published





States Issue Warnings About Seed Packets From China

Agriculture officials in Louisiana, Kansas, Virginia and Washington State are urging residents not to plant the seeds, which were mailed in pouches featuring Chinese characters.




NYTimes.com - Published





Representative Steve Watkins of Kansas Is Charged With Voter Fraud

Three felony charges were filed against Steve Watkins, a Republican, shortly before he appeared in a televised debate ahead of the state's primary election.




NYTimes.com - Published





Kansas Congressman Steve Watkins charged with felonies in voter registration case

The charges are linked to the 2019 municipal election, in which Watkins voted but was not a candidate, according to authorities.




USATODAY.com - Published




Kansas Governor Criticizes G.O.P. Official's Cartoon Comparing Mask Order to Holocaust

The cartoon, which shows Gov. Laura Kelly wearing a Star of David mask as people are loaded into a cattle car, was posted Friday on the Facebook page of a newspaper owned by a Republican county..




NYTimes.com - Published





What states require face masks in public? Kansas, Texas join growing list of states where it's mandatory

As COVID-19 cases rise in at least 40 states, many governors are instituting or renewing orders requiring people to wear face masks in public.




USATODAY.com - Published





'That thing is definitely cooking': Tornado touches down in Kismet, Kansas

A tornado formed near Kismet, Kansas, on July 1, with the National Weather Service confirming the funnel hit the ground.




USATODAY.com - Published





Coronavirus updates: New Jersey bans smoking, drinking at casinos; Oregon, Kansas to require face masks; IRS won't extend tax deadline

New Jersey halts indoor dining, bans smoking and drinking at casinos. Oregon, Kansas will require face masks this week. Latest coronavirus news.




USATODAY.com - Published




Kris Kobach Is Back, and a Kansas Senate Seat May Be Up for Grabs

Mr. Kobach's polarizing presence in a race in a reliably Republican stronghold has party leaders worried that Kansas will become a high-stakes battleground for control of the Senate.




NYTimes.com - Published





Shooting on Bridge Is Stopped by Soldier Who Drove Into Gunman, Kansas Police Say

The soldier, who is assigned to Fort Leavenworth, drove his car into a man who was firing "randomly" at drivers on a bridge between Kansas and Missouri, the police said.




NYTimes.com - Published





Pompeo Quietly Visits Conservative Donors and Political Figures on Official Trips

The meetings, often kept off his public schedule, have taken place as Mike Pompeo nurtures plans for a presidential bid in 2024 and as he considered a run for the Senate from Kansas.




NYTimes.com - Published





Kansas farmer who donated a mask to Gov. Cuomo gets his own gift: A college degree

Dennis Ruhnke received plaudits from around the country for sending a mask to New York Gov. Andrew Cuomo. Now, he received a gift of his own.




USATODAY.com - Published




Shootout leaves officer, suspect dead in Kansas

A Kansas police officer and a hit-and-run suspect both died after a shootout in a Kansas City suburb. Overland Park Police say Officer Mike Mosher was a 15-year veteran of the department. (May 4)  




USATODAY.com - Published





Kansas, Missouri renew Border War with four-game football set

Kansas and Missouri are resuming their bitter Border War in football after the former Big 12 rivals agreed to a four-game series beginning in 2025.




USATODAY.com - Published





A retired Kansas farmer had an extra N95 mask. He sent it to New York Gov. Cuomo.

A Kansas farmer whose letter captured the attention of New York Gov. Andrew Cuomo discusses why he sent an N95 mask.  




USATODAY.com - Published





Midwest Mayors Debated When to Reopen In a Frank Call

A sometimes tense conference call among Missouri and Kansas leaders provided a rare look at how discussions about lifting coronavirus restrictions are unfolding nationwide.




NYTimes.com - Published





Democrats Show Fund-Raising Energy in Key Senate Races

In contests in Kentucky, South Carolina, Kansas, Maine, Colorado and Arizona, Democratic candidates raised more money in the first quarter of 2020 than their Republican opponents.




NYTimes.com - Published





Kansas' high court weighs on religious services

An attorney for Kansas Gov. Laura Kelly told the state Supreme Court on Saturday that a Republican-dominated legislative panel exceeded its authority when it overturned the Democratic governor's..




USATODAY.com - Published





This is the NCAA national title game we all deserved

The 2020 college basketball season will be marked with an asterisk. But we bring you what could've been an epic title game between Dayton and Kansas.




USATODAY.com - Published





U.S. Supreme Court lets states bar insanity defense

The U.S. Supreme Court on Monday limited the rights of criminal defendants, declaring that states can bar them from using the so-called insanity defense in a ruling involving a Kansas man sentenced to..




Reuters - Published





Coronavirus updates: US death toll reaches 114 as Kansas cancels in-person classes for entire school year

As the economic impact of coronavirus grows, Americans settle into an eerie new normal that involves staying inside indefinitely.




USATODAY.com - Published




Kansas school buildings ordered closed statewide for remainder of academic year

Kansas Governor Laura Kelly on Tuesday ordered all public and private schools from kindergarten through 12th grade closed to classroom instruction statewide for the remainder of the academic year due..




Reuters - Published





Kansas finishes No. 1 in final USA TODAY Sports men's basketball poll

This is no NCAA tournament this year, but Kansas did finish No. 1 in the USA TODAY men's basketball poll ahead of Gonzaga, Dayton and Baylor.




USATODAY.com - Published





Kansas man who requested trial by sword fight for custody dispute ordered to take sanity test

The man who challenged his Iowa ex-wife to a trial by sword fight must also undergo a psychological evaluation.




USATODAY.com - Published