Detroit
Largest city in Michigan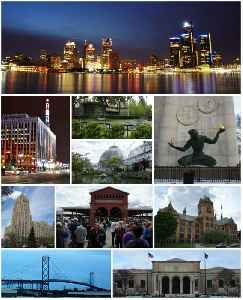 Detroit is the largest and most populous city in the U.S. state of Michigan, the largest U.S. city on the United States–Canada border, and the seat of Wayne County. The municipality of Detroit had a 2019 estimated population of 670,031, making it the 24th-most populous city in the United States. The metropolitan area, known as Metro Detroit, is home to 4.3 million people, making it the second-largest in the Midwest after the Chicago metropolitan area, and 14th largest in the United States. Regarded as a major cultural center, Detroit is known for its contributions to music and as a repository for art, architecture and design.


Biden slams Trump in Michigan on virus, offshoring

[NFA] Democratic presidential nominee Joe Biden accused President Donald Trump on Wednesday of betraying the American people, saying he knowingly lied about the deadliness of the novel coronavirus in..
Credit: Reuters - Politics Duration: 01:55
Published
New data predicts 300,000 U.S. deaths by Dec

Nearly 300,000 Americans could be dead from COVID-19 by Dec. 1, University of Washington health experts forecast on Thursday, although they said 70,000 lives could be saved if people were scrupulous..
Credit: Reuters - Politics Duration: 01:52
Published
Health experts warn U.S. cities of 'trouble ahead'

White House health experts are warning of a slow rise in the percentage of people testing positive for coronavirus in U.S. cities such as Boston, Chicago, Detroit and Washington and urged local leaders..
Credit: Reuters - Politics Duration: 02:19
Published
Suspect Arrested In Case Of Murdered Michigan Pro Poker Player

Police have arrested a man in connection with the death of professional poker player Susie Zhao. Newser reports Zhao's body was found badly burned on July 13th, near the Pontiac Lake Recreation Area..
Credit: Wochit News Duration: 00:36
Published
Rookie cop seeks change from within

[NFA] A look at one rookie police officer from Detroit, and a student advocate from New York City, who vow to change policing from within. Gavino Garay has the story.
Credit: Reuters Studio Duration: 03:39
Published
Huge crowd confronts federal cops in Portland

[NFA] Federal law enforcement in military fatigues fired tear gas to disperse protesters in the streets of Portland, Oregon, which local news described as the largest demonstration in over 50 nights of..
Credit: Reuters - Politics Duration: 01:43
Published
You Might Like



A Desperate Bid for Survival as Fire Closed In on an Oregon Mountain Town

After wildfires left them trapped on the shores of a reservoir near Detroit, Ore., dozens of people and nine firefighters mounted a last stand, hoping for a miracle.




NYTimes.com - Published





Pot smell is proliferating in cars. Here's how some car dealers are working to get the weed odor out

Since Michigan legalized the recreational use of pot, Detroit car dealers say they are noticing more trade-ins and cars they service smell like weed.




USATODAY.com - Published





Big Sean says new album 'Detroit 2' is a salute to his city's 'undeniable soul,' with aim to inspire

Big Sean's long-awaited album, reworked during the pandemic, pays tribute to Detroit with guests such as Eminem, Stevie Wonder and Dave Chappelle.




USATODAY.com - Published





What gambling looks like in a pandemic

Casinos in Detroit opened again in August, but they're operating at 15% capacity, and revenues have dropped precipitously.




CBS News - Published





AP Top Stories Aug. 31 P

Here are the top stories for Monday, August 31st: Trump won't meet with Jacob Blake family during Kenosha visit; Biden says Trump foments division; First flight from Israel to UAE; Detroit holds..




USATODAY.com - Published





Detroit honors virus victims with public memorial

The city turned an island park into an extraordinary memorial garden Monday as cars packed with families slowly passed hundreds of photos of Detroit residents who died from COVID-19. (Aug. 31)  




USATODAY.com - Published





Detroit displays faces of COVID-19 victims in public memorial

The photos line a bridge where on Monday, 15 funeral processions will be driving past to pay tribute to the 1,500 who died.




CBS News - Published





Michigan pays tribute to coronavirus victims

There was a powerful sight in Detroit over the weekend where more than 900 faces of those killed by COVID-19 were displayed on billboards for a citywide public memorial. This comes as other states..




CBS News - Published





Deceptive robocalls try to frighten Detroit residents about voting by mail.

The calls suggest that voting-by-mail exposes personal information, a lie, in what officials said was an apparent effort to suppress vote




NYTimes.com - Published





Rare phenomenon could explain why this Michigan woman was mistakenly believed to be dead

Timesha Beauchamp, who was mistakenly determined dead and later found alive at a Detroit funeral home, could be a case of Lazarus syndrome.




USATODAY.com - Published




20-Year-Old Woman Declared Dead Found Alive At Funeral Home

A young woman who was declared dead after 30 minutes of CPR from paramedics was actually found to be very much alive ... she started breathing again at a Detroit funeral home!!! This eerie incident..




TMZ.com - Published





Detroit police arrest 42 people as protesters, authorities clash after weeks of calm

Protesters have been assembling and marching through Detroit since shortly after George Floyd's death on May 25.




USATODAY.com - Published




Detroit Firefighter Sivad Johnson Dies Trying to Save Girls From Drowning

Sgt. Sivad Johnson, 49, a 26-year veteran of the Detroit Fire Department, dived in to rescue the girls, who were later safely brought ashore.




NYTimes.com - Published





Dozens rally to put a halt to evictions in Detroit

Dozens rally outside a Detroit courthouse calling for an extension of the city's recently expired eviction moratorium. (Aug. 17)  




USATODAY.com - Published





2020 elections: I never got an absentee ballot for my primary. I still don't know why.

Voting is a privilege, but also a right. So it's a problem that absentee ballots were never mailed to hundreds of Detroit voters who applied online.




USATODAY.com - Published





Medical facility operates like luxury hotel

A medical center near Detroit was designed with patients in mind. CBS News travel editor Peter Greenberg visits the hospital that looks and feels like a luxury hotel, and treats their patients as..




CBS News - Published





Rebuilding Detroit with BBQ restaurant

Restaurant owner Phillip Cooley of "Slows Barbeque" is doing his part to bring life back to Detroit by raising money to transform an area known as Corktown into a go-to destination. CBS News travel..




CBS News - Published





Detroit bankruptcy expected to cause pension pain

A federal judge cleared the way for the largest public bankruptcy in American history, approving a plan that will allow Detroit to reduce the pensions of city workers and retirees. A financial..




CBS News - Published





A beloved lesbian baker in Detroit got a homophobic cake order. Here's why she made it anyway.

April Anderson, a Detroit pastry chef with national cred, was taken aback by a recent cake order that came into her Good Cakes and Bakes bakery.




USATODAY.com - Published




Lions QB Matthew Stafford: Selling house 'has nothing to do with' wanting out of Detroit

Matthew Stafford has two seasons left on his contract beyond 2020 and said Tuesday he wants to remain in Detroit "as long as I can."




USATODAY.com - Published





Three Detroit casinos reopening after months away

Detroit's three casinos are reopening at limited capacity after nearly five months of being closed due to the coronavirus (Aug. 6)  




USATODAY.com - Published





Rapper 42 Dugg Busted 2 Months After Fleeing Cops in Michigan

Detroit rapper 42 Dugg's wearing a new accessory, but there's no celeb jeweler involved this time -- instead, it's cops who've put a GPS monitor on him after he allegedly tried to evade police. The..




TMZ.com - Published





Rashida Tlaib Beat Her Primary Opponent by 900 Votes in 2018. How Will the Rematch Go?

The Michigan Democrat is facing a rematch against a challenger who says she hasn't done enough for her district in Detroit.




NYTimes.com - Published





Longtime Detroit sports media personality Jamie Samuelsen dies at 48

Jamie Samuelsen, a longtime voice on the Detroit sports media scene, has died at 48 after a lengthy battle with colon cancer.




USATODAY.com - Published





Detroit health system seeks vaccine study subjects

A Detroit-area hospital system is looking for up to 5,000 volunteers for a COVID-19 vaccine study. Henry Ford Health System is working with the National Institutes of Health and Moderna Inc., with..




USATODAY.com - Published





Scammers orchestrate impersonation scheme on Square's Cash App to steal money

A way to collect cash donations via Square's Cash App to feed families during the economic fallout turned into a nightmare for one Detroit group.




USATODAY.com - Published





Detroit suburb mourns 13 nuns lost to coronavirus

The mayor of Livonia, Michigan, says the Detroit suburb is mourning the loss of 13 nuns who have died of COVID-19 complications. (July 24)  




USATODAY.com - Published





Fan-free ballgames no relief for Motor City misery

Bars and restaurants in Detroit are desperately hoping people come watch ballgames in establishments as packed as possible with social distancing guidelines (July 24)  




USATODAY.com - Published





Remembering the Detroit riots, the heroism of Willie Horton, a missing mother, a tank outside the window

It was July 1967 in Detroit. I was 7. Our home was roughly a mile from the epicenter of one of the worst civil disturbances in our nation's history  




USATODAY.com - Published





Today in History for July 23rd

Highlights of this day in history: Race rioting hits Detroit; Former President Ulysses S. Grant dies; Britain's Prince Andrew marries 'Fergie'; Vanessa Williams gives up Miss America crown; Golfer..




USATODAY.com - Published




Detroit police officer charged with felony assault for firing rubber bullets at journalists

If convicted, 32-year-old corporal Daniel Debono could be sentenced to up to four years in prison.




USATODAY.com - Published




Felony Charges for Detroit Officer Accused of Shooting 3 Journalists With Rubber Pellets

"They were a threat to no one," the Wayne County prosecutor said. "There are simply no explicable reasons why the alleged actions of this officer were taken."




NYTimes.com - Published





Detroit fast-food workers walk off job in protest

Workers walk off the job at a Detroit McDonald's and are met in the street by dozens of cheering, sign-toting supporters. (July 20)  




USATODAY.com - Published





Race Takes Center Stage as Rashida Tlaib Faces Primary Challenge

Some of Detroit's most prominent Black leaders are backing a challenger to Ms. Tlaib, a Palestinian-American who has gained celebrity status since winning her seat in 2018.




NYTimes.com - Published





Protests over in-school classes in Detroit

Detroit police say they arrested at least 11 protesters who tried to block buses from picking up students. It's the fourth day of demonstrations against voluntary summer classes during the coronavirus..




USATODAY.com - Published





Detroit's Motown Museum reopens with music-themed safety measures bound to make visitors smile

The popular Detroit museum reopened Wednesday with a new set of health guidelines, including social-distancing decals shaped like old Motown 45s.




USATODAY.com - Published





Black Behind the Wheel

On a road trip to Detroit, reflections on the car as a symbol of aspiration and adventure. But if you're Black in America, that lovely machine isn't always a refuge.




NYTimes.com - Published





Manuel 'Matty' Moroun, controversial bridge owner and trucking magnate, dies at 93

Manuel 'Matty' Moroun was a Detroit native who took his father's small cartage business and built it into a trucking and real estate empire.




USATODAY.com - Published





Eminem slams Drew Brees, people who refuse to wear masks in new Kid Cudi song

Detroit rapper Eminem takes no prisoners on timely new song "The Adventures of Moon Man and Slim Shady" with Kid Cudi.




USATODAY.com - Published





Amazon driver in Detroit quits job on Twitter, leaves package-filled van with keys in the ignition. Here's why he did it.

The former driver's tweets and video are in stark contrast to the feel-good worker-vignettes that Amazon has been airing as TV commercials.




USATODAY.com - Published




Detroit police SUV drives through crowd after protesters climb on hood

The driver activated the overhead lights, then gunned the accelerator, sending two protesters flying onto the pavement as the vehicle sped off.




USATODAY.com - Published




A wife gets answers from a nurse who saw her husband die at Detroit hospital during coronavirus pandemic

The pain of not knowing what happened to her husband after she dropped him off at a Detroit Hospital, torments Denise Chandler. A former nurse helps.




USATODAY.com - Published




He was arrested because of a computer error. Now he wants to fix the system.

When Detroit cops called Robert Williams, he thought it was a prank. But he had been misidentified by controversial facial recognition technology.




USATODAY.com - Published





Music Director Fired From Catholic Parish Days Before Supreme Court L.G.B.T.Q. Ruling

Terry Gonda, a music director at her parish near Detroit, was told she would be fired because she is married to a woman. Days later came the Supreme Court ruling on L.G.B.T.Q. workplace rights.




NYTimes.com - Published





Detroit hosts celebratory Juneteenth gathering

Hundreds gather in Detroit to celebrate Juneteenth and call for racial justice in the city and beyond. (June 19)  




USATODAY.com - Published





Alan Hurwitz, Teacher Who Turned to Bank Heists, Dies at 79

Once a respected educator in Detroit, he developed a crack addiction and robbed 18 banks in three months, earning the name the "Zombie Bandit." He died of Covid-19.




NYTimes.com - Published





I was a police chief stopped by my own officer. After Floyd, we need change at all levels.

At 14, the more I screamed, the more the police beat me. That day, I promised myself I would become a Detroit police officer and change the force.




USATODAY.com - Published