United States Capitol
Seat of the United States Congress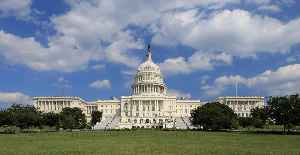 The United States Capitol, often called the Capitol Building, is the home of the United States Congress and the seat of the legislative branch of the U.S. federal government. It is located on Capitol Hill at the eastern end of the National Mall in Washington, D.C. Though no longer at the geographic center of the Federal District, the Capitol forms the origin point for the District's street-numbering system and the District's four quadrants.


Democrats read Mueller report aloud in U.S. Capitol hearing room
Democrats in the U.S. House of Representatives on Thursday held a marathon reading of the redacted version of Special Counsel Robert Mueller's 448-page assessment of Russian interference in the 2016..
Reuters - Published
Trump honors fallen officers at Capitol ceremony
Hailing "the heroes of law enforcement," President Donald Trump honored the 228 officers who died in the line of duty last year in an address to the National Peace Officers' Memorial Service on Capitol..
USATODAY.com - Published
New NAFTA Bill Sees Some Light
On Wednesday top lawmakers in both parties expressing new hope that President Trump's North American trade pact could be ratified by Congress this year. Politico reports that key officials negotiating..
Credit: Wochit News Duration: 00:36Published
Trump Wishes No Harm On Ilhan Omar
Representative Ilhan Omar (D-MN) at an event in the U.S. Capitol building in Washington, March 13, 2019. REUTERS/Leah Millis/File Photo WASHINGTON (Reuters) - President Donald Trump did not wish any..
Credit: Wochit News Duration: 00:31Published
Trump Complains That "I Didn't Get A Thank You" For John McCain's Funeral
President Donald Trump complained that he "didn't get a thank you" for helping to facilitate John McCain's funeral, renewing an attack on the late senator's legacy. "I gave him the kind of funeral that..
Credit: Wochit News Duration: 00:39Published
Is there a Capitol jail where Democrats could lock up Trump aides who refuse to testify?
A jail in the basement of the Capitol? A guard room smelling of foul reptile? Where could Democrats detain Trump officials who refuse to testify?
USATODAY.com - Published
Search this site and the web:
You Might Like