Bob Iger
American businessman and CEO of The Walt Disney Company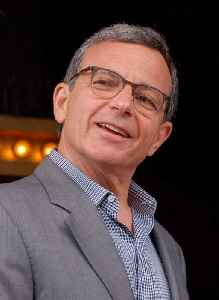 Robert Allen Iger is an American media executive and businessman who is Chairman and Chief Executive Officer (CEO) of The Walt Disney Company. Before working for Disney, Iger served as the President of ABC Television from 1994–95, and as President/COO of Capital Cities/ABC, Inc. from 1995 until Disney's acquisition of the company in 1996.


Abigail Disney tells House committee CEO Bob Iger's $65M pay is "a moral issue"
Disney heiress decries wages for Disney workers that in contrast "cannot support a single person much less a family"
CBS News - Published
"Game Of Thrones" creators to helm upcoming "Star Wars" movie
Disney CEO Bob Iger announced the pair will be at the helm of the next "Star Wars" film after 2019's "The Rise of Skywalker"
CBS News - Published
Bernie Sanders Says Disney Should Use 'Endgame' Profits To Pay Workers More
A day after Disney's 'Avengers: Endgame' took home a record-breaking $1.2 billion worldwide, Sen. Bernie Sanders took to Twitter. Geek.com reports, Sanders criticized Disney CEO Bob Iger's..
Credit: Wochit News Duration: 00:43Published
Disney Pledges $5 Million To Notre-Dame Rebuild
According to ComicBook.com, Disney is pledging $5 Million to rebuild Notre Dame Cathedral. Disney's ties to the Notre-Dame Cathedral go back quite a bit, as the structure was at the heart of one of..
Credit: Wochit News Duration: 00:36Published
Search this site and the web:
You Might Like