Taylor Swift
American singer-songwriter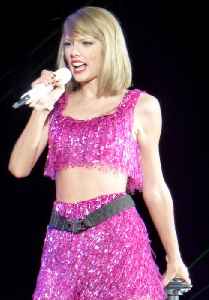 Taylor Alison Swift is an American singer-songwriter. She is known for narrative songs about her personal life, which have received widespread media coverage. Born and raised in Pennsylvania, Swift moved to Nashville, Tennessee, at the age of 14 to pursue a career in country music. She signed with the label Big Machine Records and became the youngest artist ever signed by the Sony/ATV Music publishing house.


Taylor Swift reaches out to ill New York woman after her video goes viral
22-year-old with cystic fibrosis has had two double lung transplants and is too ill for a third; her wish was to meet her idol, Taylor Swift
USATODAY.com - Published
Taylor Swift releases star-studded "You Need to Calm Down" video
"The Queer Eye" guys, "RuPaul's Drag Race" stars, Ciara and Ryan Reynolds are just a few of the people who appear in the video
CBS News - Published
Justin Timberlake and stars strut their stuff at Songwriters Hall of Fame
Justin Timberlake and Halsey were among stars inducted into the Songwriters Hall of Fame class of 2019 in New York on Thursday. Rough Cut (no reporter narration).
Credit: Reuters Studio Duration: 01:15Published
Billboard: Taylor Swift, a BTS jump, Cardi B's steamy kiss
A-listers dazzled on the red carpet for the Billboard Music Awards on Wednesday, but it was a steamy kiss between rapper Cardi B and her husband Offset that stole the limelight. Rough cut (no reporter..
Credit: Reuters Studio Duration: 00:44Published
Taylor Swift Surprises Fans With Butterfly Mural In Nashville Ahead Of TS7 Announcement
Taylor Swift surprised fans in Nashville, appearing with no prior confirmation in front of a large butterfly mural that had earlier been rumored to be linked to an upcoming big announcement from the..
Credit: Newsweek Duration: 00:22Published
Taylor Swift and Emilia Clarke among stars on Time 100 red carpet
Taylor Swift and Emilia Clarke were among the stars pictured at the Time 100 Gala. They were named in the magazine's list of the most influential people in the world, and gathered with other honourees..
Credit: PA - Press Association STUDIO Duration: 00:44Published
5 things you need to know Monday: Hong Kong, Raptors, OJ Simpson, Taylor Swift and 'MIB'
Hong Kong protests, the Raptors parade and more news to start your Monday.
USATODAY.com - Published
Taylor Swift teases all-star celebrity lineup for new 'You Need to Calm Down' music video
It's hard to calm down after reading the list of all-star celebrities set to appear in Taylor Swift's new music video for "You Need to Calm Down."
USATODAY.com - Published
Taylor Swift gives surprise Pride Month performance at Stonewall Inn, a historic LGBT site in New York
Taylor Swift gave a surprise performance at the Stonewall Inn Friday night in New York, singing "Shake It Off" with Jesse Tyler Ferguson.
USATODAY.com - Published
Taylor Swift gives a shout out to LBGTQ fans, GLAAD on new single 'You Need To Calm Down'
Taylor Swift, who dropped 'You Need to Calm Down' at midnight, announced her new album, "Lover," on social media Thursday,
USATODAY.com - Published
When stars get political: TSwift, Lena and more
More than ever, stars have been speaking up about politics. Here's what some of your fav celebs are saying about voting, President Trump and more.
USATODAY.com - Published
Could latest Katy Perry outreach to Taylor Swift be a sign of a coming collaboration?
Katy Perry reached out to Taylor Swift on social media and her fellow music superstar accepted the friendship request. Could a collaboration follow?
USATODAY.com - Published
You Might Like