Arkansas
State of the United States of America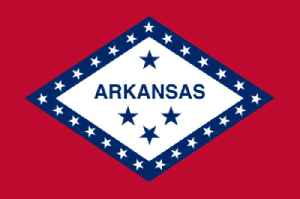 Arkansas is a state in the southern region of the United States, home to over 3 million people as of 2017. Its name is of Siouan derivation from the language of the Osage denoting their related kin, the Quapaw Indians. The state's diverse geography ranges from the mountainous regions of the Ozark and the Ouachita Mountains, which make up the U.S. Interior Highlands, to the densely forested land in the south known as the Arkansas Timberlands, to the eastern lowlands along the Mississippi River and the Arkansas Delta.


"Trigger laws" in these states would make abortion illegal if Roe is overturned
Arkansas became the fifth state to preemptively outlaw abortion this week. Four more states have legislation in the pipeline
CBS News - Published
Auburn rides 3-point barrage to 79-56 win over Arkansas
Bryce Brown scored 18 points and contributed five 3-pointers to Auburn's long-range barrage in an 79-56 rout of Arkansas
USATODAY.com - Published
Huge snowstorm to blanket more than half of United States
A massive winter storm has hit the U.S. Rockies and Plains, with snow set to assault a 1,800-mile corridor through the weekend. Rough cut - no reporter narration.
Credit: Reuters Studio Duration: 00:46Published
Arkansas Police Officer Fired After Shooting A Dog
A police officer in Arkansas has been fired after shooting a chihuahua. Faulkner County Sheriff's office said Deputy Keenan Wallace "fell short to [the] standards" of the department when he shot the..
Credit: Wochit News Duration: 00:44Published
Howard's late buck saves No. 17 Kentucky women 61-59
Rhyne Howard scored 18 points, the last two on a pull-up jumper at the foul line with 1.3 seconds left that gave No. 17 Kentucky a 61-59 win over Arkansas
USATODAY.com - Published
Mississippi State shuts down Arkansas 77-67
Quinndary Weatherspoon scored 22 points and the Mississippi State defense shut down Arkansas in the second half for a 77-67 win
USATODAY.com - Published
Arkansas white supremacists accused of brutality
Federal prosecutors are accusing a white supremacist gang in Arkansas of silencing witnesses to its meth-trafficking with brutal tactics, including permanently disfiguring one person's face. (Feb...
USATODAY.com - Published
White supremacist gang in Arkansas accused of brutal tactics
Group called "reprehensible in its admiration for Nazi imagery and racist views, but even more alarming are the crimes and violence perpetrated by these defendants"
CBS News - Published
You Might Like