Viola Davis
American actress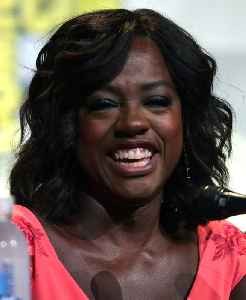 Viola Davis is an American actress and producer. Having won an Academy Award, an Emmy Award (Primetime), and two Tony Awards, she is the first African-American actress to achieve the "Triple Crown of Acting". Time magazine named her one of the 100 most influential people in the world in 2012 and 2017.


You Might Like
Viola Davis shares photo of plantation where she was born: "I own my story"
The Academy Award-winning actress marked her 55th birthday with the meaningful post.
CBS News - Published
James Gunn debuts first look at 'The Suicide Squad,' loves Margot Robbie's Harley Quinn at DC FanDome
With massive cast in tow, director James Gunn showed off a first look at DC FanDome of 'The New Suicide Squad' with Margot Robbie and Viola Davis.
USATODAY.com - Published
Viola Davis Buys Former Plantation Where She Was Born for 55th Birthday
Viola Davis is coming full circle for her birthday by buying the house (and property) where she was born -- a place that was formerly inhabited by slaves. The actress celebrated her 55th Tuesday by..
TMZ.com - Published
Viola Davis Replaces Kylie Jenner in 'WAP,' Cardi Appreciates the Love
Fans were really down to insert Viola Davis into Cardi B's new song -- even at the expense of Kylie Jenner -- and the actress was all about it ... CB was too. Viola posted a couple different fan..
TMZ.com - Published
ShowBiz Minute: Paul, AAFCA, Gomez
FBI agents serve search warrant at the California home of YouTube star Jake Paul; Viola Davis, Sterling K. Brown and LeBron James among honorees at the AAFCA TV Honors later this month; Selena Gomez is..
USATODAY.com - Published
U.S. theatre world accused of exploiting, excluding people of color
Viola Davis, Lin-Manuel Miranda and Cynthia Erivo joined some 300 actors and playwrights on Tuesday in decrying racism in the U.S. theatre world, saying it had exploited, excluded and diminished people..
Reuters - Published
Jonathan and Drew Scott's HGTV show 'Celebrity IOU' kicks off with 'true gentleman' Brad Pitt
Jonathan and Drew Scott's new HGTV series "Celebrity IOU" helps stars like Brad Pitt, Melissa McCarthy and Viola Davis pay back those who mean so much.
USATODAY.com - Published
ShowBiz Minute: Douglas, Jamil, Obama
Kirk Douglas, star of "Spartacus" and "Lust for Life," has died at 103; Jameela Jamil identifies as queer; Viola Davis' next TV role will be former first lady Michelle Obama. (Feb. 6)  
USATODAY.com - Published
Viola Davis, Tiffany Haddish headline 'Good Times' cast in Jimmy Kimmel-Norman Lear special
Viola Davis and Tiffany Haddish will play 'Good Times' characters in the latest Norman Lear-Jimmy Kimmel 'Live in Front of a Studio Audience' event.
USATODAY.com - Published
Oprah, Tiffany Haddish, Whoopi Goldberg and Halle Berry turn out for Tyler Perry party
Tyler Perry celebrated the grand opening of Tyler Perry Studios in Atlanta. Stars like Oprah, Tiffany Haddish and Viola Davis came out in support.
USATODAY.com - Published
Viola Davis to play Michelle Obama in Showtime series
The Oscar-winning actress announced her role in a drama focusing on America's first ladies
CBS News - Published
Viola Davis on being the change she wants to see
Viola Davis says her JuVee Productions company is a "walking metaphor of inclusion," which allows her to become the change she wants to see in the world. (June 24)  
USATODAY.com - Published