Austin, Texas
Capital of Texas, United States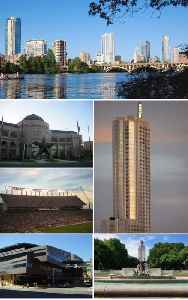 Austin is the capital city of the U.S. state of Texas, as well as the seat and largest city of Travis County, with portions extending into Hays and Williamson counties. Incorporated on December 27, 1839, it is the 11th-most populous city in the United States, the fourth-most-populous city in Texas, and the second-most-populous state capital city. It was also the fastest growing large city in the United States in 2015 and 2016. It is the southernmost state capital in the contiguous United States.


A Nasty Pandemic Side Effect: Murder

A new Wall Street Journal analysis reveals 36 of the United States' 50 largest cities have seen murder rates increase by double-digit percentages this year. A new Wall Street Journal analysis shows..
Credit: Wochit News Duration: 00:45
Published
White BLM Protester Murdered In Front Of His Black Quadruple-Amputee Fiancee

An armed Texas protester was shot dead at a Black Lives Matter demonstration in Austin Saturday night. According to Newser, a car drove into the crowd of demonstrators, then the driver apparently..
Credit: Wochit News Duration: 00:40
Published
You Might Like



2 cranes collide in Austin, Texas, injuring 22

Most of the injured were hurt as they attempted to escape the collision, officials said.




CBS News - Published





Two cranes collide at Austin construction site, sending at least 16 people to the hospital

At least 22 people were injured after two cranes collided in Austin, Texas, Wednesday morning, medics said.




USATODAY.com - Published





16 people hospitalized after crane collision in Austin, authorities say

At least 22 people were injured after two cranes collided in Austin, Texas, Wednesday morning, medics said.  




USATODAY.com - Published





Crane Accident in Austin Injures at Least 20 People

The authorities in Austin, Texas, said that 16 people were taken to a hospital after an accident at a construction site.




NYTimes.com - Published





Texas police group puts up billboard warning "enter at your own risk," saying Austin defunded police

Texas Governor Greg Abbott is also calling on every Texan and candidate for public office​ to sign a pledge​ against defunding the state's police departments.




CBS News - Published





Texas Man Sentenced to Five Years for Planting Bombs in Beaumont

Jonathan Matthew Torres "preyed upon Beaumont," terrifying residents days after a bomb spree in Austin, federal officials said.




NYTimes.com - Published





Austin Mayor Steve Adler and Provo Mayor Michelle Kaufusi on "The Takeout" ⁠— 5/15/2020

Austin, Texas Mayor Steve Adler and Provo, Utah Mayor Michelle Kaufusi join Major to talk about how they have dealt with the coronavirus crisis on the homefront and finding the safest way to reopen, on..




CBS News - Published





Skate Park 'Karen' Cuffed After Altercation with Teens in Austin

A feisty "Karen" went crazy on a group of skateboarders, got soaked by them and even got into a brutal fight with them ... all before cops showed up to detain her. The truly bizarre scene went down..




TMZ.com - Published





Texas Governor Proposes Freezing Taxes in Cities That 'Defund' Police

Reacting to a vote in Austin to cut millions from its police budget, Gov. Greg Abbott is backing legislation to deprive cities of control over a major revenue source if they follow suit.




NYTimes.com - Published





Negotiators reach out after three officers shot

Three police officers were shot and a man remained barricaded inside a home with three of his family members in a suburb of Austin, Texas, authorities said. The standoff stretched from Sunday into..




USATODAY.com - Published





AP Top Stories August 17 A

Here's the latest for Monday August 17: Pelosi calling back House over Post Office crisis; Democrats to begin virtual convention; Three police officers shot near Austin, Texas; California firefighters..




USATODAY.com - Published





3 Texas Police Officers Are Shot and a Person Is Barricaded in a Home

Officers from Cedar Park, near Austin, were in stable condition after responding to a call and encountering gunfire, officials said.




NYTimes.com - Published





3 Texas police officers shot at 'very active scene' near Austin; suspect 'barricaded' inside a house

The Cedar Park Police Department in Texas tweeted multiple officers were shot. The department's chief tweeted the officers are in stable condition.




USATODAY.com - Published




Army sergeant says he's the one who shot a protester dead in Austin

Daniel Perry's lawyers assert that he did it in self-defense after the demonstrator aimed a rifle at him in his car. But some accounts say the driver was the aggressor.




CBS News - Published





'Loved her unconditionally': Austin protest shooting victim remembered for devotion to fiancée, racial justice

Garrett Foster, who was killed at an Austin protest Saturday, was remembered for dedication to the Second Amendment, racial justice and his fiancée.




USATODAY.com - Published




Live updates from weekend protests: 'Unlawful assembly' in Richmond; Man shot to death in Austin; 11 protesters arrested in Louisville

A man was shot to death in Austin. Richmond police declared an "unlawful assembly" and Portland police declared "a riot." Latest protest news.




USATODAY.com - Published




Garrett Foster Brought His Gun to Austin Protests. Then He Was Shot Dead.

The police in Austin, Texas, have not identified the motorist who fatally shot a protester after driving his car in the direction of marchers.




NYTimes.com - Published





Austin ICUs could be overrun in 10 days amid Texas coronavirus spike, mayor says

Austin-area ICUs are in danger of being overrun in the two weeks if hospital admissions continues its current pace, the city's mayor said.  




USATODAY.com - Published





Austin schools suspend Black students nearly 5 times as often as white students

In the 2018-19 school year, when the Austin district gave 2,599 out-of-school suspensions, 7.4% of the district's Black students were suspended.




USATODAY.com - Published





College student critically injured by Austin police during George Floyd protest

Justin Howell suffered a fractured skull and brain damage after Austin police fired a bean bag round during a George Floyd demonstration.  




USATODAY.com - Published





Austin protesters decry police-involved deaths of George Floyd, Michael Ramos

In Austin, George Floyd's death brought back memories of Michael Ramos, who was killed by an Austin police officer in April 2020.  




USATODAY.com - Published





Taylor Swift fans think new cover of 'Look What You Made Me Do' is sneaky way of bypassing Scooter Braun

Taylor Swift fans believe a new cover of her song "Look What You Made Me Do" was recorded by her brother, Austin, in order to sidestep Scooter Braun.




USATODAY.com - Published





One person dead after being struck by plane landing at airport in Austin, Texas

A person was killed late Thursday after being struck by a plane landing at an airport in Austin, Texas, officials said.




Reuters - Published





Texas back in business? Barely, y'all, as malls, restaurants empty

The Domain mall in Austin, Texas, is open for business - unlike most of its 100 upscale shops - as the state entered its first work week of eased pandemic restrictions in the hopes of rekindling the..




Reuters - Published





Park ranger enforces distancing, shoved into water

In Austin, police say a 25-year-old man was charged with attempted assault on a public service worker after a video posted on social media showed a city park ranger getting shoved into the water while..




USATODAY.com - Published





Conservatives Fuel Protests Against Coronavirus Lockdowns

In addition to the "You Can't Close America" rally in Austin, Texas, on Saturday, modest demonstrations took place in the capitals of Nevada, Indiana and Maryland.




NYTimes.com - Published





Passersby check out virus-themed murals in Austin

Artists paint a series of coronavirus-themed murals on the outsides of boarded-up businesses in Austin, Texas. (March 26)  




USATODAY.com - Published





Once upon a time, coronavirus tried to ruin story hour. But Granzo and Theezy found a way.

A grandmother and grandson in Austin, Texas, share a love of books. When coronavirus threatened their story time, they made it work.  




USATODAY.com - Published





No milk, no bleach: Americans awake to coronavirus panic buying

In Union, New Jersey, a Target opened at 8 a.m. and had sold out of its full stock of milk and bottled water five minutes later. In Austin, Texas, some gas station pumps ran dry. Not a bottle of bleach..




Reuters - Published





Conspiracy theorist Alex Jones charged with DWI in Texas, authorities say

Texas police say Austin-based Alex Jones was booked into the Travis County Jail on a charge of driving while intoxicated just after midnight Tuesday.




USATODAY.com - Published




SXSW canceled as tech and entertainment world faces coronavirus

The South by Southwest music, technology and film festival in Austin, Texas, was canceled on Friday, adding to a growing list of events being suspended around the world over concerns about the..




Reuters - Published





SXSW festival canceled amid coronavirus outbreak

South by Southwest (SXSW) music and tech festival in Austin, Texas has been canceled over growing concerns related to the coronavirus outbreak, event organizers, city and county officials said on..




Reuters - Published




South by Southwest Is Canceled as Coronavirus Fears Scuttle Festival

Hundreds of thousands of people were expected to arrive in Austin next week, but a number of companies had pulled out and on Friday, city officials called off the whole event.




NYTimes.com - Published





Toddler finds rare pink grasshopper in Texas backyard

One Austin family learned this weekend grasshoppers can come in a rather striking shade of pink. Their hue is caused by a rare genetic mutation.




USATODAY.com - Published




1 dead, 3 hurt in Austin 'stabbing incident'

Emergency officials say one person was killed and three others hurt in a reported "stabbing incident" in downtown Austin, Texas. Police say a suspect was taken into custody Friday morning. (Jan. 3)  




USATODAY.com - Published





Travelers at Chicago, Texas, Virginia airports warned about possible measles exposure

The new reports at airports in Chicago, Austin, Texas, and Richmond, Virginia, follow earlier reports in Los Angeles and Denver.




USATODAY.com - Published





Donald Trump tries to blunt negative impeachment headlines by touting jobs during Apple factory tour

President Donald Trump sought to escape the negative headlines coming out of impeachment hearings by touring an Apple plant in Austin, Texas.




USATODAY.com - Published





Trump quotes Sondland quoting him: "I want nothing. I want no quid pro quo"

The president read a statement to the press as he left for Austin




CBS News - Published





Apple starts construction of new $1 billion campus in Texas

Apple Inc said on Wednesday it had started construction of a new campus in Austin, Texas, beside its existing facility where it makes the new MacBook Pro laptops.




Reuters - Published




Friends intervene to help homeless man in Austin, Texas

After a series of misfortunes, Coy Featherston, 66, was homeless on the streets of Texas. But good luck — and good friends — intervened. After a number of his high school classmates spotted his..




CBS News - Published





Body cam video shows Austin water rescue

Newly-released body cam video shows a police officer rushing to rescue a man who was swept away by floodwaters in a rain-swollen creek in Austin, Texas.




CBS News - Published





Former Texas substitute teacher seen punching student now faces criminal charges

A former substitute teacher, Tiffani Lankford, 32, is facing charges after cell phone footage apparently shows her punching a 16-year-old special needs student in a classroom outside Austin, Texas. Meg..




CBS News - Published





Warren proposes breaking up Amazon, Apple, Google and Facebook

CBS News political correspondent Ed O'Keefe talks with Sen. Elizabeth Warren, D-Massachusetts, at the South by Southwest festival in Austin to discuss her 2020 presidential campaign.




CBS News - Published





Full interview of Sen. Elizabeth Warren on "Face the Nation"

CBS News Political Correspondent Ed O'Keefe sat down with Sen. Elizabeth Warren in Austin, Texas, for the Mar. 10, 2019 broadcast of "Face the Nation."




CBS News - Published





Crowded field of Democrats compete to take on Texas Sen. John Cornyn

Texas Latina organizer Cristina Tzintzún Ramirez is the latest entrant in the now-crowded Texas Democratic Senate primary. Patrick Svitek, a reporter for the Texas Tribune, spoke to CBSN's "Red &..




CBS News - Published





Elizabeth Warren campaigns in Texas ahead of Thursday's debate

Massachusetts Senator Elizabeth Warren is campaign in Austin, Texas on Tuesday as she continues to rise in Democratic primary polls. CBSN political reporter Caitlin Huey-Burns and CBS News political..




CBS News - Published





The state of the 2020 presidential election in Texas

Austin, Texas Mayor Steve Adler says he's supporting South Bend, Indiana Mayor Pete Buttigieg for the 2020 Democratic presidential nomination. Gromer Jeffers of the Dallas Morning News joined "Red &..




CBS News - Published





Sneak peek: The Shape of a Killer

Three murders in Austin, Texas, and little evidence to go on. Did a man testing a thermal imaging camera inadvertently capture the image of a killer? "48 Hours" correspondent Maureen Maher investigates..




CBS News - Published