Tiger Woods
American professional golfer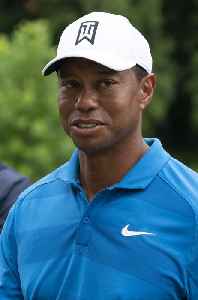 Eldrick Tont "Tiger" Woods is an American professional golfer. He is tied for first in PGA Tour wins and ranks second in men's major championships and also holds numerous golf records. Woods is widely regarded as one of the greatest golfers, and one of the most famous athletes of all time. He will be inducted into the World Golf Hall of Fame in 2021.


Tiger Woods confident he can win 16th major title at US PGA Championship

Tiger Woods is confident he can win a 16th major title in the US PGAChampionship, despite heading into the event with just four competitive roundsunder his belt since mid-February. "Of course,"..
Credit: PA - Press Association STUDIO Duration: 00:37
Published
Tiger Woods Back Problems, Still One-Under 71 At Memorial

(CNN) After struggling to make the cut and troubled by persistent back problems, Tiger Woods showed promise of better things to come with a battling one-under-par 71 in the third round of the Memorial..
Credit: Wochit News Duration: 00:33
Published
Rory McIlroy: It's been difficult to focus without fans during PGA Tour

Rory McIlroy admits it is difficult to focus without a crowd during the PGA Tour. He feels his opponents including Tiger Woods may also struggle to adapt to the strange circumstances.As a result of the..
Credit: PA - Press Association STUDIO Duration: 01:22
Published
Tiger Woods: It's not the Ryder Cup without fans

Tiger Woods said the Ryder Cup was not the same without fans as he backed the decision to postpone the Whistling Straits showpiece until next year.The biennial clash between the United States and..
Credit: PA - Press Association STUDIO Duration: 00:57
Published
You Might Like



Collin Morikawa, 23, wins first major at PGA Championship

Collin Morikawa joins Rory McIlroy, Tiger Woods and Jack Nicklaus as 23-year-olds to win the PGA.




CBS News - Published





Another day, another struggle for Tiger at PGA Championship

Tiger Woods hoped to make a run at the leaders in the third round of the PGA Championship, but he never really got started.




USATODAY.com - Published





Tiger struggles in second round, barely makes cut

Tiger Woods didn't make his first birdie until No. 10 and finished with a 2-over 72.




USATODAY.com - Published





Tiger tracker: Follow his PGA Championship second round

Tiger Woods' opening 2-under 68 Thursday left him very much in the conversation. How is he faring in the second round?




USATODAY.com - Published





Today in History for July 23rd

Highlights of this day in history: Race rioting hits Detroit; Former President Ulysses S. Grant dies; Britain's Prince Andrew marries 'Fergie'; Vanessa Williams gives up Miss America crown; Golfer..




USATODAY.com - Published




Coronavirus quarantine, Black Friday in July sales, Tiger Woods at Memorial: 5 things to know Friday

Chicago adds Iowa and Oklahoma to quarantine list, Black Friday brings hot deals in July and more things to start your Friday morning.




USATODAY.com - Published





Golfer teases Tiger: 'He's scared' to play against us

Justin Thomas, the 54-hole leader at the Workday Charity Open, teased Tiger Woods for his absence on the PGA Tour since its restart.




USATODAY.com - Published





Tiger, Phil, Brady, Manning 'Match' sets viewership record

"The Match: Champions for Charity" golf event with Tiger Woods, Phil Mickelson, Tom Brady and Peyton Manning averaged 5.8 million viewers.




USATODAY.com - Published





Follow The Match live: Tiger and Peyton vs. Phil and Brady

Tiger Woods and Peyton Manning take on Phil Mickelson and Tom Brady in a star-studded showdown for charity.




USATODAY.com - Published





As Tom Brady, Peyton Manning play in 'The Match,' which other pro athletes are elite golfers?

Peyton Manning and Tom Brady will play in "The Match" with Tiger Woods and Phil Mickelson on Sunday. Which other athletes are elite golfers?




USATODAY.com - Published





Tiger Woods, Phil Mickelson to be joined by Peyton Manning, Tom Brady for second edition of 'The Match'

With 20 major golf titles and eight Super Bowl rings among them, the star-studded foursome will tee it up next month in a live made-for-TV match.




USATODAY.com - Published





Pete Dye, Picasso of Golf Course Design, Is Dead at 94

"His courses built for tournaments are hard," Tiger Woods once said, " but there's a good reason for everything."




NYTimes.com - Published





From LeBron James to Tiger Woods to Simone Biles: Who made our list of top 50 athletes this decade?

USA TODAY Sports' panel of 35 staffers ranked the best athletes of the decade. From LeBron James to Simone Biles to Adrian Peterson, here is our list.




USATODAY.com - Published





Tiger Woods made a late splash, but Rory McIlroy leads our Top 10 PGA Tour players of the decade

From Tiger Woods to Phil Mickelson to Dustin Johnson and Rory McIlroy, the PGA Tour is loaded with top talent. But who was the player of the decade?




USATODAY.com - Published





10 years after Tiger Woods' crash: Untold stories of some connected to Woods' scandal

It's been a decade since police responded to a 911 call at Tiger Woods' Florida mansion that erupted in a sex scandal that derailed his marriage.




USATODAY.com - Published





Captain Tiger Woods names himself to Presidents Cup team to no one's surprise

Tiger Woods, who won his 82nd PGA Tour event last month, will join Hale Irwin as the only playing captains in Presidents Cup history.




USATODAY.com - Published





Tiger Woods: Call it a comeback, but don't be surprised

In 2006, the golf legend told 60 Minutes he'd only stop playing the game "when my best isn't good enough to win anymore"




CBS News - Published





Tiger Woods ties Sam Snead's record of 82 PGA Tour wins

And does it in 66 fewer events as he takes Zozo Championship in Japan, finally bouncing bounce back from knee surgery that had slowed him




CBS News - Published





The moments that have shaped Tiger Woods' career

A quick look at the defining moments of Tiger Woods' career after he matched a PGA Tour record with his 82nd victory.




USATODAY.com - Published





Tiger Woods matches long-standing PGA Tour record, wins No. 82 at Zozo

Tiger Woods finished at 19 under to win by three shots over Japanese star Hideki Matsuyama in the first official PGA Tour event in Japan.




USATODAY.com - Published





15,000 people in the Bahamas are still without food or shelter after Hurricane Dorian

More than a week after Hurricane Dorian hit the Bahamas, thousands of people still missing. Meanwhile, Justin Timberlake and Tiger Woods start a fund




USATODAY.com - Published





Tiger Woods reveals offseason knee surgery, hopes to start practicing again in a 'few weeks'

Tiger Woods had what was described as an arthroscopic procedure on his left knee last week to "repair minor cartilage damage."




USATODAY.com - Published





Tiger Woods won't rule out selecting himself for Presidents Cup team

As captain of this year's team that will play in December for the Presidents Cup, Tiger Woods says there is a chance he will select himself to play.




USATODAY.com - Published





Done for the season: Tiger Woods fails to qualify for title at Tour Championship

Tiger Woods won't have a chance to defend his title next week at the Tour Championship, falling well outside the top 30 in the FedEx Cup standings.




USATODAY.com - Published





No Title

Tiger Woods is back at it Sunday coming off his first bogey-free round of the season.




USATODAY.com - Published




Tiger Woods makes his move by shooting 67 Saturday in third round of BMW Championship

Tiger Woods still has work to do Sunday to qualify for the Tour Championship. But he gave himself a shot Saturday with a 67 in the BMW Championship.




USATODAY.com - Published





Protests against Walmart, BMW Championship, Obama high school jersey auction: 5 things to know this weekend

Gun protests planned against Walmart stores, Tiger Woods faces huge task at the BMW Championship and more things to start your weekend right.




USATODAY.com - Published





Tiger Woods withdraws from PGA tournament

Golfer Tiger Woods is on the mend this morning after withdrawing from the first tournament of the PGA's FedEx Cup, which is taking place in Jersey City, New Jersey this weekend. "CBS This Morning..




CBS News - Published

Also reported by •USATODAY.com


Tiger Woods has an oblique strain: What does that mean for his future?

Tiger Woods withdraws from Northern Trust with an oblique strain, but remains hopeful to play in next PGA Tour playoff event.




USATODAY.com - Published





Tiger Woods says his kids "associated golf with pain"

"They remember those times when Dad couldn't get off the couch"




CBS News - Published




Tiger Woods reveals what his Masters win meant as a father

Tiger Woods returns to the PGA tour on Thursday in New Jersey. As he played a practice round, he gave a rare interview to Dana Jacobson for "CBS This Morning." Woods opened up about his remarkable..




CBS News - Published




Tiger Woods has never played the No. 1-ranked golf course in America

Tiger Woods has never played at Pine Valley Golf Club, which perennially is the No. 1-ranked course in America.




USATODAY.com - Published





Tiger Woods will play first two events of FedEx Playoffs, starting next week at Northern Trust

Beginning at next week's Northern Trust in New Jersey, Tiger Woods tweeted Wednesday that he'll play the first two FedEx Cup Playoff events.




USATODAY.com - Published





Tiger, Phil do something they've never done before

Two of America's greatest golfers had some trouble across the pond. Plus, college football is here! Well, *almost*




USATODAY.com - Published





British Open: Tiger Woods, Phil Mickelson miss cut in same major for first time ever

Tiger Woods and Phil Mickelson have played in the same major championship 83 times. This will be the first time in which both missed the cut.




USATODAY.com - Published





Tiger Woods fails to make a move on Friday, projected to miss cut at British Open

Tiger Woods finished the Round 2 T-132 at 6-over, five shots off the projected cut at the British Open. It would be his 7th missed cut since 2014.




USATODAY.com - Published





Tiger Woods falls apart in middle of his round, finishes with 7-over 78 at British Open

Tiger Woods' quest for 16th major championship victory got off to a rough start at the British Open. Woods finished the first round with a 7-over 78.




USATODAY.com - Published





British Open 2019: Round 1 tee times, pairings, how to watch

Round 1 of the 148th British Open tees off Thursday morning. Here's everything you need to catch Woods, Mickelson and more on TV and streaming online.




USATODAY.com - Published





Tiger Woods jokes Brooks Koepka hasn't been so helpful for British Open prep

Tiger Woods joked he was snubbed by Brooks Koepka when he asked the world No. 1 for player to play a practice round at British Open.




USATODAY.com - Published





Tiger Woods gets first look at Royal Portrush for British Open

Tiger Woods took in all 18 holes at Royal Portrush, which will play host to the British Open for the first time since 1951, for a practice round.




USATODAY.com - Published





Rise and shine: Tiger Woods gets up at 1 a.m. to prepare for Open Championship at Royal Portrush

In an effort to adjust to the time-zone change, the 15-time major champion has been waking up at 1 a.m., or 6 a.m. local time in Northern Ireland.




USATODAY.com - Published





2019 memorable moments captured in photos so far

From Tiger Woods' Masters win to the Notre Dame fire, here are 2019's memorable moments in photos so far.




USATODAY.com - Published





Tiger Woods no longer a defendant in wrongful death lawsuit

The golfer had originally been named as a defendant along with his girlfriend and Florida restaurant




CBS News - Published





Tiger Woods dismissed from wrongful death suit by parents of Nicholas Immesberger

Tiger Woods has been dismissed from a wrongful death lawsuit brought by the parents of a deceased 24-year-old bartender.




USATODAY.com - Published





Tiger Woods fights off another 'crappy' start, finishes on a high note at U.S. Open

Tiger Woods shot a 2-under-par 69, his best round of the tournament, to close out the U.S. Open at Pebble Beach on a high note.




USATODAY.com - Published