Russell Westbrook
American basketball player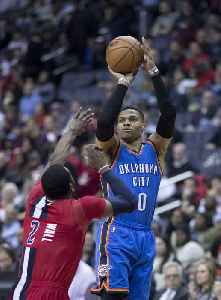 Russell Westbrook III is an American professional basketball player for the Oklahoma City Thunder of the National Basketball Association (NBA). He is an eight-time NBA All-Star and was named the NBA Most Valuable Player Award in the 2016–17 season. He is also an eight-time All-NBA Team member, led the league in scoring in 2014–15 and 2016–17, and won back-to-back NBA All-Star Game Most Valuable Player awards in 2015 and 2016. In 2017, the year he won the league MVP award, Westbrook became one of two players in NBA history to average a triple-double for a season, along with Oscar Robertson in 1962. He also set a record for the most triple-doubles in a season, with 42. He went on to average a triple-double the following two seasons also, as well as leading the league in assists and becoming the first player to lead the league in points and assists in multiple seasons.


Oklahoma City Thunder's rebuild will take some time
Oklahoma City Thunder head into a major transition with Westbrook's exit
USATODAY.com - Published
Fashion icon: Russell Westbrook's wildest styles
Russell Westbrook is known for blazing his own, very unique sartorial trail. Take a look back at some of his wildest styles over the years.
USATODAY.com - Published
Russell Westbrook says goodbye to Oklahoma City in touching post
Russell Westbrook had spent his entire 11-year career in Oklahoma City. After being traded, he thanked the organization and the community.
USATODAY.com - Published
Blockbuster trade reunites Russell Westbrook and James Harden
SportsPulse: Houston couldn't stay idle and watch everyone else improve. USA TODAY Sports' Jeff Zillgitt breaks down the blockbuster trade that sends Russell Westbrook to the Rockets where he will..
USATODAY.com - Published
AP source: Russell Westbrook going to Rockets for Chris Paul
Person familiar with situation says Thunder trading Russell Westbrook to Rockets for Chris Paul
USATODAY.com - Published
Thunder trade Russell Westbrook to Rockets for Chris Paul in blockbuster
In the latest blockbuster deal of the NBA offseason, Oklahoma City is sending Russell Westbrook to Houston for Chris Paul and two first-round picks.
USATODAY.com - Published
You Might Like