Eminem
American rapper, record producer, and actor from Michigan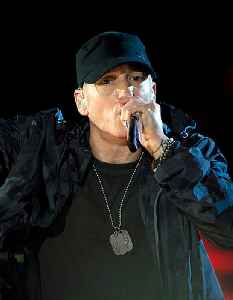 Marshall Bruce Mathers III, known professionally as Eminem, is an American rapper, songwriter, and record producer. Credited with popularizing hip hop in Middle America, Eminem's global success and acclaimed works are widely regarded as having broken racial barriers for the acceptance of white rappers in popular music. While much of his transgressive work during the early 2000s made him hugely controversial, he came to be a representation of popular angst and the American underclass. He has been influential for many artists of various genres and is often cited as one of the greatest rappers of all time.


Stuff You Didn't Know About Daniel Radcliffe

Daniel Radcliffe gained worldwide recognition thanks to his starring role in the "Harry Potter" franchise. Business Insider is revealing stuff about Radcliffe even his most ardent fans don't know. His..
Credit: Wochit News Duration: 00:37
Published
Eminem disses Drew Brees in new song

On Friday morning, Eminem and Kid Cudi released their new collaborative track, "The Adventures Of Moon Man & Slim Shady".
Credit: Cover Video STUDIO Duration: 01:18
Published
You Might Like



Eminem slams Drew Brees, people who refuse to wear masks in new Kid Cudi song

Detroit rapper Eminem takes no prisoners on timely new song "The Adventures of Moon Man and Slim Shady" with Kid Cudi.




USATODAY.com - Published





Eminem reveals dream collab while celebrating 20th anniversary of 'The Marshall Mathers LP'

The Detroit rapper continues to celebrate the 20th anniversary of his blockbuster "Marshall Mathers LP," this time with a listening party and Q&A.




USATODAY.com - Published





Eminem announces listening party in celebration of 'Marshall Mathers LP' 20th anniversary

Eminem is celebrating the 20th anniversary of "Marshall Mathers LP" album by hosting a listening party for fans on May 27.




USATODAY.com - Published





Eminem explains how he pulled off his surprise 'Lose Yourself' performance at the Oscars

Eminem finally performed his Oscar-winning track "Lose Yourself" at the Academy Awards. It just took him 17 years to get there.




USATODAY.com - Published





Brutally honest rankings of Oscars 2020 musical performances, from Eminem's shocker to Elton John

There were a few musical performances to admire (Billie Eilish! Cynthia Erivo! Elton!) during the 2020 Oscars telecast, and a few to cringe at (Eminem).




USATODAY.com - Published





Oscars 2020: The moments you missed, from 'Parasite' dominance to Eminem surprise

Whether you didn't watch the telecast or took a bathroom break at an inopportune time, here are all the key moments you missed from the Oscars.




USATODAY.com - Published





Eminem finally performs 'Lose Yourself' at the Oscars, surprising (and confusing) fans

Rapper Eminem appeared on the award show stage to perform his track "Lose Yourself" years after it won the Oscar for best original song in 2003.




USATODAY.com - Published





Eminem Faces Backlash Over Lyrics About Deadly Attack at Ariana Grande Concert

The mayor of Manchester, England, said a new song by the rapper was "unnecessarily hurtful and deeply disrespectful."




NYTimes.com - Published




Eminem drops surprise album, urges gun reform in video citing Las Vegas concert shooting

Detroit rapper Eminem's new album, "Music to Be Murdered By" arrived Friday -- with a new video sure to ignite controversy in its call for gun reform.




USATODAY.com - Published





ShowBiz Minute: Weinstein, Eminem, SAGs

Harvey Weinstein's lawyers want trial moved, calling it a "circus"; Eminem drops surprise album, advocates changes to gun laws; Scarlett Johansson, Sterling K. Brown among SAGs presenters. (Jan...




USATODAY.com - Published





Eminem, Nick Cannon trade jabs on social media after diss tracks; 50 Cent takes sides in feud

Eminem's beef with Machine Gun Kelly is long gone, but the rapper has found himself in the middle of another feud, this time with Nick Cannon.




USATODAY.com - Published





Kanye West's long-awaited 'Jesus Is King' debuts at No. 1, tying Eminem's record

Kanye West's "Jesus Is King" debuted at No. 1. It's his ninth album in a row to open atop the Billboard 200, putting him in a tie with Eminem.




USATODAY.com - Published





Eminem and Anderson Cooper: Behind the Scenes

CNN's Anderson Cooper shares all the unpredictable moments that happened on his "60 Minutes" shoot with Eminem.




CBS News - Published





Twinning! Eminem's daughter Hailie Jade looks just like him in new photo

Eminem's daughter is all grown up – and looks just like her dad. Hailie Scott, 23, shared a selfie to Instagram that looks just like the rapper.




USATODAY.com - Published





Eminem tape reels were backed up digitally just months before devastating Universal fire

The Detroit rapper's session tapes may have been destroyed in a fire that claimed some of history's biggest music, but his team got copies.




USATODAY.com - Published