Quid pro quo
Latin phrase meaning "something for something"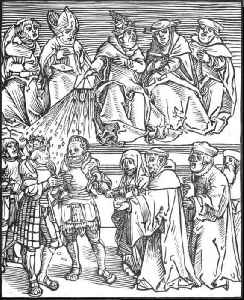 Quid pro quo is a Latin phrase used in English to mean an exchange of goods or services, in which one transfer is contingent upon the other; "a favour for a favour". Phrases with similar meanings include: "give and take", "tit for tat", and "you scratch my back, and I'll scratch yours" and "one hand washes the other". Other languages use other phrases for the same purpose.


The Trump impeachment is all about an allegation of quid pro quo. But what does that mean?
Quid pro quo. It's hard to say and a bit confusing to understand, but it's the phrase at the center of a contentious impeachment inquiry into President Donald Trump.
USATODAY.com - Published
Republicans Try Different Response to Ukraine Call: Quid Pro Quo Isn't Impeachable
The new line of attack is a turnabout for Republicans, who for weeks had rallied around the cry of "no quid pro quo."
NYTimes.com - Published
Knowledge of Trump-Ukraine 'scheme' was far and wide: Schiff
Congressman Adam Schiff, the Democrat leading impeachment hearings in Congress, said Wednesday after receiving prepared remarks from U.S. Ambassador to the European Union Gordon Sondland that "the..
Credit: Reuters Studio Duration: 01:18Published
White House Aide Confirms He Saw Signs of a Quid Pro Quo on Ukraine
Timothy Morrison, a National Security Council aide, said a top diplomat close to President Trump suggested a military aid package for Ukraine was conditioned on investigations into his political..
NYTimes.com - Published
Ukraine call: Quid pro quo or not, what Donald Trump did was wrong
The defense of Trump's Ukrainian phone call misses an important point, as does the whitewash of the unseemly situation with the Bidens in the country.
USATODAY.com - Published
What Is a Quid Pro Quo?
President Trump has denied any quid pro quo in his dealings with Ukraine, but the acting White House chief of staff, Mick Mulvaney, undercut that denial. Then he backtracked.
NYTimes.com - Published
Read Mulvaney's Conflicting Statements on Quid Pro Quo
President Trump has claimed his interactions with Ukraine were not an exchange of aid for cooperation. His acting chief of staff may have undercut that — only to backtrack.
NYTimes.com - Published
You Might Like