Times Square
Neighborhood in Manhattan in New York City, New York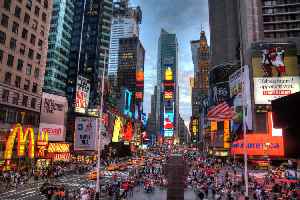 Times Square is a major commercial intersection, tourist destination, entertainment center and neighborhood in the Midtown Manhattan section of New York City at the junction of Broadway and Seventh Avenue. It stretches from West 42nd to West 47th Streets. Brightly adorned with billboards and advertisements, Times Square is sometimes referred to as "The Crossroads of the World", "The Center of the Universe", "the heart of The Great White Way", and "the heart of the world". One of the world's busiest pedestrian areas, it is also the hub of the Broadway Theater District and a major center of the world's entertainment industry. Times Square is one of the world's most visited tourist attractions, drawing an estimated 50 million visitors annually. Approximately 330,000 people pass through Times Square daily, many of them tourists, while over 460,000 pedestrians walk through Times Square on its busiest days.


Flying Wallendas prance above Times Square
Nik and Lijana Wallenda made history walking on the high wire above Times Square. Check out photos of the sibling duo in action.  
USATODAY.com - Published
Also reported by •CBS News
AP Top Stories June 24 A
Here's the latest for Monday June 24th: Pompeo looks to build support against Iran; Angry South Bend residents confront Buttigieg; Police officer killed near St. Louis; Flying Wallendas walk high over..
USATODAY.com - Published
Flying Wallendas Cross Times Square On A Wire
(CNN)The Flying Wallendas astonished the world once again, becoming the first to cross New York's Times Square on a tightrope 25 stories above the city streets. A huge crowd at the iconic New York..
Credit: Wochit News Duration: 00:37Published
Helicopter crash in New York: Pilot dies on impact into skyscraper
New York City Fire Department is responding to a helicopter crash on the roof of a skyscraper in midtown Manhattan. The Fire Department said the helicopter appears to have crash-landed on the top of..
Credit: PA - Press Association STUDIO Duration: 00:30Published
Wallendas safely cross Times Square on high wire
Two siblings from the famed Flying Wallendas safely crossed Times Square on a high wire strung between two skyscrapers 25 stories above the pavement. Nik and Lijana Wallenda walked from opposite ends..
USATODAY.com - Published
Flying Wallendas to cross Times Square on high wire 25 stories above pavement
Lijana Wallenda makes a brave return after a high wire accident broke nearly all the bones in her face two years ago.
USATODAY.com - Published
Hundreds take to Times Square for solstice yoga
Hundreds of people came to Times Square on Friday to celebrate the summer solstice despite intermittent rainstorms. (June 21)  
USATODAY.com - Published
Search this site and the web:
You Might Like