Ethiopia
Country in East Africa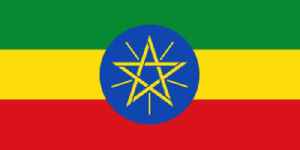 Ethiopia, officially the Federal Democratic Republic of Ethiopia, is a country in the northeastern part of Africa, known as the Horn of Africa. It shares borders with Eritrea to the north, Djibouti to the northeast, Somaliland and Somalia to the east, Kenya to the south, South Sudan to the west and Sudan to the northwest. With over 102 million inhabitants, Ethiopia is the most populous landlocked country in the world and the second-most populous nation on the African continent with a total area of 1,100,000 square kilometres (420,000 sq mi). Its capital and largest city is Addis Ababa, which lies a few miles west of the East African Rift that splits the country into the Nubian and Somali tectonic plates.


Sudan military rulers say they rejected proposal from Ethiopian PM to hold negotiations in Addis Ababa
Sudan's military rulers said on Thursday that Ethiopia's prime minister had suggested that negotiations between the rulers and the Sudanese opposition on a transition to democracy move to Addis Ababa.
Reuters - Published
Envoy says Sudan talks to resume as strike suspended
Sudan's military and opposition groups have agreed to resume talks on the formation of a transitional council, an Ethiopian envoy said on Tuesday, as an opposition alliance said it was suspending its..
Reuters - Published
Sudan army, protesters to resume talks on transitional council
Ethiopian envoy says protest movement agrees to suspend disobedience campaign and TMC will free political prisoners.
Credit: Al Jazeera STUDIO Duration: 02:34Published
Sudan arrests opposition leaders after Ethiopia mediation effort
Protest leaders Mohamed Esmat and Ismail Jalab arrested shortly after meeting mediator, Ethiopia's PM Abiy Ahmed.
Credit: Al Jazeera STUDIO Duration: 02:19Published
Ethiopian PM Abiy Ahmed begins mediation talks in Sudan
Move comes after AU suspends Sudan's membership following killing of dozens of protesters by Rapid Support Forces.
Credit: Al Jazeera STUDIO Duration: 02:23Published
Eritrea Independence: First anniversary since peace deal
The biggest day in Eritrea's calendar of celebrations and now there's a peace deal with the country's neighbour and one-time enemy Ethiopia.
Credit: Al Jazeera STUDIO Duration: 02:40Published
FAA Meets With Air Regulators On Fate Of Boeing 737 MAX
The Federal Aviation Administration is meeting with international air regulators from around the world to assess the status of the grounded Boeing 737 MAX. According to Reuters, senior FAA officials..
Credit: Wochit News Duration: 00:39Published
Pilots Slammed Boeing Before Second Deadly Crash
Just months before a second deadly crash of a Boeing 737 Max airplane, American Airlines pilots reportedly confronted a Boeing official about a computerized anti-stall system. The meeting between the..
Credit: Wochit News Duration: 00:46Published
Boeing Jet Skids Off Runway Into River In Florida
A team of 16 investigators from the National Transportation Safety Board is being sent to Jacksonville, Florida. That's where a Boeing 737 jet slid of the runway Friday night into the St Johns River...
Credit: Wochit News Duration: 00:41Published
Young Ethiopian designers inspired by old fabric
At a recent fashion show in Addis Ababa, Ethiopian designers showcased a range of clothes made from "Faaya Aada," a traditional cotton cloth woven by hand. Mary Theru reports.
Credit: Reuters Studio Duration: 02:11Published
Boeing boss says sorry after fatal crashes in Indonesia and Ethiopia
Boeing shareholders are meeting six months since the first of two deadly crashes involving the company's 737 Max airliner, and as new questions arise about the aerospace giant's handling of the crisis...
Credit: PA - Press Association STUDIO Duration: 00:46Published
Two Olympic Greats Embroiled In Bitter Row Over Alleged Robbery In Hotel
Two Olympic track and field greats -- Mo Farah and Haile Gebrselassie -- have become embroiled in a spat after Farah alleged he had been robbed. According to CNN, Farah alleges that he was robbed..
Credit: Wochit News Duration: 00:32Published
Farah says he was robbed at Gebrselassie's hotel
Mo Farah says Haile Gebrselassie is "disappointing" after Farah was robbed when staying in a hotel owned by the Ethiopian athletics legend
Credit: Reuters - Sports Duration: 00:54Published
28 Hippos Found Dead In Ethiopian National Park
CNN reports that the bodies of at least 28 hippopotamuses have been found in Ethiopia's national park. Behirwa Mega, head of the park told reporters that the animals died between April 14 and 21 and..
Credit: Wochit News Duration: 00:38Published
Kenya: Police arrest driver of abducted Cuban doctors
The doctors were heading to a government hospital where they had been working for close to a year treating patients from Kenya, Somalia and Ethiopia.
Credit: Al Jazeera STUDIO Duration: 02:42Published
Boeing 737 MAX Governmental Review To Begin This Month
Reuters reports the U.S. Federal Aviation Administration said Friday that a joint governmental review of the Boeing 737 MAX will begin on April 29. The review will be conducted in collaboration with 9..
Credit: Wochit News Duration: 00:56Published
Sudan parties to resume talks on forming transitional council: envoy
Sudanese parties have agreed to resume talks on the formation of a transitional sovereign council, Ethiopia's special envoy to Sudan said on Tuesday.
Reuters - Published
Ethiopia delays census again despite looming election
Ethiopia's parliament postponed a national census for a second time on Monday, citing security concerns but potentially undermining logistics for the first election under reformist Prime Minister Abiy..
Reuters - Published
Two Sudan rebel leaders arrested after meeting Ethiopia PM: sources
Two Sudanese rebel leaders were arrested early on Saturday, opposition sources said, shortly after meeting visiting Ethiopian Prime Minister Abiy Ahmed, who is trying to mediate in a crisis threatening..
Reuters - Published
Search this site and the web:
You Might Like