Michael Keaton
American actor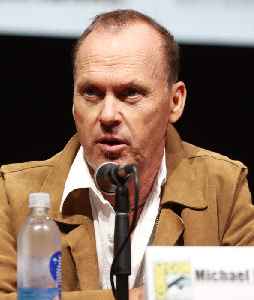 Michael John Douglas, known professionally as Michael Keaton, is an American actor, producer, and director. He first rose to fame for his roles on the CBS sitcoms All's Fair and The Mary Tyler Moore Hour and his comedic film roles in Night Shift (1982), Mr. Mom (1983), Johnny Dangerously (1984), and Beetlejuice (1988). He earned further acclaim for his dramatic portrayal of the title character in Tim Burton's Batman (1989) and Batman Returns (1992).


Jolie takes kids to 'Dumbo' premiere
Angelina Jolie makes a rare public appearance with four of her children at the Los Angeles premiere of "Dumbo," with stars Colin Farrell, Danny DeVito, and Michael Keaton also in attendance. (March..
USATODAY.com - Published
Michael Keaton: Even a bad movie with DeVito would be fun
Michael Keaton and Danny DeVito discuss working on various projects together for the past three decades, having first met on Tim Burton's "Batman Returns." (March 11)
USATODAY.com - Published
Angelina Jolie and her children turn up for "Dumbo" premiere in Los Angeles
Angelina Jolie and her kids steal the show at the world premire of Disney's new movie, "Dumbo." Rough Cut (no reporter narration).
Credit: Reuters Studio Duration: 02:06Published
Mexico's Inarritu to head Cannes Film Festival jury
The multiple Oscar winner becomes the first Mexican to head the jury at this year's film festival. Rough cut (no reporter narration).
Credit: Reuters Studio Duration: 00:57Published
Search this site and the web:
You Might Like