Puerto Rico
Unincorporated territory of the United States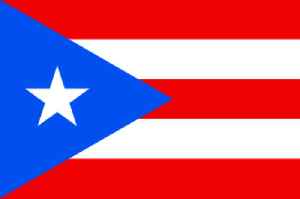 Puerto Rico, officially the Commonwealth of Puerto Rico and briefly called Porto Rico, is an unincorporated territory of the United States located in the northeast Caribbean Sea, approximately 1,000 miles (1,600 km) southeast of Miami, Florida.


Bebe Rexha posts unedited bikini photo on Instagram to show 'what a real woman looks like'
Bebe Rexha took to Instagram Friday to post an un-retouched photo of her posing in a red string bikini while on a beach in San Juan, Puerto Rico.
USATODAY.com - Published
New round of claims against vendors, bondholders on tap in Puerto Rico bankruptcy
Puerto Rico's federally appointed oversight board will file another round of lawsuits against government vendors and bondholders, Luc Despins, a lawyer representing unsecured creditors in the U.S...
Reuters - Published
Alex Cora Will Skip White House Visit
According to Deadspin, members of the Boston Red Sox will skip the team's visit to the White House after winning the World Series, including manager Alex Cora. While speaking to El Nuevo Dia, Cora said..
Credit: Wochit News Duration: 00:41Published
Puerto Rico's Assigned Financial Board Looks To Beat Statue Of Limitations
SAN JUAN (Reuters) - Puerto Rico's federally created financial oversight board on Tuesday began filing the first round of scores of lawsuits seeking to recover money the bankrupt U.S. commonwealth..
Credit: Wochit News Duration: 00:32Published
Clinton's Concerns Over 2020 Democratic Field
Business Insider is reporting that Former President Bill Clinton is nervous about the 2020 election. His showed his concern at an event in Washington over the weekend. Clinton told the crowd that he..
Credit: Wochit News Duration: 00:42Published
Trump Wildly Inflates Puerto Rico's Disaster Recovery Funds
President Trump said Puerto Rico received $91 billion to recover from Hurricane Maria, but the real number is less than half of that.
Credit: Newsy Studio Duration: 02:32Published
Senators Make Full Court Press To Get Trump To Sign Off On Disaster Relief Bill
Puerto Rico is running out of food assistance, the Southeast is reeling from hurricanes, and the Midwest is struggling with floods. But according to Politico, that hasn't moved President Donald Trump..
Credit: Wochit News Duration: 00:54Published
White House Deputy Press Secretary Calls Puerto Rico 'That Country'
White House Deputy Press Secretary Hogan Gidley criticized Puerto Rico's government. During an MSNBC interview he said the government was mismanaging federal hurricane aid. Gidley referred to Puerto..
Credit: Wochit News Duration: 00:32Published
Trump Calls Out Dems for Voting Down Disaster Aid Package
Two funding packages that would have provided aid to hurricane-devastated Puerto Rico failed in the Senate.
Credit: Newsy Studio Duration: 01:43Published
Trump: I've helped Puerto Rico more than 'any living human being'
President Donald Trump says he has taken better care of Puerto Rico than 'any man ever.' Rough Cut (no reporter narration).
Credit: Reuters Studio Duration: 00:58Published
AP: Trump Called Puerto Rico Aid 'Out of Proportion'
President Trump reportedly told GOP lawmakers Tuesday that Puerto Rico doesn't need more aid to recover from Hurricanes Maria and Irma.
Credit: Newsy Studio Duration: 01:34Published
Watchdog Probes Possible 'Interference' In Puerto Rico Aid
The investigation was launched by the Department of Housing and Urban Development's inspector general's office.
Credit: Newsy Studio Duration: 01:32Published
FEMA Shared Sensitive Financial Details Of 2.7 Million Disaster Survivors With Private Contractor
An internal government watchdog report reveals the Federal Emergency Management Agency, or FEMA, exposed 2.3 million disaster survivors to possible identity theft and fraud by sharing sensitive..
Credit: Wochit News Duration: 00:57Published
Connecticut AG calls alleged drug price-fixing an "attack"
43 states and Puerto Rico filed a complaint Friday alleging 20 companies coordinated to inflate prices and reduce competition on more than 100 generic prescription drugs
CBS News - Published
"Massive fraud" by generic drug makers an "attack on the American people," Connecticut AG says
Twenty of the biggest generic prescription drug makers are accused of committing a multi-billion-dollar fraud on people in the U.S. Fourty-three states and Puerto Rico filed a complaint Friday alleging..
CBS News - Published
Search this site and the web:
You Might Like