Baltimore
Largest city in Maryland, United States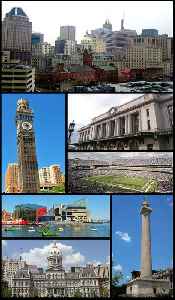 Baltimore is the most populous city in the U.S. state of Maryland, as well as the 30th most populous city in the United States, with a population of 593,490 in 2019 and also the largest independent city in the country. Baltimore was established by the Constitution of Maryland as an independent city in 1851. As of 2017, the population of the Baltimore metropolitan area was estimated to be just under 2.802 million, making it the 21st largest metropolitan area in the country. Baltimore is located about 40 miles (64 km) northeast of Washington, D.C., making it a principal city in the Washington-Baltimore combined statistical area (CSA), the fourth-largest CSA in the nation, with a calculated 2018 population of 9,797,063.


Brandon Scott Wins Democratic Primary For The Baltimore Mayoral Election

Baltimore City Council President Brandon Scott won the Democratic primary for the Baltimore mayoral election. According to Business Insider, the city conducted the election largely with mail-in..
Credit: Wochit News Duration: 00:32
Published
Confusion, long lines as U.S. states vote during pandemic

Confusion, missing mail-in ballots and long lines at some polling centers marred primary elections on Tuesday in eight states and the District of Columbia, the biggest test yet of voting during the..
Credit: Reuters - Politics Duration: 02:25
Published
U.S. health experts warn protests may add to virus spread

Public health experts and government officials, including New York's governor, are warning that large street protests over racial inequities and excessive police force could worsen the spread of the..
Credit: Reuters Studio Duration: 01:40
Published
U.S. cities braced for another night of violence

Major U.S. cities feared another night of violent protests on Sunday over the death of George Floyd in police custody, cleaning up broken glass and burned out cars after curfews failed to stop..
Credit: Reuters Studio Duration: 02:34
Published
Trump hails Nat'l Guard for work battling COVID-19

U.S. President Donald Trump honored the fallen on the Memorial Day holiday Monday, and thanked U.S. National Guard members who are among those currently on the front lines of the battle against the..
Credit: Reuters Studio Duration: 01:18
Published
Trump Honors Veterans, Defends His Choice To Golf As Pandemic Death Toll Nears 100,000

Memorial Day saw US President Donald Trump paying tribute to fallen members of the military at Arlington National Cemetery. He then attended a ceremony to honor those who died for their country at the..
Credit: Wochit News Duration: 00:45
Published
Parts of NY, VA and MD reopen in patchwork start

Less populated areas of New York, Virginia and Maryland took their first steps towards lifting lockdowns on Friday, part of a patchwork approach to the coronavirus pandemic that has been shaped by..
Credit: Reuters Studio Duration: 01:49
Published
You Might Like



AP Top Stories July 5 P

Here's the latest for Sunday, July 5: Christopher Columbus statue toppled in Baltimore; India sees another record jump in coronavirus cases; Rio's Catholic church reopens for mass; baby Hawksbill..




USATODAY.com - Published





Columbus statue toppled by protesters in Baltimore

Baltimore protesters pulled down a statue of Christopher Columbus and threw it into the city's Inner Harbor Saturday night. Video captured by reporter Louis Krauss of The Baltimore Brew shows the..




USATODAY.com - Published





Injured turtle with Lego wheelchair recovers and is released back to wild

The Eastern box turtle was brought to the Maryland Zoo after it was found in a Baltimore park with multiple fractures to its shell.




USATODAY.com - Published





Baltimore restaurant apologizes to Black woman, son after denying them service over clothes

In the video, he was wearing sneakers, gym shorts and a Jordan T-shirt. Another child in the restaurant, who was white, was wearing similar apparel.




USATODAY.com - Published




Mary J. Wilson, Barrier-Smashing Zookeeper, Dies at 83

Ms. Wilson, who had the coronavirus, was the first African-American senior zookeeper at what is now the Maryland Zoo in Baltimore.




NYTimes.com - Published





Trump makes double Memorial Day appearances

President Donald Trump made his second appearance to mark Memorial Day at Baltimore's Fort McHenry National Monument and Historic Shrine. (May 25)  




USATODAY.com - Published





'We mourn alongside all of the families.' Trump marks Memorial Day during coronavirus pandemic

As a bugler played "Taps," Trump followed a Memorial Day tradition by placing a wreath in Arlington National Cemetery and also traveled to Baltimore.




USATODAY.com - Published





'Dear Mr. President, please stay home!': Baltimore mayor asks Trump not to visit city amid lockdown

President Donald Trump is scheduled to visit Fort McHenry in Baltimore for Memorial Day, but the city's mayor does not approve.




USATODAY.com - Published





Oprah gives $12M to 'home' cities during pandemic

Media icon Oprah Winfrey has announced she'll give grants to organizations helping underserved communities in cities she's lived in - Chicago; Baltimore; Nashville, Tennessee; Milwaukee; and Kosciusko,..




USATODAY.com - Published





Kweisi Mfume rejoins House, fills seat of Cummings

Kweisi Mfume rejoined the House on Tuesday replacing the late Rep. Elijah Cummings, representing a Baltimore-area district that President Donald Trump insulted last year as "disgusting, rat and rodent..




USATODAY.com - Published





Nancy Pelosi's birth 80 years ago made headlines, too, as perils gathered for the nation

Eighty years ago, Nancy D'Alesandro's birth to a Baltimore congressman made headlines. Now she's running the House.




USATODAY.com - Published





A Baltimore Barber Who's With His Clients Through Life, and Death

Antoine Dow helps bring dignity to young black men whose lives were cut short by gun violence.




NYTimes.com - Published





Baltimore ex-mayor sentenced to three years in prison in children's book fraud scheme

Former Baltimore mayor Catherine Pugh was sentenced on Thursday to three years in federal prison for fraud and tax evasion schemes involving bogus sales of her children's book series.




Reuters - Published





Catherine Pugh, Former Baltimore Mayor, Is Sentenced to 3 Years in Book Fraud

"I messed up. I really messed up," Ms. Pugh said in a video that her lawyers submitted to the court before her sentencing.




NYTimes.com - Published




2 police officers serving attempted murder warrant shot in Baltimore; suspect dead

One officer was shot in the leg and the other was shot in the stomach, but the injuries were not life-threatening.




USATODAY.com - Published




2 officers injured, suspect dead in Baltimore

Two law enforcement officers with a fugitive task force were injured and a suspect died in a shooting Wednesday in Baltimore, the U.S. Marshals Service said. (Feb. 12)  




USATODAY.com - Published





'Bed Bug City?' These are the worst spots for bedbugs, pest control company reports

Washington overtook Baltimore as the number one "Bed Bug City," based on data compiled by pest control company Orkin.




USATODAY.com - Published




Fan dies after collapsing in Ravens' M&T Bank Stadium during playoff game Saturday

A fan died Saturday after he collapsed in Baltimore's M&T Bank Stadium during the NFL playoff game, according to a statement from the team.




USATODAY.com - Published





AP Top Stories December 24 A

Here's the latest for Tuesday December 24th: McConnell doesn't rule out impeachment trial witnesses; Satellite images raise concerns about North Korea; Former Hawaii Governor wants Tulsi Gabbard to..




USATODAY.com - Published




Officer jumps into Baltimore Harbor, rescues dog

A Baltimore Police Officer jumped into the frigid inner harbor to rescue a dog. WJZ-TV quotes Baltimore Police Lieutenant Steve Olson as saying a black lab named Loki got off his leash and went into..




USATODAY.com - Published





Ravens lock up AFC's No. 1 seed, home-field advantage with 31-15 win over Browns

With a 31-15 win over the Browns, the Ravens locked up the top seed and ensured the AFC playoffs will run through Baltimore.




USATODAY.com - Published





Frontier adding 18 nonstop routes, including new flights to Caribbean, El Salvador and Guatemala

The no-frills airline is adding it first flights to El Salvador and Guatemala and is beefing up service in Miami, Baltimore and other cities.




USATODAY.com - Published





Prime Mover: How Amazon Wove Itself Into the Life of an American City

For most people, it's the click that brings a package to their door. But a look at Baltimore shows how Amazon may now reach into Americans' daily existence in more ways than any corporation in..




NYTimes.com - Published





'Your Mission Is Justice': A Prosecutor on Why She Helped Free 3 Men

"I wouldn't be surprised if there were hundreds of the same kind of people sitting in prison," said Marilyn Mosby, Baltimore's prosecutor, who created a unit to review old cases.




NYTimes.com - Published





Melania Trump Is Booed While Addressing Students in Baltimore

The first lady, who was speaking at an event for youth opioids awareness, rarely elicits such a visceral crowd reaction on her own.




NYTimes.com - Published




Melania Trump booed at youth opioid summit in Baltimore

The first lady was met with some loud boos by students in Baltimore – a city President Trump recently said no human would ever want to live in.




CBS News - Published





Cheers, boos greet first lady at youth summit

Melania Trump urged students to avoid misusing drugs at a youth summit in Baltimore where she drew a mix of cheers and boos. (Nov. 26)  




USATODAY.com - Published





First lady Melania Trump gets booed as she speaks at opioid summit

There were some boos as well as cheers for first lady Melania Trump as she spoke at a youth summit on opioid abuse in Baltimore on Tuesday. CBSN's Vladimir Duthiers has more.




CBS News - Published





Melania Trump first lady booed at Baltimore youth event

Melania Trump was widely booed when she took the stage at a youth event in Baltimore on Tuesday, an unusually hostile reception for a U.S. first lady.




Reuters - Published




3 men freed after spending 36 years in prison for teen's murder

Three men incarcerated for 36 years in Maryland were exonerated Monday in the slaying of a Baltimore teenager after a review of their case. CBS Baltimore's Kelsey Kushner reports.




CBS News - Published




Supreme Court rejects appeal from Adnan Syed of "Serial" fame

The Supreme Court on Monday rejected a Maryland man's bid for a new trial based on information uncovered by the hit podcast "Serial." Paul Gessler of CBS Baltimore has the details.




CBS News - Published





U.S. Supreme Court turns away murder case highlighted in 'Serial' podcast

A Baltimore man will remain behind bars for the 1999 murder of his former high school girlfriend after the U.S. Supreme Court on Monday rejected his bid for a new trial in a case that captured public..




Reuters - Published





Ruth Bader Ginsburg released from Baltimore hospital after being treated for an infection

Supreme Court Justice Ruth Bader Ginsburg has been released from a Baltimore hospital. The 86-year-old justice was admitted Friday night, after compaining of fever and chills. She was treated for an..




CBS News - Published





Supreme Court Justice Ruth Bader Ginsburg home and 'doing well' after being hospitalized with fever

The four-time cancer survivor was admitted to Johns Hopkins Hospital in Baltimore on Friday to treat a possible infection after suffering chills.




USATODAY.com - Published





Former Baltimore mayor pleads guilty in corruption scheme

Former Baltimore Mayor Catherine Pugh pleaded guilty Thursday to charges of conspiracy and tax evasion. Mike Hellgren of CBS Baltimore reports.




CBS News - Published





Ex-Baltimore mayor pleads guilty to fraud and tax evasion

Hugh showed little emotion in court Thursday




CBS News - Published





Former Baltimore mayor pleads guilty to charges related to book sales

Former Baltimore Mayor Catherine Pugh pleaded guilty on Thursday to tax evasion and other federal charges related to sales of a self-published children's book as part of an illegal scheme to fund her..




Reuters - Published





Former Baltimore mayor Catherine Pugh charged with fraud and tax evasion

Baltimore's former mayor, Catherine Pugh, is facing 11 counts of fraud, tax evasion and conspiracy. It all stems from a children's book she wrote. Jeff Pegues reports.




CBS News - Published

Also reported by •Reuters


Ex-Baltimore Mayor faces fraud, tax charges

The disgraced former mayor of Baltimore who resigned amid investigations into deals to sell her self-published children's books has been charged with fraud and tax evasion. (Nov.20)  




USATODAY.com - Published





Former Baltimore mayor charged over children's book scandal

Federal indictment accuses Catherine Pugh of using her "Healthy Holly" books to enrich herself, promote her political career and fund her run for mayor




CBS News - Published

Also reported by •Reuters •NYTimes.com


Ex-Baltimore mayor charged with fraud and tax evasion in children's book scheme

Baltimore Mayor Catherine Pugh resigned after it was revealed that her "Healthy Holly" books were sold to organizations the city did business with




USATODAY.com - Published




Presidents Obama, Clinton eulogize Rep. Elijah Cummings

Two former presidents were among the mourners who celebrated the life of Rep. Elijah Cummings, a son of sharecroppers who rose to become a powerful voice in Congress, at a memorial service Friday in..




CBS News - Published