Baltimore
Largest city in Maryland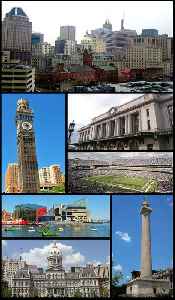 Baltimore is an independent city in the state of Maryland within the United States. Baltimore was established by the Constitution of Maryland as an independent city in 1729. With a population of 611,648 in 2017, Baltimore is the largest such independent city in the United States. As of 2017, the population of the Baltimore metropolitan area was estimated to be just under 2.808 million, making it the 20th largest metropolitan area in the country. Baltimore is located about 40 miles (60 km) northeast of Washington, D.C., making it a principal city in the Washington-Baltimore combined statistical area (CSA), the fourth-largest CSA in the nation, with a calculated 2017 population of 9,764,315.


Baltimore mayor sues to block move of Preakness Stakes
Baltimore Mayor Catherine Pugh has sued the owners of Pimlico Race Course in an effort to seize the horse racetrack and block the move of the Preakness Stakes out of the city
USATODAY.com - Published
From high atop Kilimanjaro, Haloti Ngata retires
Haloti Ngata found a unique way to announce his retirement from the NFL: from atop Mount Kilimanjaro. The 35-year-old Ngata, who played with the Eagles last season following three years with the Lions,..
USATODAY.com - Published
Ravens Continue to Rebuild by Adding Earl Thomas and Mark Ingram
After watching the Cleveland Browns trade for Odell Beckham Jr. on Tuesday night, the Ravens spent big on Wednesday by signing safety Earl Thomas and running back Mark Ingram. What do the moves say..
Credit: Sports Illustrated Duration: 02:09Published
Maryland May Help Felons Return to Work by 'Banning the Box'
Eleven states have already banned job applications from asking about felony convictions. Maryland may be the next.
Credit: Newsy Studio Duration: 03:51Published
Police Arrest Family Members For Murder Of Woman Originally Blamed On Panhandler
Baltimore police have arrested the husband of murdered woman Jacquelyn Smith and his adult daughter after they blamed Smith's death on a panhandler.
Credit: Newsweek Duration: 00:47Published
U.S. woman's family arrested for murder first pinned on panhandler: police
The husband and stepdaughter of Jacquelyn Smith, a woman thought stabbed to death by a panhandler, were arrested while trying to leave the country at the Mexican border. Rough cut - no reporter..
Credit: Reuters Studio Duration: 00:32Published
Russell Baker, Author and New York Times Columnist, Is Dead at 93
Russell Baker, the genial, but sharp-witted writer who won Pulitzer Prizes for his humorous columns in The New York Times and a moving autobiography of his impoverished Baltimore childhood and later..
Credit: Time Duration: 00:56Published
First words in Kamala's launch video: Truth, justice, decency
NEW: SEN. KAMALA HARRIS is running for president … Her campaign will be based way outside of the Beltway in a faraway land called Baltimore. They'll have a second office in Oakland. Her minute-long..
Credit: Wochit News Duration: 00:33Published
Baltimore homicide rate spikes since 2015 death of Freddie Gray
In 2017, Baltimore recorded 342 murders, the highest number the city had ever seen. It was also the highest homicide rate of any major U.S. city that year. The spike in violent crimes began in 2015..
CBS News - Published
Report examines spike in Baltimore crime rate since Freddie Gray's death
Baltimore's violent crime rate spiked in the years following the death of Freddie Gray, which set off a series of protests and fueled the Black Lives Matter movement, according to a new report
CBS News - Published
Woman inspired by Oscar-winning film uses billboards to help find twin's killer
A Maryland woman is taking inspiration from an Oscar-winning movie to try to solve the decades-old murder mystery of her twin sister, Jody LeCornu. The 23-year-old college student was shot outside..
CBS News - Published
Search this site and the web:
You Might Like