United States Border Patrol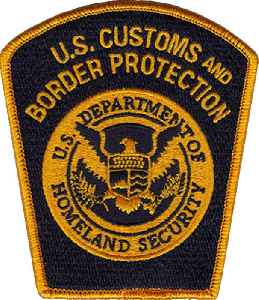 The United States Border Patrol (USBP) is the United States Customs and Border Protection's federal law enforcement arm within the United States Department of Homeland Security (DHS). The USBP is the armed and uniformed federal police that secure the borders of the United States by detecting and preventing illegal aliens, terrorists and terrorist weapons from entering the United States, and prevent illegal trafficking of people and contraband.


Migrant Children Are Entitled to Toothbrushes and Soap, Federal Court Rules
A federal appeals court panel rejected the government's definition of "safe and sanitary" conditions for children in Border Patrol facilities.
NYTimes.com - Published
Border agent who called migrants 'subhuman' pleads guilty to intentionally running over migrant
U.S. Border Patrol Agent Matthew Bowen pleaded guilty to running over a Guatemalan migrant with his patrol vehicle in December 2017.
USATODAY.com - Published
'The future belongs to us' Trump on July 4
With U.S. fighter jets flying overhead, President Donald Trump praised the military and reveled in a show of pomp and patriotism on Thursday in a celebration of Independence Day that critics accused..
Credit: Reuters Studio Duration: 01:55Published
High-stakes decisions wearing CBP officers thin
Many U.S. Customs and Border Protection officers are feeling the strain of their jobs, as some begin deciding which migrants will wait in Mexico for their asylum hearings under the Trump..
Credit: Reuters Studio Duration: 01:41Published
'Close the Camps' protests sweep U.S. cities
Protesters on Tuesday gathered in cities across the U.S. demanding the closure of migrant detention centers. Rough Cut (no reporter narration).
Credit: Reuters Studio Duration: 01:02Published
Alexandria Ocasio-Cortez Reports New Horrors At Migrant Detention Facilities
Rep. Alexandria Ocasio-Cortez has accused US Customs and Border Patrol agents of new cruelty. During brief comments outside one facility, Ocasio-Cortez told reporters the cells don't have running..
Credit: Wochit News Duration: 00:45Published
Migrant Children Relocated From Overcrowded Texas Border Patrol Station
Nearly 250 migrant children were relocated from an overcrowded Texas border patrol station. Attorneys said the children were kept in dirty conditions without adequate food and water. According to..
Credit: Wochit News Duration: 00:32Published
Border Patrol Agent Who Hit Migrant With Truck Pleads Guilty
Matthew Bowen, who pleaded guilty to a misdemeanor charge, had sent a text message referring to immigrants as "subhuman" and "murdering savages," according to court documents.
NYTimes.com - Published
Search this site and the web:
You Might Like