Gavin Newsom
40th Governor of California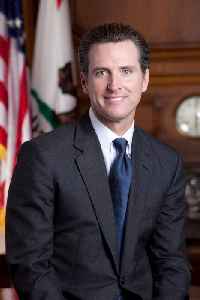 Gavin Christopher Newsom is an American politician and businessman who is the 40th governor of California, serving since January 2019. A member of the Democratic Party, he previously served as the 49th lieutenant governor of California from 2011 to 2019 and as the 42nd mayor of San Francisco from 2004 to 2011.


As COVID Grows, California Shuts Down Again

California's governor on Monday clamped new restrictions on businesses, reports HuffPost. The rules also include the state's two largest school districts, Los Angeles and San Diego. He stated..
Credit: Wochit News Duration: 00:39
Published
Newsom promises wildfire mitigation amid COVID-19

California Governor Gavin Newsom on Thursday said there has been a "significant increase" in wildfires this year compared to last year and encouraged residents to mitigate "the loss of lives and..
Credit: Reuters Studio Duration: 01:09
Published
CA Governor stresses continued deadly impact of COVID-19

California Governor Gavin Newsom on Monday gave an update on fatalities and new coronavirus cases in his state, as cases soared in California over the July Fourth weekend,
Credit: Reuters Studio Duration: 01:25
Published
California closes bars, indoor dining in most of state

Indoor activities at restaurants, movie theaters and other facilities will be banned in most of California for at least three weeks as COVID-19 infections surge, Governor Gavin Newsom said on..
Credit: Reuters Studio Duration: 01:28
Published
Party's Over For Seven California Counties As Governor Orders Closure Of Bars, Nightclubs

California has seen a jump in new novel coronavirus COVID-19 cases, and Gov. Gavin Newsom is cracking down. According to Business Insider, Gov. Newsom ordered bars and nightlife spots to close in seven..
Credit: Wochit News Duration: 00:34
Published
California Residents Must Wear Masks in Public Under New Order

Governor Gavin Newsom issued the statewide order on Thursday.
Credit: Cover Video STUDIO Duration: 01:21
Published
California Orders Residents To Wear Face Masks

In light of rising covid-19 cases, Governor Gavin Newsom of California has made a change. Newsom has announced that the state would require all residents to wear face masks. Even just a simple covering..
Credit: Wochit News Duration: 00:36
Published
Some California Barbershops And Hair Salons Get The Ok To Reopen

California Governor Gavin Newsom announced on Tuesday that some Barbershops and hair salons may reopen. The shops will have to comply with strict health and safety protocols in order to reopen. Salon..
Credit: Wochit News Duration: 00:32
Published
California governor says his kids cut his mullet

California Governor Gavin Newsom said on Tuesday barbers could reopen for business in parts of the state with some new guidelines in place, but he joked that his own kids didn't seem to respect those..
Credit: Reuters Studio Duration: 01:14
Published
CA pastor to delay church reopening, despite Trump

Pastor Bryant Wyatt says he will keep Sacramento's Mount Calvary Baptist Church closed a little longer as he works on a safe reopening plan, despite President Donald Trump's call to have religious..
Credit: Reuters - Politics Duration: 01:44
Published
California To Give Health And Safety Guidelines For TV And Movie Production

California officials are set to roll out coronavirus guidelines for the production of Hollywood movies and TV shows. Governor Gavin Newsom, however, warned that Los Angeles County would likely not be..
Credit: Wochit News Duration: 00:32
Published
US Department of Justice Gives California Warning Over Church Closings

The U.S. Department of Justice gave a warning to California's Gov. Gavin Newsom. They said COVID-19 restrictions discriminate against places of worship while other businesses and now function...
Credit: Wochit News Duration: 00:32
Published
You Might Like



In CA: $320,000 in overtime when your base salary is $25,000; It's the life in the LADWP

Gov. Gavin Newsom calls it a dimmer switch, but for many Golden State businesses, it's lights out. Again. And it's a good gig if you can get it — a security guard at the Los Angeles Department of..




USATODAY.com - Published





California returns to limits on indoor gatherings

California Gov. Gavin Newsom has extended the closure of bars and indoor dining statewide and has ordered gyms, churches and hair salons closed in most places as coronavirus cases keep rising in the..




USATODAY.com - Published





California Gov. Newsom orders statewide closures, including gyms, churches in monitored counties

California Gov. Gavin Newsom announced Monday a list of businesses sectors that will be required to close amid a spike in COVID-19 cases.  




USATODAY.com - Published





California Gov: 50,000 hospital beds now available

California now has hospital capacity to treat 50,000 COVID-19 patients, Gov. Gavin Newsom said Tuesday. Newsom made the announcement as the state recorded one of its largest one-day totals of new..




USATODAY.com - Published





In CA: In the city with the highest pay in the state, your house isn't likely to burn down

It's a battle to win hearts and minds in California, and Gov. Newsom and friends are ready to spend big to do it. And I'll tell you the story of the city that on average pays its employees the most of..




USATODAY.com - Published





New closures as California confronts virus spike

California took a step back in reopening its economy as Gov. Gavin Newsom shut down inside restaurant dining across most of the state for three weeks amid troubling increases in coronavirus cases and..




USATODAY.com - Published





In CA: Consumer Privacy Act goes into full effect and much of the state shuts back down

Gov. Newsom orders most indoor business activities to close across much of the state as coronavirus cases continue a swift ascent. And let's revisit the nation's most comprehensive data privacy law..




USATODAY.com - Published





California rolls back more openings due to virus

California Gov. Gavin Newsom on Wednesday ordered bars and indoor dining at restaurants to close in most areas of the state for the next three weeks amid a troubling surge of new coronavirus cases..




USATODAY.com - Published





California Gov. Gavin Newsom closes bars, indoor operations for restaurants in 19 counties ahead of Fourth of July weekend

California's new restrictions, expected to last at least three weeks, come as coronavirus cases have surged since the state started reopening in May.




USATODAY.com - Published




Universal Basic Income in California? Here Are the Mayors Supporting it

Wednesday: A conversation with Mayor Michael Tubbs of Stockton about why he wants to make it happen. Also: Get ready for an update from Gov. Gavin Newsom.




NYTimes.com - Published





Is California Closing Again?

Tuesday: Businesses may have to close again. Also: Gov. Gavin Newsom signs the budget; and an ending for the Golden State Killer cases.




NYTimes.com - Published





San Quentin State Prison is 'deep area of focus and concern' in California: Nearly one-third of inmates have coronavirus

California Gov. Gavin Newsom on Monday announced more than 1,000 inmates at San Quentin State Prison have tested positive for the coronavirus.




USATODAY.com - Published




How the Pandemic Is Making It Tougher to Study Whales

Monday: Whales are dying at alarming rates, but the pandemic is keeping researchers away. Also: Gov. Gavin Newsom closes bars in some counties.




NYTimes.com - Published





Coronavirus updates: More states close bars, slow reopening plans; Gilead Sciences sets price for remdesivir treatments

California Gov. Gavin Newsom ordered some bars to close. Arizona and Washington slow down reopenings. Latest coronavirus news.




USATODAY.com - Published





Newsom praises Disney for delaying park reopenings

As California sees a worrisome rise in the number of coronavirus cases and hospitalizations, Gov. Newsom on Thursday praised Disney after the company announced it would delay reopening its California..




USATODAY.com - Published





Coronavirus in California: How One Oakland Bar Is Navigating Reopening

Thursday: An update on the Hatch. Also: Gov. Gavin Newsom addresses a steep rise in cases.




NYTimes.com - Published





Arnold Schwarzenegger: Anyone making COVID-19 masks a 'political issue is an absolute moron'

Arnold Schwarzenegger said COVID-19 masks shouldn't be "a political issue" after California Gov. Gavin Newsom issued a face mask order.




USATODAY.com - Published





In CA: The masks have it in California

In a move possibly designed to save neighbor v. neighbor fights, Gov. Gavin Newsom mandates masks be worn in most public spaces. And DACA recipients can stay, the U.S. Supreme Court rules, even as it..




USATODAY.com - Published





California governor requires residents to wear face masks in most indoor, outdoor settings

Gavin Newsom said he's issuing order now because too many people are going out in public without face coverings and coronavirus cases are increasing.




USATODAY.com - Published




In CA: Workplace equality gets a major win; police can keep their immunity

The FBI joins the investigation into the death of a Black man found hanging from a tree in L.A. County. And the Supreme Court rules gay and transgender people should have equal workplace rights and..




USATODAY.com - Published




How Paradise High's Class of 2020 Got Its Graduation

The students and parents pushed and prodded over 10 weeks for an exception to Gov. Gavin Newsom's shelter-in-place order.




NYTimes.com - Published





In CA: Hoses to septic tanks could work on rioters, longtime cop posts

The elected official apologizes for his social media post that rioters should be sprayed with septic tank-connected hoses amid growing calls for his resignation. Gov. Gavin Newsom calls for the end..




USATODAY.com - Published





California moves to end state police use of carotid restraint

California Governor Gavin Newsom said on Friday that he would end state police training in the use of carotid restraints after a similar move was used on George Floyd, whose death in police custody in..




Reuters - Published





Businesses should be reimbursed for damage by protesters, California governor says

Businesses damaged in protests over the killing of George Floyd, an unarmed black man who was asphyxiated in police custody in Minneapolis, should be reimbursed for their losses, California Governor..




Reuters - Published





How Do Californians Feel About Governor Newsom?

Thursday: In a new statewide poll, his approval rating is up. But challenges are ahead. Also: Protest updates.




NYTimes.com - Published





Gov. Newsom on George Floyd Protests: More National Guard Troops to Be Sent In

Tuesday: Gov. Gavin Newsom and other liberal elected officials are navigating a tricky political situation. Also: More protest updates.




NYTimes.com - Published





In CA: The governor urges peace; the president warns of a military intervention

Protests in response to George Floyd's death in Minneapolis continue as President Trump promises a heavy-handed military response. And nearly half of counties cleared to reopen parts of their..




USATODAY.com - Published





In CA: It's gonna be a hard 'no' on that budget, state Senate says. So let's defer and tax

State lawmakers aren't sold on Gov. Gavin Newsom's revised budget so they've offered a counter. I'll sum it up: Borrow. Defer. Tax. And some days, it seems life isn't ever going to go back to normal...




USATODAY.com - Published




Asserting Sovereignty, Indian Casinos Defy California's Governor and Reopen

Some casinos swung open their doors last week despite health concerns. "This virus does not recognize jurisdictional boundaries," Gov. Gavin Newsom wrote to tribal leaders.




NYTimes.com - Published





Calif. reopen rules to include barbershops, salons

California Gov. Gavin Newsom said Tuesday that barbershops and hair salons can reopen immediately in counties that have been cleared to move faster on lifting coronavirus restrictions. (May 26)  




USATODAY.com - Published





Barbershops to open as COVID-19 rules ease in parts of California

Barbershops and hair salons may open with modifications in parts of California where public health officials can show it is safe, Governor Gavin Newsom said on Tuesday, as the most populous U.S. state..




Reuters - Published





Coronavirus in California: When Will the State's Economy Recover?

Tuesday: Experts weigh in. Also: State leaders make good on Gov. Gavin Newsom's promise to set rules for reopening houses of worship.




NYTimes.com - Published





Republicans sue to block California Gov. Newsom from mailing ballots to all voters

Republican organizations called the Democratic governor's order an illegal "usurpation of the legislature's authority."




USATODAY.com - Published





Memorial Day, California churches, 'SNL' marathon: 5 things you need to know Monday

Memorial Day ceremonies will be held across the United States, California Gov. Gavin Newsom to issue guidelines on reopening churches and more news you need to know Monday.




USATODAY.com - Published





Three Republican groups sue California governor over mail-in-vote order

The Republican National Committee (RNC) and two other Republican groups on Sunday filed a lawsuit against California Governor Gavin Newsom over his executive orders to use mail-in ballots for the..




Reuters - Published





In CA: Thousands to be trained on how to hunt coronavirus infections

Although Gov. Gavin Newsom loosened the standards to reopen the state, it appears more than 40% of counties are still behind on meeting them. Officials in one county who were singled out by Newsom..




USATODAY.com - Published





California to give guidelines for restarting TV and movie production

California on Monday will roll out guidelines for the resumption of production of Hollywood movies and TV shows, but Governor Gavin Newsom warned that Los Angeles County would likely be excluded in the..




Reuters - Published





How to Get a Coronavirus Test in L.A. County

Wednesday: Officials in Los Angeles cautioned against changing behavior based on test results. Also: The Department of Justice warns Gov. Gavin Newsom.




NYTimes.com - Published





California Reopening During Coronavirus Pandemic: Gov. Newsom's Plans for Counties

Tuesday: Gov. Gavin Newsom laid out new criteria for counties that hope to reopen faster than the state. There was good news for sports lovers.




NYTimes.com - Published





In CA: Counties can open at their own pace, but not so fast, L.A.

A California reopening is just around the corner now that Gov. Gavin Newsom has eased a few restrictions and given some power to counties. Meanwhile, tribal casinos are opening their doors and yes,..




USATODAY.com - Published





California, New York open door for sports return

California governor Gavin Newsom cleared a path for the potential return of professional sport in the state, saying on Monday that an early June restart was possible under strict guidelines, including..




Reuters - Published





Pro sports events in California could begin sans fans June 1: governor

California could allow pro sporting events to take place without fans present as soon as June 1, Governor Gavin Newsom said on Monday.




Reuters - Published





Coronavirus in California: Gov. Gavin Newsom's Budget Proposal

Friday: A look at how history has shaped American nursing. Also: Gov. Gavin Newsom unveiled his revised budget proposal.




NYTimes.com - Published





As revenues plummet, Calif. budget cuts billions

In a budget reflecting the financial hit the state is already seeing from the coronavirus pandemic, California Gov. Gavin Newsom on Thursday proposed cutting $6.1 billion. He plans to tap the state's..




USATODAY.com - Published





Governor reworks budget as COVID-19 plays havoc with California economy

Ambitious plans to strengthen California's social safety net will likely be scaled back on Thursday when Governor Gavin Newsom unveils a revised state budget reflecting an anticipated $54.3 billion..




Reuters - Published





California prepares for more wildfires as coronavirus challenges budget

California has had 60% more wildfires so far in 2020 than last year because of drier weather, Governor Gavin Newsom said on Wednesday, and he promised increased funding for firefighting even as the..




Reuters - Published




Restaurants in parts of California can open for sit-down dining

Restaurants in parts of California can host sit-down dining, and shopping malls throughout the state can open for curbside pickup as coronavirus restrictions ease, Governor Gavin Newsom said on..




Reuters - Published





Gov. Newsom's Budget Proposal: Deep Cuts Are Likely

Tuesday: Jim Newton says the nickname misses the seriousness of Mr. Brown's spirituality. Also: Election Day in the 25th Congressional District.




NYTimes.com - Published





California to Mail All Voters Ballots for November Election

Gov. Gavin Newsom on Friday made California the first state to alter its plans for the general election in response to the coronavirus pandemic.




NYTimes.com - Published