JPMorgan Chase
American multinational banking and financial services holding company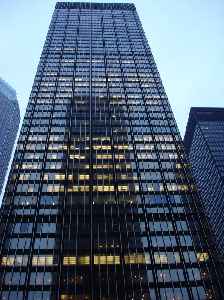 JPMorgan Chase & Co. is an American multinational investment bank and financial services holding company headquartered in New York City. JPMorgan Chase is ranked by S&P Global as the largest bank in the United States and the seventh largest bank in the world by total assets, with total assets of US$2.687 trillion. It is also the world's most valuable bank by market capitalization. JPMorgan Chase is incorporated in Delaware.


Trim exposure to Apple, Microsoft: strategist

Crossmark Global Investments' Victoria Fernandez is still bullish about tech stocks, but she says investors should take some profits on the big names. She tells Reuters' Fred Katayama investors should..
Credit: Reuters Studio Duration: 04:46
Published
Dow Surges 557 Points

US stocks rose on Tuesday as investors weighed second-quarter earnings results for US banks against spiking coronavirus cases. JPMorgan gained after earnings beat Wall Street expectations. Wells Fargo..
Credit: Wochit News Duration: 00:38
Published
U.S. banks set aside billions for potential loan losses

JPMorgan Chase, Citigroup and Wells Fargo collectively set aside nearly $26 billion for potential loan losses. As Fred Katayama reports, quarterly profit at JPMorgan and Citi tumbled while Wells Fargo..
Credit: Reuters Studio Duration: 01:25
Published
Beyond Meat Drops 10 Percent After Test With McDonald's Ends

CBC reported that McDonald's ended its Canadian trial of Beyond Meat in April with no plans to continue. According to Business Insider, the plant-based burger dropped as much as 10% because of the..
Credit: Wochit News Duration: 00:32
Published
You Might Like



JPMorgan CEO calls Minneapolis events 'tragic, heartbreaking' in staff memo

JPMorgan Chase & Co Chief Executive Officer Jamie Dimon called events in Minneapolis, where this week a black man died in police custody, "tragic and heartbreaking" in a memo to staff on Friday.




Reuters - Published




Today in History for April 17th

Highlights of this day in history: Cuban exiles invade Bay of Pigs; Three astronauts of Apollo 13 land safely in pacific ocean; Benjamin Franklin dies at age 84; JP Morgan born in Connecticut; Ford..




USATODAY.com - Published





JPMorgan consumer banking head to attend White House meeting on coronavirus

JPMorgan Chase & Co said on Monday its head of community and consumer banking Gordon Smith will attend a meeting at the White House on Wednesday to discuss the economic impact of the fast-spreading..




Reuters - Published





JPMorgan to test emergency coronavirus plans with some employees working from home: sources

JPMorgan Chase & Co is asking thousands of U.S. employees to spend a day working from home in the coming weeks to test its contingency plans should the coronavirus spread, sources familiar with the..




Reuters - Published





JPMorgan tests U.S. virus plan with thousands working from home: Bloomberg News

JPMorgan Chase & Co is asking thousands of U.S. employees to work from home as it tests a contingency plan for closing domestic offices should the coronavirus spread, Bloomberg News reported on..




Reuters - Published





JPMorgan restricts global travel to protect against virus: Bloomberg News

JPMorgan Chase & Co issued global restrictions on non-essential travel to protect its employees and business against the spreading coronavirus, the Bloomberg News https://bloom.bg/2vnxhyW reported late..




Reuters - Published





JP Morgan Chase to invest millions in jobs training and education

JP Morgan Chase will dedicate $75 million to an initiative focusing on preparing young people for jobs in high paying fields like tech and health




USATODAY.com - Published





UK's Prince Harry speaks at JP Morgan event in Miami: royal source

Britain's Prince Harry and his wife Meghan attended an event organized by American bank JP Morgan in Miami, Florida, on Thursday, a royal source said, one of the couple's first engagements since..




Reuters - Published





No-deal Brexit risk next year 'uncomfortably high' at 25%: JPMorgan

Investment bank JPMorgan sees an "uncomfortably high" 25% chance that Britain's Brexit transition period will end in a 'no-deal' scenario when the deadline to strike a trade deal with the European..




Reuters - Published





Ex-JPMorgan trader found guilty in U.S. currency-rigging trial

A former foreign exchange trader at JPMorgan Chase & Co was found guilty Wednesday of conspiring to rig trades for his own benefit.




Reuters - Published





U.S. charges another ex-JPMorgan executive with alleged market manipulation

The Department of Justice has charged another former JPMorgan Chase & Co executive with alleged racketeering and manipulating precious metals prices between 2008 and 2016, the latest in a string of..




Reuters - Published





JPMorgan Chase boss Jamie Dimon on Hong Kong protests

Is Jamie Dimon preparing the bank he runs for a "bad outcome" in Hong Kong?




CBS News - Published





"I would not have cut the tax on the rich"

JPMorgan Chase head Jamie Dimon shares his thoughts on U.S. tax policy with 60 Minutes' Lesley Stahl




CBS News - Published





Rethinking banking in Detroit

JPMorgan Chase is using data to invest more efficiently, helping entrepreneurs open businesses in parts of the city that most need their services




CBS News - Published





Jamie Dimon: The 60 Minutes Interview

The chairman and CEO of JPMorgan Chase tells Lesley Stahl he's optimistic about the economy and explains why he's not running for president




CBS News - Published




Jamie Dimon's data-focused investment in Detroit

JPMorgan Chase is using data to invest more efficiently, helping entrepreneurs open businesses in parts of the city that most need its services. Lesley Stahl reports.




CBS News - Published





Jamie Dimon speaks to 60 Minutes Sunday

"The notion that I'm not a patriot... that's just dead wrong." JPMorgan Chase chairman and CEO Jamie Dimon responds to criticism from presidential candidate Elizabeth Warren. See the full interview,..




CBS News - Published





Jamie Dimon says the rich shouldn't be vilified for being successful

"The notion that I'm not a patriot... that's just dead wrong." JPMorgan Chase chairman and CEO Jamie Dimon responds to criticism from presidential candidate Elizabeth Warren. See the full interview,..




CBS News - Published





JPMorgan sees Johnson passing Brexit deal if given short Brexit delay

U.S. investment bank JPMorgan said on Wednesday that if the European Union offered Prime Minister Boris Johnson a short Brexit extension then he would probably succeed in passing his Withdrawal..




Reuters - Published





JPMorgan hired 2,100 ex-convicts in 2018

"We don't want people to rule themselves out because they don't think they can get a job here," bank exec says




CBS News - Published





JPMorgan now expects a Brexit deal to be struck

Investment bank JPMorgan said on Friday it now expected Britain and the European Union to reach a Brexit deal following an upbeat meeting on Thursday between Britain and Ireland's leaders.




Reuters - Published





Sanders wants to tax companies where CEOs far outearn workers

Companies including JPMorgan, Tesla and Walmart would be among the hardest hit by the proposed tax




CBS News - Published





Wells Fargo names Bank of New York Mellon chief as new CEO

Scandal-tainted bank taps former top deputy to JPMorgan Chase's Jamie Dimon to rehab its reputation




CBS News - Published





JPMorgan says UK unlikely to get a Brexit deal at October summit

U.S. investment bank JPMorgan said on Wednesday it was negative about the prospects of Prime Minister Boris Johnson striking a Brexit deal at the Oct. 17-18 EU summit.




Reuters - Published




"Volfefe index" tracks market impact of Trump's tweets

The president's tweet storms can actually move U.S. interest rates, bond experts at JPMorgan Chase say




CBS News - Published





Tariffs on Chinese goods to go into effect at midnight

A new round of tariffs goes into effect at midnight. There will be a 15 percent tariff on $112 billion of Chinese goods. Consumers can expect to feel the impact on everything from milk to diapers to..




CBS News - Published





No-deal Brexit risk rises to 35%: JPMorgan economists

There is now a more than one-in-three chance that Britain leaves the European Union on Oct. 31 without a deal in light of Prime Minister Boris Johnson's move to suspend parliament, economists at U.S...




Reuters - Published





Ship seized in massive drug bust is owned by JP Morgan Chase

U.S. Customs and Border Protection said this was the largest vessel ever seized in the agency's 230-year history




CBS News - Published





JPMorgan CEO: Student debt crisis a "disgrace" hurting U.S.

It's not the first time the head of nation's biggest bank has spoken out about what he calls "irresponsible" lending




CBS News - Published





Bernie Sanders: Jamie Dimon didn't criticize socialism during Wall St. bailout

JPMorgan CEO rebuked by presidential candidate after saying a socialist course for country would be a "huge mistake"




CBS News - Published