Louis Vuitton
France-based international fashion house and luxury retail company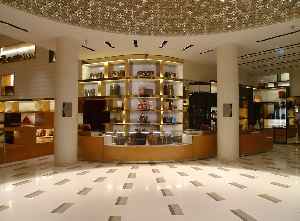 Louis Vuitton Malletier, commonly referred to as Louis Vuitton or shortened to LV, is a French fashion house and luxury retail company founded in 1854 by Louis Vuitton. The label's LV monogram appears on most of its products, ranging from luxury trunks and leather goods to ready-to-wear, shoes, watches, jewelry, accessories, sunglasses and books. Louis Vuitton is one of the world's leading international fashion houses; it sells its products through standalone boutiques, lease departments in high-end department stores, and through the e-commerce section of its website. For six consecutive years (2006–2012), Louis Vuitton was named the world's most valuable luxury brand. Its 2012 valuation was US$25.9 billion. The 2013 valuation of the brand was US$28.4 billion with revenue of US$9.4 billion. The company operates in 50 countries with more than 460 stores worldwide.


Cardi B Louis Vuitton Ponytail

Let's get something straight: Cardi B and Tokyo Stylez just don't miss. The wiggatry that results when these two come together is truly out of this world. Stylez has created and installed countless..
Credit: Wochit News Duration: 00:33
Published
LVMH flags June turnaround, but shares take a hit

LVMH, the world's biggest luxury goods group, said sales momentum picked up in June and had especially improved in China, after store closures sparked by the COVID-19 pandemic tore a hole into the..
Credit: Reuters Studio Duration: 01:47
Published
You Might Like



Lupe Fiasco, Virgil Abloh create 'Shoes' for Ahmaud Arbery

Lupe recruited longtime friend and current artistic director of Louis Vuitton's men's wear, Virgil Abloh, for a song called "Shoes" dedicated to Ahmaud Arbery. (Aug. 4)  




USATODAY.com - Published





Louis Vuitton designer apologises for comments on U.S. protests

Virgil Abloh, the designer for Louis Vuitton's menswear collections and founder of streetwear label Off-White, has apologised after being criticised for chastising looting by U.S. protesters.




Reuters - Published





Everyone Is Mad at Virgil Abloh Over the George Floyd Protests

The Off-White and Louis Vuitton designer has become a target of social media anger and frustration because of statements about the protests.




NYTimes.com - Published





From Louis Vuitton golf bags to bed covers, foreign dignitaries shower Trumps with expensive gifts

Foreign leaders shower President Donald Trump and First Lady Melania Trump with expensive gifts totaling more than $81,000.




USATODAY.com - Published





Ivory Coast navy seizes record cocaine haul off coast

Ivory Coast's navy has seized a record amount of cocaine plastic-wrapped in small bundles bearing the tattered logos of French fashion house Louis Vuitton and Pacena Black, a dark beer from Bolivia.




Reuters - Published





Tyga, Diplo, Migos, Kris Wu, Bella Hadid sit front row at Louis Vuitton men's show

The Louis Vuitton Menswear fall/winter 2020 show counted Tyga, Diplo, Migos, Kris Wu, Bella Hadid and more as guests. (Jan. 16)  




USATODAY.com - Published





Actor and model Godfrey Gao dies at 35 after apparent heart attack

The Taiwanese-Canadian who became Louis Vuitton's first male Asian model reportedly collapsed during filming for a Chinese reality show.




CBS News - Published





LVMH planning to buy Tiffany for $16.2 billion

French luxury group LVMH has agreed to buy iconic New York jeweler Tiffany and Co. for $16.2 billion, adding a famed star to its portfolio that already boasts Louis Vuitton, Christian Dior and Bulgari...




CBS News - Published




French luxury group LVMH buying Tiffany for $16.2 billion

Famed jeweler says purchase by owner of Louis Vuitton and Christian Dior will help its push to appeal to younger, more tech-savvy customers with new takes on jewelry




CBS News - Published





Louis Vuitton parent company LVMH reportedly makes takeover bid for Tiffany & Co.

Louis Vuitton owner LVMH is reportedly looking to add U.S. luxury jeweler Tiffany & Co. to its portfolio, which includes Moët & Chandon and TAG Heuer.




USATODAY.com - Published





Louis Vuitton designer calls Trump "a joke" after visit

President Trump praised the new Louis Vuitton workshop in Texas, but the brand's artistic director did not accept his endorsement




CBS News - Published





Trump tours Louis Vuitton workshop ahead of rally

President Donald Trump toured a new Louis Vuitton leather workshop in Texas on Thursday before headlining a campaign rally in Dallas. (Oct. 17)  




USATODAY.com - Published





Date night for Justin Timberlake and Jessica Biel at Louis Vuitton show

Fans and friends of Louis Vuitton, including Justin Timberlake and Jessica Biel, Jennifer Connelly, Alicia Vikander and K-pop band Itzy, all made their way to Paris for the brand's runway show that..




USATODAY.com - Published





Miranda Kerr shows off baby bump at Vuitton

Miranda Kerr, Jaden Smith, and Alicia Vikander were just some of the A-listers turning out for a Louis Vuitton exhibit in L.A.. (June 28)




USATODAY.com - Published




Vuitton's Paris in Bloom

Accessorized with a bouncy castle, designer Virgil Abloh's Louis Vuitton collection took in the fresh air as his floral designs were paraded around the Place Dauphine while stars like Gigi Hadid..




USATODAY.com - Published





1/31: CBSN AM

Deadly polar vortex slams the Midwest; celebrities make waves with new fashion trend from Louis Vuitton's Virgil Abloh




CBS News - Published