Iroquois
Northeast Native American confederacy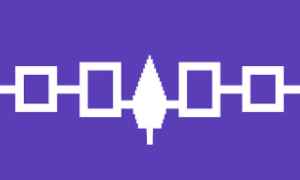 The Iroquois or Haudenosaunee are a historically powerful northeast Native American confederacy. They were known during the colonial years to the French as the Iroquois League, and later as the Iroquois Confederacy, and to the English as the Five Nations, comprising the Mohawk, Onondaga, Oneida, Cayuga, and Seneca. After 1722, they accepted the Tuscarora people from the Southeast into their confederacy and became known as the Six Nations.


227 years later, George Washington's gift to famed Iroquois chief returned to Senecas
The pipe-tomahawk was stolen from the New York State Museum sometime before 1950 before an anonymous donor returned it in 2018.
USATODAY.com - Published
Search this site and the web:
You Might Like