Latin America
Region of the Americas where Romance languages are primarily spoken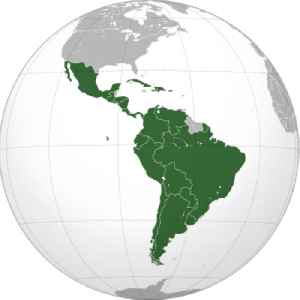 Latin America is a group of countries and dependencies in the Western Hemisphere where Romance languages such as Spanish, Portuguese, and French are predominantly spoken; it is broader than the terms Ibero-America or Hispanic America. The term "Latin America" was first used in an 1856 conference with the title "Initiative of the America. Idea for a Federal Congress of the Republics", by the Chilean politician Francisco Bilbao. The term was used also by Napoleon III's French government in the 1860s as Amérique latine to consider French-speaking territories in the Americas, along with the larger group of countries where Spanish and Portuguese languages prevailed, including the Spanish-speaking portions of the United States Today, areas of Canada and the United States where Spanish, Portuguese and French are predominant are typically not included in definitions of Latin America.


Migrant deaths rise among Venezuelans, Central Americans: U.N.
At least 380 Latin American migrants have died on their journeys this year, many of them Venezuelans drowning in the Caribbean or Central Americans perishing while trying to cross the U.S.-Mexico..
Reuters - Published
Brazil leader signs law allowing foreign carriers to operate domestic flights
Brazilian President Jair Bolsonaro on Monday signed a bill into law allowing foreign airlines to operate domestic flights in Latin America's largest air market.
Reuters - Published
Mexico real estate price hikes leave thousands displaced
Mexico's capital is one of the most expensive cities in Latin America, at least when it comes to the cost of owning a house.
Credit: Al Jazeera STUDIO Duration: 02:25Published
Venezuelans Rush to Peru Border Ahead of Migration Crackdown
According to Reuters, thousands of Venezuelans rushed to Peru's northern border on Friday in hopes of entering the Andean country before it imposes tough immigration requirements at midnight...
Credit: Wochit News Duration: 00:33Published
Quebrantos: Art tribute to Colombia's murdered community leaders
One of the most influential Latin American artists has created a major installation mourning murdered community leaders.
Credit: Al Jazeera STUDIO Duration: 02:31Published
Mexico Says U.S. Migration Deal Could Draw In Other Latam Countries
According to Reuters, Mexico and the United States might consider additional steps next month to restrict illegal immigration from Central America, including measures to bind Brazil and Panama into..
Credit: Wochit News Duration: 00:34Published
LGBTI Mexicans fight homophobia with kiss-off
Members of Mexico City's LGBTI community marked the International Day Against Homophobia, Transphobia and Biophobia with kissing on Friday. Rough cut (no reporter narration).
Credit: Reuters Studio Duration: 00:54Published
Cuba, Canada Foreign Ministers Meet In Havana On Venezuela Crisis
According to Reuters, Canada's foreign minister met with her Cuban counterpart in Havana on Thursday to discuss the political crisis on Cuba's longtime ally Venezuela. Canadian Prime Minister..
Credit: Wochit News Duration: 00:44Published
Venezuelan Opposition Leader Asks For U.S. Cooperation
According to a report by Reuters, on Saturday, Venezuelan opposition leader Juan Guaido announced that he had asked his envoy to the United States to meet with Pentagon officials to 'cooperate' on a..
Credit: Wochit News Duration: 00:37Published
Russia Warns U.S. Against Further 'Aggressive Steps' In Venezuela
According to a report by Reuters, on Wednesday, Russian Foreign Minister Sergei Lavrov told U.S. Secretary of State Mike Pompeo by phone that further 'aggressive steps' in Venezuela would be met with..
Credit: Wochit News Duration: 00:49Published
Trump Aides Back Unfolding Venezuela Coup
On Tuesday President Trump's top aides publicly backed an attempted coup in Venezuela, where opposition leaders have teamed up with a band of rebellious soldiers in an effort to oust strongman leader..
Credit: Wochit News Duration: 00:52Published
Argentina's solar farm reflects China's ambitions
A sign of China's rising influence in Latin America is the Cauchari solar project in Argentina, which is using technology and funding from China. Havovi Cooper and Cassandra Garrison report.
Credit: Reuters Studio Duration: 01:56Published
Search this site and the web:
You Might Like