Jews
Ancient nation and ethnoreligious group from the Levant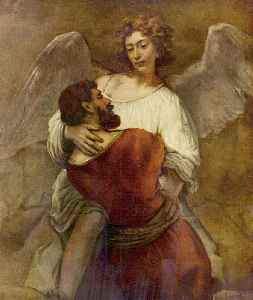 Jews or Jewish people are an ethnoreligious group and a nation, originating from the Israelites and Hebrews of historical Israel and Judah. Jewish ethnicity, nationhood, and religion are strongly interrelated, as Judaism is the ethnic religion of the Jewish people, while its observance varies from strict observance to complete nonobservance.


In The Name of Hate
A brilliant Ivy League student is murdered after he went to a California park with a former high school classmate. Was he killed because he was gay and Jewish? "48 Hours" correspondent Tracy Smith..
CBS News - Published
Argentine photo exhibit stirs memories of 1994 bombing attack on Jewish center
Julio Menajovsky was one of the first photographers to reach the scene of a devastating bombing at a Jewish cultural center in Argentina on the morning of July 18, 1994, that killed 85 people and..
Reuters - Published
Protesters shut down ICE headquarters in DC
Immigration rights activists on Tuesday held a rally outside Immigration and Customs Enforcement's headquarters to bring attention to the conditions and treatment of migrants inside border patrol..
Credit: Reuters Studio Duration: 01:44Published
Watch: Cuba's shrunken Jewish population works to restore historic cemetery
This cemetery, which contains more than 1,600 gravesites, is one of only two Jewish graveyards remaining in Cuba. Many Jewish families left the island after the 1959 revolution, leaving their dead in..
Credit: euronews (in English) Duration: 00:20Published
From Batman to the Holy Land, a comics artist sees heroes on all sides
An American comic book illustrator once feted for a portfolio including Batman and Wonder Woman covers has found a new calling in the Holy Land - drawing the everyday good and bad guys he sees on all..
Credit: Reuters Studio Duration: 01:07Published
Israeli forces and settlers enter Al-Aqsa Mosque compound
Hundreds of Jews enter the holy site on Israel's Jerusalem Day as Israeli police allow access during the end of Ramadan.
Credit: Al Jazeera STUDIO Duration: 03:11Published
Trump Climate Advisor Compared 'Demonization of CO2' to Hitler's Treatment of Jews
Over Memorial Day, the New York Times published a shocking article about the Trump regime's dangerous policies on climate change. According to Gizmodo, the Times unearthed a bizarre 2014 quote from..
Credit: Wochit News Duration: 00:44Published
Angela Merkel Warns 'Dark Forces' On The Rise In Germany
Cnn reports German Chancellor Angela Merkel has said "there is work to be done" in Germany to face up to the dark forces that are finding mainstream support there and in other parts of the world. In..
Credit: Wochit News Duration: 00:30Published
German Jews Told Not To Wear Kippahs In Public
CNN reports German Jews have been warned by a leading government official not to wear traditional kippahs in all public settings following a rise in anti-Semitic attacks across the country. Felix..
Credit: Wochit News Duration: 00:38Published
Israeli minister accuses UK's Corbyn of Jew-hatred
An Israeli official close to Prime Minister Benjamin Netanyahu accused British Labour Party leader Jeremy Corbyn of Jew-hatred on Tuesday, remarks likely to fuel acrimony in and around the opposition..
Reuters - Published
A neo-Nazi trolled a Jewish woman online. A Judge said he should pay her $14M
The publisher of a neo-Nazi website should pay the victim of an internet trolling campaign over $14 million and remove all posts, a judge said.  
USATODAY.com - Published
Israeli court halts park entry ban deemed racist by Arab citizens
A court on Sunday ordered a predominantly Jewish town in northern Israel to lift a ban on non-resident visitors to its parks, a prohibition that a rights group said was aimed at keeping Arabs out.
Reuters - Published
Search this site and the web:
You Might Like