New Mexico
State of the United States of America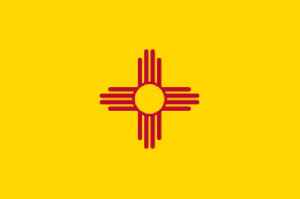 New Mexico is a state in the Southwestern region of the United States of America; its capital and cultural center is Santa Fe, which was founded in 1610 as capital of Nuevo México, while its largest city is Albuquerque with its accompanying metropolitan area. It is one of the Mountain States and shares the Four Corners region with Utah, Colorado, and Arizona; its other neighboring states are Oklahoma to the northeast, Texas to the east-southeast, and the Mexican states of Chihuahua to the south and Sonora to the southwest. With a population around two million, New Mexico is the 36th state by population. With a total area of 121,590 sq mi (314,900 km2), it is the fifth-largest and sixth-least densely populated of the 50 states. Due to their geographic locations, northern and eastern New Mexico exhibit a colder, alpine climate, while western and southern New Mexico exhibit a warmer, arid climate.


New Mexico compound suspects face new charges of planning to attack law enforcement officers
The five extended family members were living on a remote New Mexico compound where a 3-year-old boy died.
USATODAY.com - Published
Trump 'wall' in desolate stretch of New Mexico has some asking: Why here?
The 18-foot-tall steel slats extend 20 miles across the rugged Chihuahuan desert in southern New Mexico, cutting through high sand dunes and brush.
Reuters - Published
Natural Gas Prices Fall To Record Low In Texas After Equipment Failure
According to a report by Reuters, on Wednesday, natural gas prices at the Waha hub in West Texas plunged to record lows due to an equipment failure in New Mexico that stranded gas in the Permian basin...
Credit: Wochit News Duration: 00:43Published
Rogue sheriffs refuse to enforce gun laws
A rapidly growing number of counties in at least four states are declaring themselves Second Amendment sanctuaries, refusing to enforce state gun-control laws that they deem violate the U.S...
Credit: Reuters Studio Duration: 01:19Published
Trump Tweet Highlights New Mexico Wall Construction Project
Construction on a 20-mile section of border wall was finished in January, but it didn't increase the number of miles of border barrier.
Credit: Newsy Studio Duration: 01:22Published
Trump Administration To Deploy Additional Troops at Border
​The additional 1,000 troops will be sent to the border to lay down concertina wire and assist with the installation of monitoring devices.
Credit: Newsy Studio Duration: 00:53Published
Senate Passes Sweeping Public Lands Bill
On Tuesday the U.S. Senate voted overwhelming in support of a bipartisan public lands package that protects more than 2 million acres of land and permanently reauthorizes the popular Land and Water..
Credit: Wochit News Duration: 00:33Published
Diners fish for their supper at Zauo
Diners fish for their own supper at Zauo restaurant. Customers then choose how they want their fish prepared at this new New York outpost of a Japanese chain. Fred Katayama reports.
Credit: Reuters Studio Duration: 02:01Published
BLM to issue oil leases on land near sacred site
According to Mother Nature Network, the Bureau of Land Management is going ahead with the sale of oil and gas leases for land parcels near a UNESCO World Heritage Site in New Mexico and other sites..
Credit: Wochit News Duration: 00:42Published
New Mexico Governor Pulls National Guard From U.S.-Mexico Border
According to Reuters, New Mexico Governor Michelle Lujan Grisham has ordered most of the National Guard troops deployed at the state's border with Mexico to withdraw, rejecting U.S. President Donald..
Credit: Wochit News Duration: 00:41Published
EXPLOSION ROCKS MALL IN NEW MEXICO
EXPLOSION ROCKS MALL IN NEW MEXICO
Credit: Time Duration: 00:49Published
Defendants in New Mexico compound case hit with new charges
Five people taken into custody in August at a New Mexico compound where 11 children were found ragged and starving have been charged with a conspiracy to carry out attacks on U.S. targets, prosecutors..
Reuters - Published
New Mexico's Green New Deal
Despite its reliance on coal energy, New Mexico is taking aggressive steps to make 100 percent of the state's electricity come from renewable sources.
CBS News - Published
Jackson, New Mexico beat Wyoming in Mountain West tourney
Vance Jackson scored 21 of his 26 points in the second half to help New Mexico overcome a 13-point deficit and beat Wyoming 78-68 in the first round of the Mountain West Conference tournament
USATODAY.com - Published
New Mexico embarking on a mini-Green New Deal
The state -- the country's third-largest producer of crude oil -- is aggressively pivoting toward renewable energy
CBS News - Published
Beware the spore: Deadly disease in Southwest soils can spread to brain
Valley fever, caused by a spore that resides in the soils of the Southwest, is more prevalent in New Mexico than many realize. It can be deadly.
USATODAY.com - Published
You Might Like