New Mexico
State of the United States of America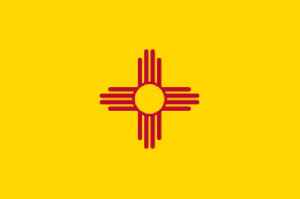 New Mexico is a state in the Southwestern region of the United States of America; its capital and cultural center is Santa Fe, which was founded in 1610 as capital of Nuevo México, while its largest city is Albuquerque with its accompanying metropolitan area. It is one of the Mountain States and shares the Four Corners region with Utah, Colorado, and Arizona; its other neighboring states are Oklahoma to the northeast, Texas to the east-southeast, and the Mexican states of Chihuahua to the south and Sonora to the southwest. With a population around two million, New Mexico is the 36th state by population. With a total area of 121,592 sq mi (314,920 km2), it is the fifth-largest and sixth-least densely populated of the 50 states. Due to their geographic locations, northern and eastern New Mexico exhibit a colder, alpine climate, while western and southern New Mexico exhibit a warmer, arid climate.


Anxious Democratic Governors Urge 2020 Field Not to Veer Too Far Left
"I think it scares people," Gov. Michelle Lujan Grisham of New Mexico said of a proposal to eliminate private health insurance. Other governors echoed similar concerns.
NYTimes.com - Published
2 inmates in New Mexico charged with attempted murder after attack on prison guards
The Southern New Mexico Correctional Facility remains on lockdown after two prison guards were attacked by several inmates Tuesday evening.
USATODAY.com - Published
Donald Trump Tells Congresswoman To 'Go Back' To Their Countries
President Donald Trump recently told a handful of congresswoman to "go back" to their "broken and crime infested" countries. He targeted Arlexandria Ocasio-Cortez, Ayanna Pressley, Rashida..
Credit: Wochit News Duration: 00:32Published
Why Jeffrey Epstein Didn't Have To Register As A Sex Offender In New Mexico
Jeffrey Epstein avoided federal charges for molesting multiple underage victims. The reason he was able to get away for so long is because he agreed to register as a sex offender. But it has since been..
Credit: Wochit News Duration: 00:32Published
Age no barrier for 103-year-old track star
At 103 years old, Julia " Hurricane" Hawkins was the standout performer in the women's 100 plus division at this week's Senior Games in Albuquerque, New Mexico and she plans to keep on breaking..
Credit: Reuters Studio Duration: 01:34Published
Blast In New Mexico Injures Several Firefighters
Reuters reports several firefighters were injured on Wednesday in an explosion at a building in Roswell, New Mexico. City officials said the explosion occurred where fireworks were being stored for the..
Credit: Wochit News Duration: 00:35Published
Private Border Wall Construction Halts After New Mexico Town Protests
According to Reuters, a U.S. group building what could be the first private wall on the Mexican border wall, said it had stopped construction after a New Mexico town ruled the project lacked necessary..
Credit: Wochit News Duration: 00:32Published
Search this site and the web:
You Might Like