Ted Cruz
United States Senator from Texas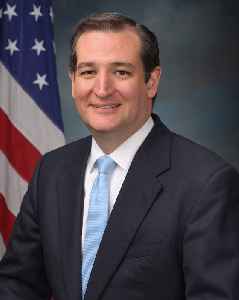 Rafael Edward "Ted" Cruz is an American politician and attorney serving as the junior United States Senator for Texas since 2013. He was the runner-up for the Republican nomination for President of the United States in the 2016 election.


Ted Cruz wants "El Chapo" to fund Trump's border wall
Cruz urged his Senate colleagues to pass his "El Chapo Act" to help fund the border wall and "secure the border"
CBS News - Published
Ted Cruz says billions in assets tied to 'El Chapo' should fund the border wall
Sen. Ted Cruz said Tuesday that billions of dollars in assets connected to convicted drug lord Joaquín "El Chapo" Guzmán should be used to build a border wall with Mexico. His idea has previously..
USATODAY.com - Published
Ted Cruz Wants El Chapo To Pay For The Border Wall With Forfeited Assets
Senator Ted Cruz wants to use the forfeited assets of cartel kingpin Joaquin "El Chapo" to pay for a wall along the US-Mexico border. Through Twitter, Cruz urged Congress to pass his Ensuring Lawful..
Credit: Wochit News Duration: 00:30Published
O'Rourke, Trump duel over wall in possible 2020 preview
Potential White House hopeful Beto O'Rourke accuses Donald Trump of fear-mongering as the Republican president mocks the Democrat as a "young man who lost" in dueling rallies that could preview the..
Credit: Reuters Studio Duration: 01:50Published
Trump, O'Rourke trade blows in rival Texas rallies
U.S. President Donald Trump and Beto O'Rourke, the former Democratic congressman considering a White House run, blasted each other during dueling rallies in El Paso, Texas. Rough cut - no reporter..
Credit: Reuters Studio Duration: 01:33Published
Is Beto O'Rourke Planning A 2020 Presidential Campaign?
Former Democratic Texas congressman Beto O'Rourke made headlines when he tried to unseat Republican U.S. Senator Ted Cruz last year. O'Rourke will re-enter the political spotlight on Tuesday with a..
Credit: Wochit News Duration: 00:32Published
Could Beto O'Rourke Win In 2020?
Beto O'Rourke took the national stage by storm in 2018, when he ran against Republican Ted Cruz in a race for the US Senate. O'Rourke only narrowly lost to Senator Cruz, in what should have been a walk..
Credit: Newsweek Duration: 06:36Published
Ted Cruz Introduces Term Limit Bill That Would End His Own Career In The Senate
According to a report by Business Insider, Senator Ted Cruz has introduced a constitutional amendment that would restrict Senators to two six-year terms, and if passed, would limit Cruz's own Senate..
Credit: Wochit News Duration: 00:39Published
Search this site and the web:
You Might Like