Ted Cruz
United States Republican Senator from Texas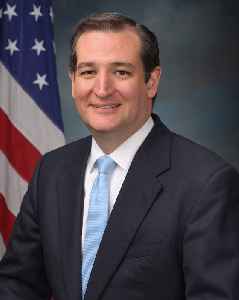 Rafael Edward "Ted" Cruz is an American politician and attorney serving as the junior United States Senator for Texas since 2013. He was the runner-up for the Republican presidential nomination in the 2016 election.


Cruz refuses to wear mask outside hearing room

Before speaking to reporters, Senator Ted Cruz removed his mask outside the hearing room for President Donald Trump's U.S. Supreme Court choice Amy Coney Barrett on Thursday.
Credit: Reuters Studio Duration: 00:19
Published
Democrats object as Senate panel sets Barrett vote

The Republican-led U.S. Senate Judiciary Committee on Thursday scheduled an Oct. 22 vote to advance conservative appellate judge Amy Coney Barrett's nomination to the Supreme Court to the full Senate..
Credit: Reuters - Politics Duration: 02:14
Published
You Might Like



Mark Cuban to Ted Cruz: White House could learn from NBA on COVID-19

The Twitter feud between the the Dallas Mavericks owner and U.S. Senator continued.




USATODAY.com - Published





Mark Cuban and Ted Cruz trade barbs over NBA Finals ratings

"Since when is a desire to end racism an insult to anyone or political?" Cuban tweeted.




CBS News - Published





Dallas Mavericks owner Mark Cuban trades Twitter barbs with Sen. Ted Cruz

Mark Cuban and Sen. Ted Cruz are battling on Twitter over Cruz's claim that fans are not watching the NBA Finals due to the league's political stance.




USATODAY.com - Published





Mark Cuban Rips Ted Cruz in NBA Ratings Spat, 'You're So Full of Sh*t'

The insults are flying between Mark Cuban and Ted Cruz (again!) -- complete with cuss words and personal attacks -- and it's all over the NBA Finals ratings. This time, Cruz -- the republican senator..




TMZ.com - Published





Senator Ted Cruz on filling Ruth Bader Ginsburg's vacant Supreme Court seat

Senator Ted Cruz joins "CBS This Morning" to discuss the Senate fight to fill Ruth Bader Ginsburg's vacant Supreme Court seat with President Trump's forthcoming nominee.




CBS News - Published





Trump's Supreme Court Nominees List: Tom Cotton, Ted Cruz and More

The death of Justice Ruth Bader Ginsburg focuses attention to a list of potential court nominees that President Trump updated last week.




NYTimes.com - Published





Trump unveils list of possible Supreme Court picks if reelected

The president named Senators Tom Cotton, Ted Cruz and Josh Hawley as potential picks.




CBS News - Published





Preview: "The Takeout" with Rick Perry

Despite some teasing from President Trump, Secretary of Energy Rick Perry tells "The Takeout" that he will not seek to challenge Senator Ted Cruz, R-Texas, in 2018.




CBS News - Published





'Pregnancy is not a life-threatening illness': Ted Cruz takes heat for claim in call for abortion pill ban

Cruz made the comment as part of a GOP push for the FDA to declare Mifeprex, or the "abortion pill," an "imminent hazard to the public health."




USATODAY.com - Published





Ted Cruz didn't get a convention invite, but he still has plenty to say.




NYTimes.com - Published




China imposes sanctions on 11 Americans, including 6 Republican lawmakers

China announced sanctions on 11 Americans for their critical views of Hong Kong. Six Republican lawmakers are on the list, including Senators Marco Rubio and Ted Cruz. The move is in response to..




CBS News - Published





Ted Cruz Was Seen on a Flight Without a Mask. His Office Says He Followed Airline Policy.

The senator's office says he wears a mask when traveling and temporarily takes it off to eat or drink.




NYTimes.com - Published





China sanctions U.S. lawmakers including Marco Rubio, Ted Cruz over Xinjiang

Republican Senators Marco Rubio and Ted Cruz were among those sanctioned by China, days after the U.S. sanctioned China over alleged rights abuses.




USATODAY.com - Published





Protest updates: UNLV tears down Confederate-themed statue; Sens. Ted Cruz, John Cornyn dismiss systemic racism; Richmond police chief out

The University of Nevada, Las Vegas removed its Confederate-themed mascot statue. Man charged with setting fires in Minneapolis. Latest protest news.




USATODAY.com - Published




Cruz gets his hair cut at salon whose owner was jailed for defying Texas coronavirus restrictions

After his haircut, Sen. Ted Cruz said, "It was ridiculous to see somebody sentenced to seven days in jail for cutting hair."




USATODAY.com - Published





U.S. Senator Cruz self quarantines after contact with coronavirus carrier

Two U.S. Republican lawmakers, Senator Ted Cruz and Rep. Paul Gosar, said on Sunday they will quarantine themselves after contact at a late February gathering of conservatives with someone who has..




Reuters - Published




Sen. Ted Cruz is self-quarantining after interacting with person who tested positive for coronavirus at CPAC

Sen. Ted Cruz became the first member of Congress to self-quarantine after interacting with a person at CPAC who tested positive for COVID-19




USATODAY.com - Published





Senator Cruz to quarantine himself after CPAC attendee tests positive for coronavirus

U.S. Senator Ted Cruz said he has decided to quarantine himself this week until a full 14 days have passed since the CPAC conference, after one of the attendees at the meet tested positive for..




Reuters - Published





Senators worry that asking for new impeachment trial witnesses could create lengthy executive privilege debate

Sen. Ted Cruz said calling for any additional witnesses or documents would "substantially prolong" the Senate impeachment trial.




USATODAY.com - Published





Ted Cruz says Ukraine 'blatantly interfered' in 2016 election during testy exchange with Chuck Todd

Sen. Ted Cruz only could point to one op-ed from a former ambassador to the U.S. as proof that "Ukraine blatantly interfered in our election."




USATODAY.com - Published





Sen. Ted Cruz: If new healthcare plan does not pass, will cause "political disaster for everyone"

Sen. Ted Cruz, R - Texas, says President Trump knows healthcare reform is a "big fat negotiation." The Senator adds, "If we lower premiums, that's a victory for the American people."




CBS News - Published





Cruz: "Reason to be concerned" in Florida recount

Sen. Ted Cruz, R-Texas, discusses the vote recounts in Florida's statewide elections and President Trump's order restricting asylum-seekers at the border with Margaret Brennan.




CBS News - Published




Cruz: Dems filibustering "common sense" steps to stop mass shootings

Texas Republican Sen. Ted Cruz spoke with "Face the Nation" moderator Margaret Brennan.




CBS News - Published





Open: This is Face the Nation, November 11th

This week on Face the Nation, moderator Margaret Brennan interviews Sen. Lindsey Graham, Sen. Ted Cruz, and Democratic Leader Nancy Pelosi. Plus, White House correspondent Weijia Jiang reports from..




CBS News - Published




U.S. renews portion of Iran nuclear deal

Republican Senators Ted Cruz and Lindsey Graham said they would soon advance legislation "to reverse this misguided decision"




CBS News - Published





Beto O'Rourke says he won't run for president in 2020

"60 Minutes" asks Sen. Ted Cruz and Congressman Beto O'Rourke whether they might face off again in 2020 — in a race for the White House.




CBS News - Published





Ted Cruz on Beto O'Rourke voters: "They'll crawl over broken glass to show up"

Ted Cruz thinks Beto O'Rourke's supporters have a powerful motivation for voting in the Texas Senate race: anger over President Trump. Hear from both candidates Sunday on 60 Minutes at 7 p.m. ET/PT.




CBS News - Published





How Ted Cruz vs. Beto O'Rourke could predict America's political future

Few political races say more about the current state of American politics than the tight race for the U.S. Senate in Texas. Jon Wertheim reports




CBS News - Published





Texas Father Says 7-Year-Old Isn't Transgender, Igniting a Politicized Outcry

A bitter custody battle grabbed the attention of Gov. Greg Abbott, Senator Ted Cruz and other conservative lawmakers.




NYTimes.com - Published





U.S. lawmakers urge Apple to restore HKMap app used in Hong Kong

A bipartisan group of seven U.S. lawmakers including Senators Ted Cruz, Ron Wyden and Marco Rubio and Representative Alexandria Ocasio-Cortez on Friday urged Apple Inc Chief Executive Tim Cook to..




Reuters - Published




Full interview: Senator Ted Cruz on "Face the Nation"

The Texas Republican sits down with Margaret Brennan to talk Hong Kong and the president's rhetoric on the Ukraine controversy.




CBS News - Published




Full transcript of "Face the Nation" on October 13, 2019

This week on "Face the Nation," Margaret Brennan talks to Secretary of Defense Mark Esper. She interviews Representatives Adam Schiff, Adam Kinzinger and Senator Ted Cruz. She also speaks with CBS..




CBS News - Published





10/13: Mark Esper, Adam Kinzinger, Adam Schiff

This week on "Face the Nation," Margaret Brennan breaks down the latest on President Trump's new Syria policy with Defense Secretary Mark Esper. She discusses the latest on the impeachment inquiry..




CBS News - Published





Face The Nation: Ted Cruz, Toluse Olorunnipa, Gerald Seib and Amy Walter

Missed the second half of the show? The latest on the impeachment inquiry into the president and the U.S. withdrawal from Syria.




CBS News - Published





Cruz says Trump should release transcripts of Biden's talks with Ukraine

Senator Ted Cruz joins Margaret Brennan from Hong Kong to discuss China's retaliation against the NBA and the impeachment inquiry into the president.




CBS News - Published





HK leader ditches meeting Ted Cruz, says the U.S. senator

Hong Kong leader Carrie Lam scrapped a scheduled meeting with U.S. Senator Ted Cruz, the highest profile U.S. politician to visit the city since anti-government protests broke out more than four months..




Reuters - Published





This week on "Face the Nation": Esper, Schiff, Kinzinger, Cruz

Secretary of Defense Mark Esper, Intelligence Committee Chairman Rep. Adam Schiff, Rep. Adam Kinzinger and Sen. Ted Cruz will appear on "Face the Nation" this Sunday




CBS News - Published





Rubio, Cruz ask Trump to keep Citgo in Venezuela opposition's hands

U.S. lawmakers including Marco Rubio and Ted Cruz wrote a letter to President Donald Trump this week requesting that he take executive action to prevent holders of Venezuelan state oil company PDVSA's..




Reuters - Published





Gun control: Alyssa Milano begs Ted Cruz 'to have the courage to lead' at meeting after Twitter spat

Fans and followers of both the actress and the Texas GOP senator were able to watch the meeting online on a video live stream. The meeting happened the same day GOP leaders on Capitol Hill met at the..




USATODAY.com - Published





Gun control: Sen. Ted Cruz agrees to meet with actress Alyssa Milano, spars with Chicago mayor

The Republican senator who represents Texas, the site of two recent mass shootings in the national headlines, has recently been on Twitter sparring with on the issues of gun control and gun violence..




USATODAY.com - Published





Sen. Ted Cruz: 'been to too damn many' shootings

U.S. Senator Ted Cruz of Texas went to Del Sol Medical Center in El Paso on Tuesday night. Afterwards, he described the gunman as "a bigoted, hateful lunatic..."  




USATODAY.com - Published





Ted Cruz confronted by immigration protesters chanting 'Free the children!' at Los Angeles airport

Cruz was confronted at the Los Angeles International Airport on Sunday by protesters who decried the detention of migrants at the U.S.-Mexico border.




USATODAY.com - Published





Cruz and Ocasio-Cortez found common ground. Americans craving civility want more of this.

While politicians often go negative to win legislative fights or defeat opponents, most Americans say the heat of battle is no excuse for incivility.




USATODAY.com - Published





Nike flag flap leaves conservatives looking for "not so woke" shoes

Its decision to shelve a flag-themed sneaker sparks outrage from Republicans like Ted Cruz and Mitch McConnell




CBS News - Published





Ted Cruz's lawyers compare him to Rosa Parks in lawsuit

Cruz's lawyers liken him to a civil rights icon for fighting a limit on campaign financing




CBS News - Published





The Debate Stage Will Be Crowded. Ted Cruz Can Help.

Advice for the Democrats debating in Miami from Republican veterans of 2016.




NYTimes.com - Published





Ted Cruz agrees with Ocasio-Cortez: Birth control should be available without a prescription

Conservative Sen. Ted Cruz has found another issue on which he wants to team up with liberal Rep. Alexandria Ocasio-Cortez: Birth control.




USATODAY.com - Published