Bryce Harper
American professional baseball player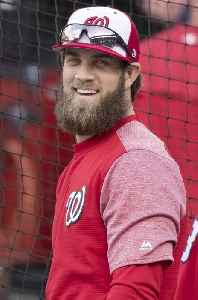 Bryce Aron Max Harper is an American professional baseball right fielder who is a free agent. He has played in Major League Baseball (MLB) for the Washington Nationals. The Nationals selected him with the first overall pick in the 2010 Major League Baseball Draft.


McCutchen, Realmuto, Segura debut for Phillies
While the Phillies wait to see whether Bryce Harper will sign with them, a trio of other big names took their first swings for Philadelphia
USATODAY.com - Published
Nationals owner Mark Lerner: 'We've moved on' from Bryce Harper
Bryce Harper remains unsigned and the Nationals have said they are no longer pursuing the free agent.
USATODAY.com - Published
MLB Top 100: Does Bryce Harper Really Deserve a $300M Contract?
Bryce Harper continues to search for his next team, likely involving what could be the biggest contract ever in American sports. But is he actually worth that much relative to his peers in Major League..
Credit: Sports Illustrated Duration: 01:06Published
Manny Machado Signs With Padres For $300 Million
According to Business Insider, Manny Machado signed the biggest free-agent contract in US sports history. 'The 26-year-old golden glove winner agreed to a 10-year contract with the San Diego Padres..
Credit: Wochit News Duration: 00:37Published
How MLB Is Affected by Lack of Movement for Harper, Machado
MLB Commissioner Rob Manfred shifted blame to the players for Bryce Harper and Manny Machado remaining unsigned, but is their standoff with the league actually a bad thing for baseball?
Credit: Sports Illustrated Duration: 01:38Published
After veteran salaries drop, baseball players want change
While Manny Machado agreed to a pending $300 million, 10-year contract with San Diego and Bryce Harper is likely to top Giancarlo Stanton's record $325 million, 13-year deal, many less-than-superstar..
USATODAY.com - Published
How the Padres landed Machado and what it means for Bryce Harper
What I'm Hearing: MLB insider Bob Nightengale discusses how the Padres were able to land Manny Machado and how it impacts the market for Byrce Harper.
USATODAY.com - Published
Harper scores 22 to lift Boston U. past Holy Cross 70-60
Jonas Harper scores a season-high 22 points as Boston University gets past Holy Cross, 70-60
USATODAY.com - Published
Why didn't Cubs throw money at big free agents? 'We don't have any more'
In a press conference addressing his father's racist emails, Cubs owner Tom Ricketts explained the club's decision to not pursue Harper or Machado.
USATODAY.com - Published
Harper, Machado chatter looms over Padres camp
Eric Hosmer knows what Bryce Harper and Manny Machado are dealing with as the premier free agents remain unsigned
USATODAY.com - Published
Nationals (sort of) move on from Bryce Harper: 'Everyone can feel him'
Washington moves forward (presumably) without their homegrown superstar, but made all the right moves this winter to compete.
USATODAY.com - Published
You Might Like