Mandarin Chinese
Major branch of Chinese spoken across most of northern and southwestern China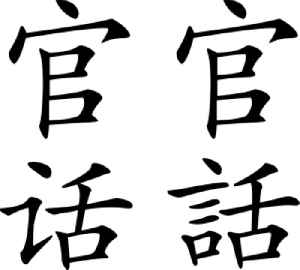 Mandarin is a group of related varieties of Chinese spoken across most of northern and southwestern China. The group includes the Beijing dialect, the basis of Standard Chinese or Standard Mandarin. Because Mandarin originated in North China and most Mandarin dialects are found in the north, the group is sometimes referred to as the Northern dialects. Many local Mandarin varieties are not mutually intelligible. Nevertheless, Mandarin is often placed first in lists of languages by number of native speakers.


Australian state ends Chinese education program over foreign interference fears
Australia's most populous state said it will ax a Chinese-funded education program that teaches Mandarin in schools amid fears over potential foreign influence.
Reuters - Published
Penn spreads Ivy roots to China with Mandarin broadcasts
Penn will start to broadcast its home men's basketball games live in Mandarin
USATODAY.com - Published
World's tourist hotspots await annual Chinese invasion
Thailand is among the countries set to see a jump in visitors from China during the "Golden Week" holidays this week due to relaxation of visa rules, but Hong Kong could be set to lose out as..
Credit: Reuters Studio Duration: 01:48Published
Search this site and the web:
You Might Like