Virgin Islands
Island group of the Caribbean Leeward Islands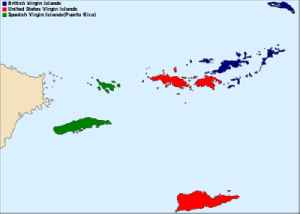 The Virgin Islands are geologically and biogeographically the easternmost part of the Greater Antilles, the northern islands belonging to the Puerto Rican Bank and St. Croix being a displaced part of the same geologic structure. Politically, the British Virgin Islands have been governed as the western island group of the Leeward Islands, which are the northern part of the Lesser Antilles, and form the border between the Caribbean Sea and the Atlantic Ocean. The archipelago is separated from the true Lesser Antilles by the Anegada Passage and from the main island of Puerto Rico by the Virgin Passage.


Could Tropical Storm Karen's 'loopy track' hit the U.S. just like Hurricane Jeanne in 2004?
After soaking Puerto Rico and the Virgin Islands, Tropical Storm Karen could take a 'loopy track' like Jeanne, one of the biggest hurricanes of 2004.
USATODAY.com - Published
Tropical Storm Karen threatens Puerto Rico and the Virgin Islands
Tropical storm warnings have been issued for Puerto Rico and the U.S. and British Virgin Islands as Tropical Storm Karen continues to move slowly across the southeastern Caribbean Sea.
USATODAY.com - Published
Rivers rise in Puerto Rico ahead of Tropical Storm Karen
Tropical Storm Karen gained strength on Tuesday (September 24) as it barreled towards Puerto Rico and the Virgin Islands nearby, with powerful winds picking up speed and torrential rainfall threatening..
Credit: Reuters Studio Duration: 00:34Published
Tropical Storm Dorian Barreling Down On Puerto Rico
Tropical Storm Dorian in the Atlantic is moving toward Puerto Rico with winds of 70 miles per hour. A hurricane warning has been issued for the Virgin Islands, as well as Vieques and Culebra. According..
Credit: Wochit News Duration: 00:34Published
Puerto Rico, Virgin Islands brace for Tropical Storm Karen
Newly-strengthened system could hit the islands with heavy rain and strong, gusty winds, with flooding and landslides thrown in
CBS News - Published
Hurricane Dorian expected to become a Category 3 storm
Puerto Rico and the Virgin Islands were lashed with gusts near 100 miles per hour as Hurricane Dorian shifts course. But the storm could get stronger as it churns across warm ocean water. WCBS chief..
CBS News - Published
Tropical Storm Dorian Live Updates: Puerto Rico Faces Direct Hit
The storm is expected to slam into the Virgin Islands and northeastern Puerto Rico on Wednesday. By the holiday weekend, it could be threatening Florida as a Category 2 hurricane.
NYTimes.com - Published
Federal agents haven't raided Epstein's New Mexico ranch
Days after Jeffrey Epstein apparently hanged himself in jail, agents raided his private resort in the Virgin Islands. But they haven't checked out Epstein's ranch in New Mexico. Mola Lenghi explains..
CBS News - Published
Shrieking heard from Jeffrey Epstein's jail cell the morning he died
Congress is now investigating Jeffrey Epstein's apparent suicide, with new reports raising questions about the federal jail where he was being held. Government investigators raided the alleged sex..
CBS News - Published
You Might Like