Major Garrett
Correspondent for CBS News and the National Journal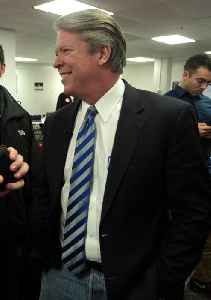 Major Elliott Garrett is Chief Washington Correspondent, host of The Takeout podcast with CBS News and a Correspondent at Large with National Journal. Prior to joining National Journal he was the senior White House correspondent for the Fox News Channel. He covered the 2004 presidential election, the War on Terror, and the 2008 presidential election where he covered the Democratic Party presidential primaries and later Barack Obama as the Democratic nominee.


Trump ghostwriter regrets "The Art of the Deal"
Tony Schwartz, co-author of Donald Trump's autobiography "The Art of the Deal," joins Major Garrett for "The Takeout." Schwartz explains why he wishes the book wasn't even in print. Writing it more..
CBS News - Published
Trump storms out of infrastructure talks as Congressional investigations advance
President Trump is lashing out at Democrats as their investigations continue. He stormed out of a meeting on infrastructure with House Speaker Nancy Pelosi and Minority Leader Chuck Schumer, and there..
CBS News - Published
Trump and Democrats reached "full gridlock stage," Major Garrett says
A huge blow-up between President Trump and Democratic leaders has done nothing to stop the rising call for impeachment hearings. Mr. Trump stormed out of a meeting with top Democrats at the White House..
CBS News - Published
Sherpa breaks his own record with 24th Mount Everest summit
For most people, climbing Mount Everest is just a dream. But Nepali mountaineer Kami Rita has reached the world's highest peak 24 times. Major Garrett has his story.
CBS News - Published
WWII veteran finally gets college degree
In 1942, Lou Pioli was studying to become a dentist when he was drafted into the Army. After serving during World War II, he never got his degree, until now. Major Garrett explains.
CBS News - Published
Jessica Yellin on "The Takeout" - 5/17/19
Former CNN White House correspondent Jessica Yellin joins Major Garrett to talk about her live news show on Instagram and her novel, "Savage News," on this week's episode of "The Takeout."
CBS News - Published
Ex-White House correspondent talks about how female reporters get treated differently than men
This week on "The Takeout," CBS News' Major Garrett interviews Jessica Yellin, a former White House correspondent for CNN. Her new novel, "Savage News," draws from her time as a White House..
CBS News - Published
You Might Like