Major Garrett
Correspondent for CBS News and the National Journal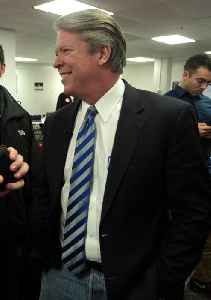 Major Elliott Garrett is Chief White House Correspondent, and host of The Takeout podcast with CBS News and a Correspondent at Large with National Journal. Prior to joining National Journal he was the senior White House correspondent for the Fox News Channel. He covered the 2004 presidential election, the War on Terror, and the 2008 presidential election where he covered the Democratic Party presidential primaries and later Barack Obama as the Democratic nominee.


Meghan McCain hits back after Trump's Twitter attack on her father
A bitter feud between the president and the family of John McCain is back in the spotlight. The time it started with a tweet and spilled over into network TV. Major Garrett reports.
CBS News - Published
Senator Chris Coons on "The Takeout"
Delaware Senator Chris Coons joins Major Garrett to discuss Joe Biden's candidacy, the question of impeachment, and how the definition of socialism has evolved in the post-recession era on this..
CBS News - Published
The Takeout: A CBS News original political podcast
"The Takeout" is a weekly podcast about politics, policy and pop culture hosted by CBS News Chief White House correspondent Major Garrett
CBS News - Published
Delaware Sen. Chris Coons says Biden is "95 percent" ready to run
Coons spoke to CBS News Chief Washington Correspondent Major Garrett on this week's episode of "The Takeout" podcast
CBS News - Published
White House reveals President Trump's $4.7 trillion budget proposal
The White House has revealed its $4.7 trillion budget proposal, which includes $8.6 billion for the border wall as well as cuts for domestic programs. CBS News chief Washington correspondent Major..
CBS News - Published
2020 budget: Trump to ask for additional $8.6 billion in border wall funding
President Trump is expected to request billions of dollars in new border wall funding when he delivers his 2020 budget proposal to Congress Monday. He wants to cut domestic programs to pay for the..
CBS News - Published
You Might Like