Mother
Female parent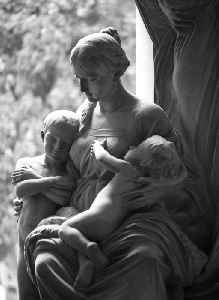 A mother is the female parent of a child. Mothers are women who inhabit or perform the role of bearing some relation to their children, who may or may not be their biological offspring. Thus, dependent on the context, women can be considered mothers by virtue of having given birth, by raising their child(ren), supplying their ovum for fertilisation, or some combination thereof. Such conditions provide a way of delineating the concept of motherhood, or the state of being a mother. Women who meet the third and first categories usually fall under the terms 'birth mother' or 'biological mother', regardless of whether the individual in question goes on to parent their child. Accordingly, a woman who meets only the second condition may be considered an adoptive mother, and those who meet only the first or only the third a surrogacy mother.


Mom says kids kicked out of school because she's unmarried
The mother alleges a school administrator blamed her "adultery" as one reason her daughters were being dismissed from school
CBS News - Published
Mom's photo shoot says girls can be athletic and girly. 'Why does she have to choose?'
An Alabama mom rejected the notion that girls could not be a girly-girl and an athlete. The photographer created a series showing girls could be both.
USATODAY.com - Published
Mum has 'miracle baby' after caesarean scar ectopic pregnancy
Warned she could 'bleed to death within minutes', Kellie Cantwell was gripped by terror and heartache after doctors discovered her unborn baby had attached itself dangerously close to her C-section..
Credit: PA - Press Association STUDIO Duration: 01:31Published
GOP lawmaker sues Twitter for $250 million
Republican Devin Nunes is suing Twitter and several Twitter users, claiming the site unfairly censored his tweets and subjected him to hateful messages. Zachary Goelman reports.
Credit: Reuters Studio Duration: 02:01Published
Defying Mom, teen testifies in support of vaccines
Eighteen-year-old Ethan Lindenberger testified in front of the Senate Health Committee in support of standard immunization for kids, despite his own mother having never vaccinated him as a child. Lisa..
Credit: Reuters Studio Duration: 01:59Published
Mom's photos show girls they can love sports — and be girly
After another mother suggested this photographer's daughter couldn't be both athletic and girly — she took action to show girls can be whatever they want
CBS News - Published
Mom plays it surprisingly cool after son shaves siblings' heads in viral video
The Plucknette family was on Jimmy Kimmel Live! to tell the tale of five-year-old Teddy taking the clippers to all three kids' hair.
USATODAY.com - Published
Mom fights parking ticket, almost being towed while breastfeeding her 3-week-old baby
A New York mom is disputing a $115 ticket she got when she pulled over her car to breastfeed. She thinks they should have been "more sensitive."
USATODAY.com - Published
Mom was ticketed and nearly towed while breastfeeding newborn baby
She was slapped with a $115 ticket for standing in a commercial zone
CBS News - Published
You Might Like