Coronavirus disease 2019
Infectious respiratory disease caused by severe acute respiratory syndrome coronavirus 2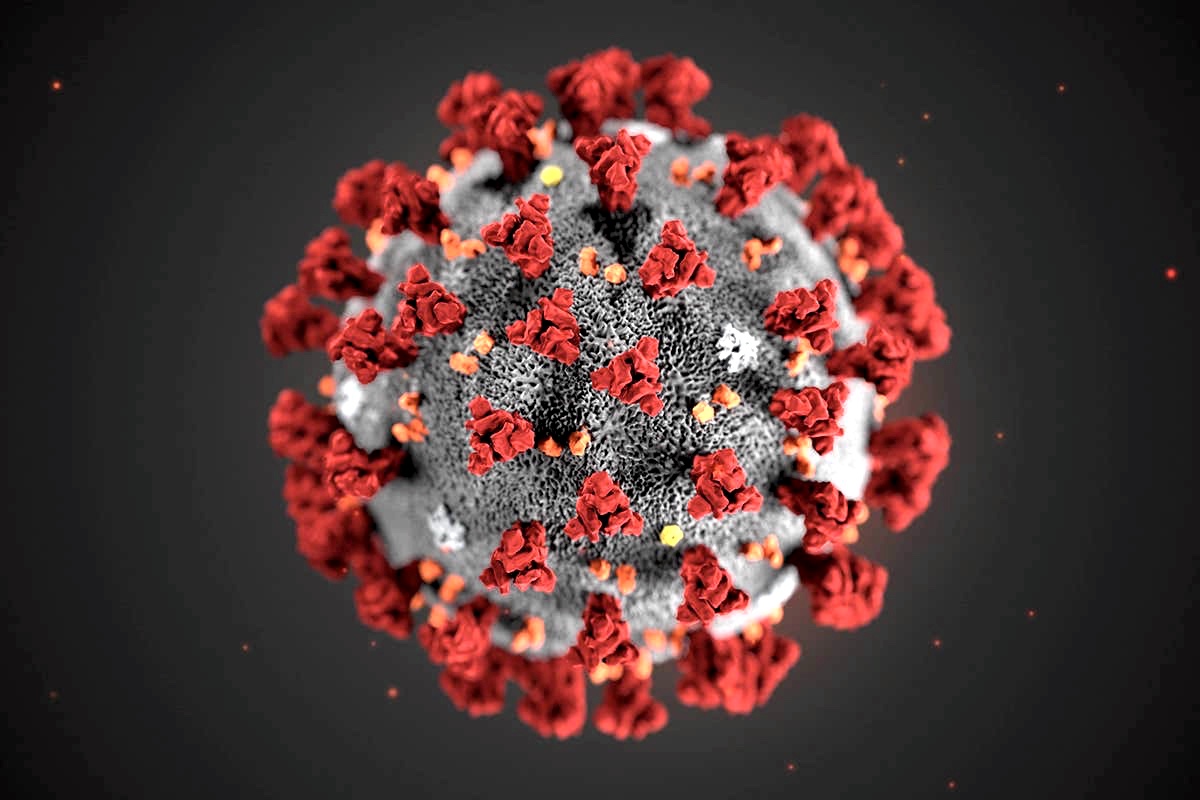 Coronavirus disease 2019 (COVID-19) is a contagious respiratory and vascular disease. It is caused by becoming infected with severe acute respiratory syndrome coronavirus 2 (SARS-CoV-2), which is a specific type of coronavirus. Common symptoms include fever, cough, fatigue, shortness of breath or breathing difficulties, and loss of smell and taste. The incubation period, which is the time between becoming infected with the virus and showing symptoms, may range from one to fourteen days. While most people have mild symptoms, some people develop acute respiratory distress syndrome (ARDS) possibly precipitated by cytokine storm, multi-organ failure, septic shock, and blood clots. Longer-term damage to organs has been observed, and there is concern about a significant number of patients who have recovered from the acute phase of the disease but continue to experience a range of effects—including severe fatigue, memory loss and other cognitive issues, low grade fever, muscle weakness, breathlessness, and other symptoms—for months afterwards.


'India's response to China...': RSS chief Mohan Bhagwat on Ladakh tension

Mohan Bhagwat, Sarsanghchalak of the Rashtriya Swayamsevak Sangh (RSS), spoke on the ongoing tension with China along the Line of Actual Control (LAC) in Ladakh. He said that India's response had..
Credit: HT Digital Content Duration: 03:39
Published
As Nagorno-Karabakh fighting rages, fears of a COVID spike abound

In Armenia and Azerbaijan, some fear that those displaced by the fighting will help spread COVID further.
Credit: Al Jazeera STUDIO Duration: 02:36
Published
Biden, Trump show opposing views as COVID-19 surges

[NFA] President Donald Trump and his Democratic rival Joe Biden gave starkly contrasting messages on Saturday about the coronavirus pandemic, taking their campaigns for the White House on the road as..
Credit: Reuters - Politics Duration: 02:25
Published
J&J, AstraZeneca resuming trials of vaccines

AstraZeneca has resumed the U.S. trial of its experimental COVID-19 vaccine after approval by regulators, and Johnson & Johnson is preparing to resume its trial early next week, the companies said on..
Credit: Reuters Studio Duration: 01:08
Published
Watch: TMC's Nusrat Jahan dances & plays Dhak during Durga Puja celebrations

Trinamool Congress MP Nusrat Jahan was seen dancing during Durga Puja celebrations in West Bengal's New Alipore. Nusrat was spotted in a red & white sari dancing with women. She was also seen playing..
Credit: HT Digital Content Duration: 01:30
Published
EJ Espresso: Delhi Covid cases hit 4,000 even as India sees a decline

Delhi reported 4,086 fresh cases on Friday, its highest spike in 35 days. Except on October 19, the capital has been reporting over 3,000 cases daily for the last 10 days, sparking concerns of a second..
Credit: HT Digital Content Duration: 05:35
Published
Half million COVID-19 deaths possible by February -study

[NFA] The COVID-19 death toll could reach a half million in the United States by February unless nearly all Americans wear face masks, researchers with the University of Washington's Institute for..
Credit: Reuters - Politics Duration: 01:52
Published
Drivers are ready to see fans at this weekend's Firestone Grand Prix of St. Petersburg

The Grand Prix of St. Petersburg was originally scheduled for March 15th, but COVID-19 pushed it back to October 25th.
Credit: ABC Action News Duration: 01:53
Published
Trump vs Biden: Decoding who won Debate 2 to swing undecided voters | US polls

Over 5 crore people in the United States of America have already voted ahead of physical voting day on November 3. However, pollsters believe that there are still some people undecided ahead of the..
Credit: HT Digital Content Duration: 12:26
Published
E-learning: boosted by the pandemic, where is the teaching method headed?

The sudden explosion in distance learning because of COVID-19 has been positive in some areas and challenging in others - but how will it be incorporated in education going forward? Focus takes a look..
Credit: euronews (in English) Duration: 05:00
Published
COVID spread worse than spring: French scientist

The COVID-19 virus is spreading more quickly than during its initial outbreak in the spring, French government scientific advisor Arnaud Fontanet said on Friday, in one of the starkest warnings yet..
Credit: Reuters Studio Duration: 01:38
Published
'You give vote, I'll give vaccine': Sena, Owaisi slam BJP's Bihar poll promise

The Bharatiya Janata Party is facing criticism from its political opponents over a promise made in its election manifesto for Bihar. Shiv Sena's Sanjay Raut said BJP's promise of free Covid vaccines..
Credit: HT Digital Content Duration: 04:59
Published
Agriculture Secretary Eustice announces new sewage testing

Secretary of State for Agriculture George Eustice has announced a new water testing scheme where waste water from treatment plants will be tested for Covid-19. Report by Odonovanc. Like us on Facebook..
Credit: ODN Duration: 01:11
Published
EJ Espresso: PM Modi & Rahul Gandhi in Bihar; Malaika's fitness mantra revealed

PM and Rahul to enter battleground Bihar today. Bharat Biotech's Covid vaccine cleared for Phase 3 trials. Eros Now apologises for 'vulgar' Navratri campaign. And Malaika's fitness mantra revealed as..
Credit: HT Digital Content Duration: 05:11
Published
US election: Key takeaways from the last Trump-Biden debate

The COVID-19 pandemic, climate change and race were among the topics Trump and Biden debated. They once more offered starkly different views.View on euronews
Credit: euronews (in English) Duration: 04:22
Published
'We're dying with it': Biden spars with Trump on COVID-19

U.S. President Donald Trump and Democratic presidential nominee Joe Biden clashed over the coronavirus pandemic during their second and last debate, with Biden saying Trump has downplayed the threat,..
Credit: Reuters Studio Duration: 02:56
Published
Gilead's remdesivir gets U.S. FDA approval

The U.S. Food and Drug Administration on Thursday approved Gilead Sciences's antiviral drug remdesivir for treating patients hospitalized with COVID-19, making it the first and only drug approved for..
Credit: Reuters Studio Duration: 01:29
Published
Liverpool hospitals treating more Covid patients than April

Hospitals in Liverpool are treating more coronavirus patients than they were during the peak of the first wave of the pandemic, Dr Tristan Cope, medical director of Liverpool University Hospitals NHS..
Credit: ODN Duration: 01:21
Published
You Might Like



'Totally irresponsible': Dems criticize Pence presiding over Amy Coney Barrett vote after aides contract COVID-19

"As vice president, I'm president of the Senate. And I'm gonna be in the chair because I wouldn't miss that vote for the world," Pence said Saturday.




USATODAY.com - Published





Italy launches "COVID free" flights

Rome Airport to provide COVID-19 testing before passengers board several flights.




CBS News - Published





Additional care sites to be set up in El Paso as COVID-19 surges

"In less than three weeks we've spiked from 259 to 786 COVID-related hospitalizations — a 300% increase," said El Paso's public health director.




CBS News - Published





What we know about Marc Short, other senior aides to Vice President Pence testing positive for coronavirus

As coronavirus cases surge, a new wave of infections appears to have hit the White House too, as members of Pence's staff test positive for COVID-19.




USATODAY.com - Published





COVID-19 and the vote: Where the voters stand

"Face the Nation" moderator Margaret Brennan sat down with Trump and Biden supporters for a temperature check less than two weeks before Election Day.




CBS News - Published





Adele Jokes About Her Weight Loss on 'SNL', Attributes it to COVID

Adele was awesome on 'SNL' Saturday night, and made a hilarious joke about her weight loss. The '"Somebody Like You" singer looked INCREDIBLE as she took the stage to host the show. She acknowledged,..




TMZ.com - Published





Tennessee Titans fined $350,000 by NFL for COVID-19 protocol violations

The punishment was handed down after a weeks-long investigation by the NFL and NFL Players Association into the Titans concluded earlier this week.




USATODAY.com - Published





Drive-thru haunted houses make for a spooky, COVID-safe Halloween

Luke Burbank takes a look at how some places are setting up drive-thru haunted houses for a spooky — and healthy — Halloween. One of these places is a car wash-turned-haunted house in Copiague, New..




CBS News - Published





'He's not just campaigning, he's working': Pence will still campaign, despite aide's COVID-19 case

CDC guidelines call for people to quarantine after exposure, but Mark Meadows cited exceptions for "essential personnel" like the vice president.




USATODAY.com - Published





Native Americans battle COVID-19 and other voting obstacles as Election Day nears

COVID-19 has disproportionately sickened or killed Native Americans across the U.S., creating another Election Day challenge for many tribal members.




USATODAY.com - Published




Who is Marc Short? Pence's 'soft-spoken' chief of staff has COVID-19

Marc Short, Vice President Mike Pence's chief of staff is the latest high-profile figure in the Trump administration to test positive for COVID-19.




USATODAY.com - Published





Pence's chief of staff tests positive for COVID-19

"Vice President Pence and Mrs. Pence both tested negative for COVID-19 today, and remain in good health," Pence's press secretary Devin O'Malley said.




CBS News - Published




Governor asks to use El Paso military hospital as COVID-19 surges

The request comes as COVID-19 cases have been surging throughout Texas and the country.




CBS News - Published





Bills place four tight ends on COVID-19/Reserve list after TE Dawson Knox tests positive for coronavirus

Buffalo Bills tight end Dawson Knox has tested positive for COVID-19, landing him and three others in his position group on the COVID-19/Reserve list.




USATODAY.com - Published





Kansas county draws backlash after $350K in COVID relief money goes to soccer complex

The Overland Park city council plans to use funds from the federal CARES Act to purchase video cameras to stream local soccer games on the internet.




USATODAY.com - Published





Ivanka Trump, Jared Kushner threaten lawsuit over COVID billboards

One billboard shows Trump smiling and gesturing to coronavirus death numbers in the U.S. Another features Kushner next to body bags and a quote he reportedly said in March: "[New Yorkers] are going to..




CBS News - Published





Coronavirus updates: Feared surge is underway; masks can still save 63K lives; Trump missing from task force meetings, Fauci says

A long-predicted surge in COVID-19 cases and deaths has begun in the United States, but Americans aren't changing their behaviors. Latest COVID news.




USATODAY.com - Published





UnitedHealth Ships Flu Kits to Medicare Recipients

Under MedAdvantage plans, the major insurer is sending packages including Tamiflu and coronavirus tests to those considered especially vulnerable to Covid and the flu.




NYTimes.com - Published





Khabib vs. Georges St-Pierre Was Late Father's Dream, Trainer Says

It's starting to make more sense why Khabib Nurmagomedov so badly wants to fight Georges St-Pierre -- it was his father's plan. Khabib's dad, Abdulmanap Nurmagomedov, passed away back in July after..




TMZ.com - Published





AstraZeneca, Johnson & Johnson to resume COVID-19 vaccine trials

On Friday, both AstraZeneca and Johnson & Johnson announced their coronavirus vaccine trials are set to resume in the U.S. after hitting pause when volunteers became sick.




CBS News - Published





Dr. Fauci Says He Doesn't Have President's Ear as COVID Stats Soar

President Trump's talking like he and Dr. Anthony Fauci are still on friendly terms -- despite each jabbing the other lately -- but that's news to Fauci, who says he has zero access to the Oval Office...




TMZ.com - Published





Covid-19 Deaths: The Price for Not Wearing Masks is Perhaps 130,000 Lives

The pandemic death toll could be lowered by next spring if more Americans wear masks, a new analysis finds.




NYTimes.com - Published





FDA approves remdesivir as COVID-19 treatment

The Food and Drug Administration approved the antiviral drug remdesivir to treat adults who are hospitalized with COVID-19, although it has not been proven to reduce deaths. Dr. Bob Lahita joins CBSN..




CBS News - Published

Also reported by •USATODAY.com


Russia insists COVID "under control" as bodies pile up in a hospital

Record number of new cases in a single day, more daily deaths than in the spring, and dozens of bodies in a hospital hallway, but the Kremlin says it's "tense, but it is under control."




CBS News - Published





Trump, Biden clash on COVID-19, economy and health care during final presidential debate

President Trump and former Vice President Biden went head-to-head Thursday night during the second and final presidential debate. The candidates clashed on nearly every issue, including the Trump..




CBS News - Published





Halloween attractions in New York, New Jersey, Philadelphia: 'Scary-yet-safe' amid COVID-19

Here's how Eastern State Penitentiary, Six Flags Great Adventure and more are adapting to life under COVID-19.




USATODAY.com - Published





Coronavirus updates: Chicago curfew begins Friday night; Pfizer adds teens to vaccine trial; NBA Draft to go virtual; 223K US deaths

Chicago imposes 10 p.m. curfew for two weeks. Wyoming reports 10,000th case. Southwest Airlines to start filling middle seats. Latest COVID news.




USATODAY.com - Published




AP Top Stories October 23 A

Here's the latest for Friday October 23rd: Trump and Biden have final debate; Drug approved for COVID-19 treatment; Senate Judiciary Committee Republicans approve Barrett nomination as Democrats walk..




USATODAY.com - Published





COVID Patients Are Voting From Their Hospital Beds

Astronauts are voting from space, millions are mailing ballots and patients battling COVID-19 are voting from their hospital beds ... welcome to the 2020 election. Voter turnout is expected to be on..




TMZ.com - Published





Idaho region drops mask mandate despite local doctors' warnings

Panel of political appointees, including one who suggested COVID wasn't even real, votes 4-3 to drop mandate after pleas for help from area doctors.




CBS News - Published





Watch the full second debate between President Trump and Joe Biden

At the final debate between President Trump and Democratic presidential nominee Vice President Joe Biden, the candidates were asked about a wide range of topics, including COVID-19, American families,..




CBS News - Published





Final presidential debate: Fact checking Trump and Biden

CBS News fact checked some of what Trump and Biden said about COVID-19, the economy, immigration, foreign policy and more at their final debate.




CBS News - Published




'Learning to live' with COVID-19, Bidencare and other top moments from the final presidential debate

If you were worried Thursday's debate was going to be a repeat of September's master class in interruption, you might have been pleasantly surprised. For some of the night, at least.




USATODAY.com - Published





'People are learning to die with it' Biden slams Trump's COVID-19 response at final debate

President Trump and former Vice President Biden debate the White House's response to the COVID-19 pandemic.




USATODAY.com - Published





Photos show orange skies, towering smoke over Colorado wildfires as concerns mount over air quality

The pollution may be masking the spread of COVID-19, Gov. Jared Polis warned. Meanwhile, Rocky Mountain National Park has completely closed.




USATODAY.com - Published




In California: COVID-19 keeps killing people, many are farmworkers

Plus: State revenue is up, severe weather expected back in the Bay, social media execs are under fire and a little something to cheer you up.  




USATODAY.com - Published





App aims to help unblock global air travel

A nonprofit foundation is testing a smartphone app it hopes could make it easier for international airline travelers to securely show compliance with COVID-19 testing requirements. Volunteer passengers..




USATODAY.com - Published





Prisoners are entitled to COVID-19 stimulus funds. It's time to help them get their money.

Incarcerated people are among those most endangered by COVID-19.




USATODAY.com - Published





Americans applying for jobless aid drops to 797,000

Fewer workers are filing for first-time unemployment benefits, a sign the COVID labor market is picking up.




CBS News - Published





UN Chief: conflicts must stop to prevent COVID

UN Secretary General Antonio Guterres is calling for a ceasefire on conflicts around the world to prevent the spread of COVID-19. (Oct. 22)  




USATODAY.com - Published





Trump in North Carolina: 'All you hear is Covid, Covid, Covid, Covid, Covid.'




NYTimes.com - Published




Coronavirus updates: 'Witch City' announces stricter Halloween guidelines; San Quentin ordered to cut prison population; Spain tops 1M cases

Salem, Massachusetts, announces strict Halloween rules. San Quentin ordered to cut prison population. Obama digs in on Trump. Latest COVID news.




USATODAY.com - Published




The Big Ten wants to play for the national championship. Will that be possible?

Given the inability to predict where, when and how COVID-19 will impact weekly schedules, can the Big Ten compete for the national championship?




USATODAY.com - Published





Absentee or early voting? Here is the best way to vote in 2020, according to experts and activists

Many Americans are concerned about the risk of catching COVID-19 at the polls. They also worry about their vote being counted.  




USATODAY.com - Published





'I had to start my future': Workers who lost jobs because of COVID-19 find new careers in these fields

More workers who lost jobs or earnings due to Covid 19 are starting to transition to new careers or industries as unemployment benefits run dry




USATODAY.com - Published





Voting across the US live updates: Iran sent email threats, DNI says; 75K vote on first day in Wisconsin; Mississippi offers curbside voting

Mississippi OKs curbside voting for those with COVID symptoms. Many Wisconsin county ballots have printing error. Latest news on voting around U.S.




USATODAY.com - Published