Proud Boys
Far-right and neo-fascist organization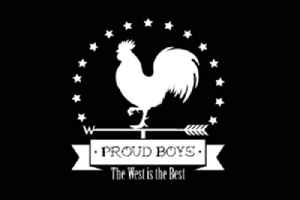 The Proud Boys is a far-right and neo-fascist organization that admits only men as members and promotes and engages in political violence. It is based in the United States and has a presence in Australia, Canada and the United Kingdom. The group was started as a joke in the far-right Taki's Magazine in 2016 by Vice Media co-founder and former commentator Gavin McInnes, taking its name from the song "Proud of Your Boy" from the Disney film Aladdin. The Proud Boys emerged as part of the alt-right, but McInnes began distancing himself from the alt-right in early 2017, saying the alt-right's focus is race while his focus is what he defines as "Western values". This re-branding effort intensified after the Unite the Right Rally.


Oregon Gov. 'incredibly worried' about Proud Boys rally

Oregon Governor Kate Brown on Friday declared a state of emergency in Portland over the weekend due to risks of violence as thousands of members of what she called "white supremacist groups" such as..
Credit: Reuters - Politics Duration: 01:29
Published
Journalist Arrested After Clashes Erupt at Far-Right Rally

A journalist covering clashes between Proud Boys and counter-protesters was arrested in western Michigan on August 15. Report by Shoulderg. Like us on Facebook at http://www.facebook.com/itn and follow..
Credit: ODN Duration: 01:25
Published
You Might Like
Far-right group Proud Boys rally in Portland, Oregon
The far-right group Proud Boys are holding a rally Portland, Oregon, on Saturday. Police are on alert for clashes for counter demonstrators.
CBS News - Published
Portland prepares for large right-wing rally
A planned rally by the far-right Proud Boys is expected to be met by anti-fascism protesters.
CBS News - Published
Portland Prepares for Violent Showdowns, Proud Boys and Tear Gas
The nation's divisive political scene has increasingly spilled from social media into public rallies. Portland is bracing for possible violent clashes between far-right and left-wing activists.
NYTimes.com - Published
Oregon police prepare for weekend demonstrations
Oregon Gov. Kate Brown is sending state troopers and sheriffs deputies to Portland through the weekend to help police monitor a weekend rally in the city by the right-wing group Proud Boys and counter..
USATODAY.com - Published
Trump Supporters in Oregon Chase Down, Beat BLM Protesters
At least 2 President Trump supporters -- and members of the far-right group Proud Boys -- were busted after chasing down and beating BLM protesters in Oregon. The incidents went down Monday in the..
TMZ.com - Published
Pro-Trump Proud Boys Group in Violent Fight with Black Lives Matter Protesters
In the event you think this presidential election will not trigger violence ... watch this video. The Proud Boys group made its presence known Saturday in the swing state of Michigan, fighting hundreds..
TMZ.com - Published
Far-right demonstrators, counter-protesters and police clash in multiple states
Fights broke out at demonstrations in Michigan and Georgia Saturday. Among those involved: far-right Proud Boys, counter-protesters and police.
USATODAY.com - Published
Facebook removes hundreds more accounts as right-wing violence spreads
Facebook on Tuesday removed almost 900 accounts associated with the far-right Proud Boys and American Guard, including those belonging to Proud Boys supporters who marched into a protest zone in..
Reuters - Published
Proud Boys members convicted for NYC brawl with Antifa activists
A jury deliberated for less than two days before convicting two members of the far-right group
CBS News - Published
Far-right Proud Boys claim 'mission success' in antifa protest, vow to hold monthly Portland rallies
The far-right Proud Boys claimed success and vowed monthly protests in Portland after an 'End Domestic Terrorism' rally in Oregon's largest city.
USATODAY.com - Published
Far-right 'Proud Boys' are going on trial over a violent 2018 clash with protesters
Two members of the far-right Proud Boys group are going on trial this week for their roles in a violent clash with left-wing protesters in New York.  
USATODAY.com - Published
Proud Boys met by counter-protesters in DC
The Demand Free Speech rally was outnumbered by the All Out DC counter protests
USATODAY.com - Published
Far-right extremists Proud Boys outnumbered by counter-protesters at Washington, DC, rally
A handful of antifa and hundreds of other counter-protesters showed up against the self-proclaimed "chauvinistic" Proud Boys' Demand Free Speech rally
USATODAY.com - Published