Michael Cohen (lawyer)
American former attorney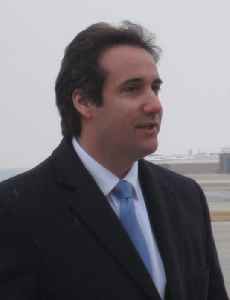 Michael Dean Cohen is an American disbarred lawyer who served as an attorney for U.S. president Donald Trump from 2006 to 2018. Cohen was a vice-president of the Trump Organization, and the personal counsel to Trump, and was often described by media as Trump's "fixer". He served as co-president of Trump Entertainment and was a board member of the Eric Trump Foundation, a children's health charity. From 2017 to 2018, Cohen was deputy finance chairman of the Republican National Committee.


Cohen: Trump Serious About More Terms

President Donald Trump has talked about wanting to serve more than two terms as President of the United States. Trump says he was joking. On Wednesday, President Donald Trump's former attorney Michael..
Credit: Wochit News Duration: 00:27
Published
Cohen links Falwell's Trump endorsement to racy photos

In his book released today, Michael Cohen, the former fixer for U.S. President Donald Trump, ties for the first time the 2016 presidential endorsement of Trump by American evangelical leader Jerry..
Credit: Reuters Studio Duration: 02:25
Published
Court blocks release of Trump's tax returns to DA

[NFA] A U.S. appeals court on Tuesday granted President Donald Trump's request to delay Manhattan's district attorney from accessing his tax returns in connection with a criminal probe of his business..
Credit: Reuters - Politics Duration: 01:52
Published
Judge rules Trump must present tax returns

[NFA] Donald Trump cannot block a prosecutor's subpoena for eight years of his tax returns, a federal judge ruled on Thursday, in the latest setback in the U.S. president's longstanding effort to keep..
Credit: Reuters - Politics Duration: 01:40
Published
NY's Trump probe over more than just 'hush-money'

The Manhattan district attorney's probe involving U.S. President Donald Trump is not limited to so-called hush-money payments made to two women in 2016 by his former lawyer and fixer Michael Cohen,..
Credit: Reuters Studio Duration: 01:49
Published
You Might Like



Michael Cohen: Trump's disdain towards Obama was 'purely racial'

In the new book, Cohen describes several instances where President Trump was disparaging towards minority communities.




USATODAY.com - Published





Trump said Nelson Mandela was "no leader," book claims

"F*** Mandela. He was no leader," Mr. Trump said, according to a new book by his former attorney Michael Cohen.




CBS News - Published





Michael Cohen in new book writes Trump is 'a predator, a con man'

Trump's former personal attorney described President Donald Trump as "a cheat, a liar, a fraud, a bully, a racist, a predator, a con man."




USATODAY.com - Published





Stimulus bill, Michael Cohen's tell-all book, California wildfires: 5 things to know Tuesday

Senate likely to take up coronavirus stimulus bill, Michael Cohen releases tell-all memoir about Trump and more news to know Tuesday.




USATODAY.com - Published





Cohen memoir calls Trump "a fraud, a bully, a racist, a predator"

Cohen assails Trump as an "organized crime don" who is "guilty of the same crimes" that landed him in prison.




CBS News - Published





Michael Cohen claims President Trump will do anything to win the 2020 election

Michael Cohen says President Trump is a "liar" and a "cheat" in a damning new tell-all book. Paula Reid reports.




CBS News - Published





Michael Cohen's Book Says Trump Held 'Low Opinions of All Black Folks'

The president's former fixer describes him as a mob boss figure who made racist insults, was driven by hatred for President Barack Obama and engaged in underhanded tactics against opponents.




NYTimes.com - Published





Former 'fixer' Michael Cohen: Donald Trump will 'do anything' to keep power

Michael Cohen says Trump authorized hush money to a porn star and will do anything necessary in order to hold onto to the presidency.




USATODAY.com - Published





3/1: CBSN AM

Michael Cohen lied to Congress; Dr. Seuss to release posthumous book




CBS News - Published




Michael Cohen says Trump 'can't be trusted' in a new super PAC ad.




NYTimes.com - Published





'He can't be trusted': Michael Cohen denounces Trump in ads airing during Republican National Convention

"For more than a decade, I was President Trump's right-hand man, fixer and confidant," Cohen says in ad. "I was part of creating an illusion."




USATODAY.com - Published





Michael Cohen releases details about his forthcoming memoir.




NYTimes.com - Published





Michael Cohen previews tell-all Trump book, alleges Russia collusion, other sordid scandals

Michael Cohen has released the foreword of his tell-all memoir about Donald Trump, in which he alleges Russia collusion and other sordid scandals.




USATODAY.com - Published





AP Top Stories July 24 P

Here are the top stories for Friday, July 24th: White House defends stance in Portland; Virginia high school renamed to honor John Lewis; Michael Cohen released to home confinement; Legendary U.S...




USATODAY.com - Published




Michael Cohen to be released, storms threaten havoc, Taylor Swift: 5 things to know Friday

Michael Cohen will be released from prison, Taylor Swift's new album is out and more news to start off your Friday.




USATODAY.com - Published





Michael Cohen was sent back to prison as a retaliatory act over tell-all book about Trump, federal judge rules

A federal judge ordered that Michael Cohen be released back to home confinement by Friday.




USATODAY.com - Published





Former Trump lawyer Michael Cohen back in custody in dispute over release conditions

President Trump's former lawyer and fixer Michael Cohen is back in federal custody in an apparent dispute over conditions of his early prison release.




USATODAY.com - Published





Trump attorney Michael Cohen out of prison

President Donald Trump's longtime personal lawyer and fixer Michael Cohen was released from federal prison Thursday to serve the remainder of his sentence at home. (May 21)  




USATODAY.com - Published





Trump visits Michigan, unemployment claims, Michael Cohen released from prison: 5 things to know Thursday

President Trump visits Michigan, Jobless claims released as the economic toll from the coronavirus ticks on and more news to start your Thursday.




USATODAY.com - Published





Ex-Trump lawyer Michael Cohen to be released Thursday amid coronavirus fears

Ex-Trump attorney Michael Cohen is set to be released from a federal prison to serve the remainder of his term at home amid coronavirus fears.




USATODAY.com - Published

Also reported by •Reuters


Former Trump lawyer will not be released from prison this week: source

Michael Cohen, the former personal lawyer to President Donald Trump, will not be released from prison this week to serve the remainder of his term in home confinement, a source familiar with the matter..




Reuters - Published





Ex-Donald Trump lawyer Michael Cohen to be released from prison

President Donald Trump's former lawyer and longtime fixer Michael Cohen will be released from federal prison to serve the remainder of his sentence in home confinement because of the coronavirus..




USATODAY.com - Published





Trump's former lawyer Michael Cohen out of solitary confinement

Michael Cohen, the former personal attorney to President Donald Trump, has been removed from solitary confinement in a federal prison where he is serving time for violating campaign finance laws, his..




Reuters - Published





Exclusive: Michael Cohen, Trump's former lawyer, in solitary confinement

Michael Cohen, U.S. President Donald Trump's former personal attorney, has been placed in solitary confinement at a federal prison in New York state where he is serving time for violating campaign..




Reuters - Published





Judge rejects ex-Trump lawyer Cohen's bid for freedom, even with COVID-19 risk

A federal judge on Tuesday denied Michael Cohen's request to be released early from prison, saying U.S. President Donald Trump's former personal lawyer and fixer should accept the consequences of his..




Reuters - Published





Coronavirus justifies moving ex-Trump lawyer Cohen home from prison - letter

Michael Cohen, U.S. President Donald Trump's former personal lawyer and fixer, risks catching coronavirus while serving his three-year prison sentence, justifying his release into home confinement,..




Reuters - Published





Lev Parnas' allegations about Trump's knowledge of Ukraine scheme has striking similarities to another fixer, Michael Cohen

Lev Parnas, an associate of Trump's personal lawyer Rudy Giuliani, has given Congress evidence that could play into Trump's impeachment trial.  




USATODAY.com - Published





Ex-Trump lawyer Cohen says his assistance justifies early prison exit

Michael Cohen, Donald Trump's former personal lawyer and fixer who is now seeking early release from prison, on Friday rejected the claim that his lies undermined his ability to help investigators on..




Reuters - Published





Former Trump lawyer Michael Cohen wants shorter prison sentence because he gave feds info about Trump inaugural donor

Bidding for prison leniency, ex-Trump lawyer Michael Cohen says he gave prosecutors information about a donor to his former boss' inaugural committee.  




USATODAY.com - Published





'Sold his soul': Michael Cohen asks judge to reduce prison sentence

Cohen pleaded guilty last year to charges that included campaign-finance violations for paying hush money to women who claimed to have had sex with Trump




USATODAY.com - Published





Former Trump lawyer Michael Cohen seeks reduction in U.S. prison term

Michael Cohen, a former lawyer for Donald Trump who became a key witness against the president for House Democrats, is seeking a reduction in his current three-year prison sentence, an attorney for..




Reuters - Published





Notes of Investigators Fill in Details of Key Events Examined by Mueller

Documents released by the Justice Department in response to a lawsuit by the news media include summaries of interviews with Michael Cohen, Hope Hicks and Rod Rosenstein.




NYTimes.com - Published





Should President Trump worry about Michael Cohen flipping?

Mark Landler, Rachael Bade, and Mike Allen discuss the addition of Rudy Giulliani to President Trump's legal team and what to expect during French President Emmanuel Macron's visit this week.




CBS News - Published





Kellyanne Conway says payment to Stormy Daniels is a private matter

Counselor to the President Kellyanne Conway joins moderator Margaret Brennan to discuss Michael Cohen's payment to Stormy Daniels and Rudy Giuliani's interviews this week.




CBS News - Published





Giuliani says feds have 183 recordings made by Cohen; outlines potential deal with Mueller

President Trump's attorney Rudy Giuliani says prosecutors have 183 recordings made by Michael Cohen, the president's former lawyer. Giuliani also discusses a potential deal with Special counsel..




CBS News - Published





Warner says Senate Intel has sent "a number of referrals" to Mueller

Sen. Mark Warner, D-Virginia, joins Margaret Brennan to discuss what Michael Cohen's guilty plea with the special counsel means for President Trump and the Mueller investigation.




CBS News - Published





Did Trump improve the relationship with China at the G-20?

Seung Min Kim, David Nakamura and Jeffrey Goldberg discuss the significance of Michael Cohen's guilty plea and President Trump's meeting with Xi Jinping at the G-20.




CBS News - Published





Face The Nation: Lanny Davis, Trevor Potter, Kelsey Snell

Missed the second half of the show? The latest on Michael Cohen, election laws and government spending




CBS News - Published





Davis: Cohen wouldn't take a pardon from Trump "if it was handed to him"

Michael Cohen's former attorney Lanny Davis tells Margaret Brennan that Michael Cohen wouldn't take a pardon from President Trump if he offered one.




CBS News - Published





Kennedy says "First Amendment was bruised" by BuzzFeed report on Cohen

Sen. John Kennedy, R-Louisiana, joins Margaret Brennan to discuss President Trump's latest offer to end the government shutdown and the BuzzFeed report on Michael Cohen.




CBS News - Published





Schiff wants Cohen to testify before House Intelligence Committee

Representative Adam Schiff, D-California, says the House Intelligence Committee has a date for Michael Cohen to come and testify "voluntarily or, if necessary, by subpoena" to explain why he lied to..




CBS News - Published





What did Cohen's testimony actually tell us?

Jeffrey Goldberg, David Nakamura, Paula Reid and David Sanger join Margaret Brennan to discuss the outcome of the Trump-Kim summit in Hanoi and Michael Cohen's testimony.




CBS News - Published





McCabe "shocked" by "incredibly lenient" Manafort sentence

Former FBI Deputy Director Andrew McCabe joins moderator Margaret Brennan to discuss his book "The Threat," Paul Manafort's sentencing and Michael Cohen's testimony.




CBS News - Published





Michael Cohen turns on the president

No member of Donald Trump's orbit generated more controversy than Michael Cohen, the president's former personal attorney. Jeff Pegues reports.




CBS News - Published





Michael Cohen's Ex-Partner Gets Probation After Turning on Him

Evgeny A. Freidman, once known as New York's Taxi King, cooperated in the federal investigation of Mr. Cohen.




NYTimes.com - Published




Falwell Settles Court Case Over 'Pool Boy' Business Deal

The settlement concludes a case that drew national attention over its connections to Michael Cohen, President Trump's former fixer.




NYTimes.com - Published





The latest on Jeffrey Epstein's bail request and newly unsealed documents from the case against Michael Cohen

Already, it's been a big week for high-profile legal cases. Newly unsealed documents pertaining to Michael Cohen shows Trump's alleged involvement in a hush money scheme. Disgraced financier Jeffrey..




CBS News - Published