George Floyd (American football)
American football defensive back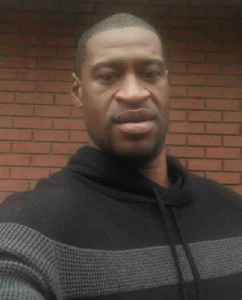 George Floyd Jr. is an American former professional football player who was a defensive back for two seasons with the New York Jets of the National Football League (NFL). Over his NFL career, Floyd appeared in seven games during the Jets' 1982 season, including three playoff games, and eight in their 1983 season, with two games started.


Police immunity applied unevenly by U.S. courts

Outrage over the killing of George Floyd and incidents like it have shone a spotlight on the controversial legal doctrine called qualified immunity. A Reuters investigation has found that U.S. courts..
Credit: Reuters - Politics Duration: 05:02
Published
Voter Registration Increased During Black Lives Matter Protests, Study Says

According to TargetSmart, a Democratic political data firm voter registration surged in June amid protests over the killing of George Floyd.
Credit: Cover Video STUDIO Duration: 01:14
Published
'Squad' sweep: Omar holds off primary challenger

U.S. Representative Ilhan Omar held off a well-funded challenger Tuesday and won the Democratic primary in her congressional district, putting her on track for re-election in November along with other..
Credit: Reuters - Politics Duration: 01:54
Published
Full Circle Special Report: What does 'defund the police' mean?

In the wake of the killing of George Floyd, calls to defund the police have spurred debate and become a national lightning rod issue in the upcoming presidential election.
Credit: ABC Action News Duration: 07:39
Published
100 arrested after mass looting in Chicago

[NFA] Chicago police arrested more than 100 people after crowds swarmed Chicago's luxury commercial district early Monday, looting stores, smashing windows and clashing with officers for hours, police..
Credit: Reuters - Politics Duration: 02:18
Published
New Details of George Floyd's Fatal Arrest Emerge in Leaked Video

The 'Daily Mail' has obtained partial police bodycam footage involving the arrest and subsequent de*th of Floyd.
Credit: Cover Video STUDIO Duration: 01:10
Published
A Nasty Pandemic Side Effect: Murder

A new Wall Street Journal analysis reveals 36 of the United States' 50 largest cities have seen murder rates increase by double-digit percentages this year. A new Wall Street Journal analysis shows..
Credit: Wochit News Duration: 00:45
Published
Artists paint the picture of Portland's protests

Artists have been using paint and other media to capture the weeks of sometimes violent protests in Portland, sparked by the police killing of George Floyd in Minneapolis. View on euronews
Credit: euronews (in English) Duration: 00:50
Published
Rookie cop seeks change from within

[NFA] A look at one rookie police officer from Detroit, and a student advocate from New York City, who vow to help reform policing from within. Gavino Garay has the story.
Credit: Reuters - Politics Duration: 03:39
Published
You Might Like



Black Americans five times more likely to be stopped by police, statistics show

Body camera footage from two of George Floyd's arresting officers shows him sobbing and pleading. This comes more than 11 weeks after Floyd's death, when protests over racial inequality in policing..




CBS News - Published





In rapid 'reckoning,' SPLC reports 38 Confederate monuments have been removed in US since George Floyd's death on Memorial Day

Nearly as many Confederate statues have been removed in less than three months since George Floyd's death as were removed in three previous years.




USATODAY.com - Published




Dallas Cowboys owner Jerry Jones addresses national anthem stance, says he will listen to players

Until Wednesday, Dallas Cowboys owner Jerry Jones had not made any public comments since the May 25 death of George Floyd.




USATODAY.com - Published





New Footage Shows Delayed Medical Response to George Floyd

A Minnesota judge ordered that footage from cameras worn by two officers be publicly released. Here's what that footage tells us. These videos include graphic imagery.




NYTimes.com - Published





George Floyd protests: Lawsuits extend fight against police brutality from streets to courtrooms

A wave of legal action is just beginning, while misconduct claims against officers are flooding disciplinary offices, challenging policing tactics.




USATODAY.com - Published





Body camera shows George Floyd's last moments

Body camera footage recorded by the former officers charged in the death of George Floyd was made publicly available on Monday after a Minnesota judge ordered its release. (Aug. 11)  




USATODAY.com - Published

Also reported by •CBS News


Police bodycam videos raise questions over George Floyd's treatment in police custody

In Minneapolis, a judge released the full bodycam videos from two former officers charged in the death of George Floyd. The footage raises new and troubling questions about how he was treated in..




CBS News - Published





George Floyd Police Body Cam Footage Shows His Fear During Arrest

George Floyd was terrified and afraid when cops first approached him in his car ... pleading for his life with a gun trained on his head. The footage -- just released by a judge -- from Floyd's fatal..




TMZ.com - Published





Britain examines its slave-trade past

The Black Lives Matter campaign, which was propelled by the killing of George Floyd in Minneapolis, has become a worldwide movement, particularly in Britain, where the former colonial power is..




CBS News - Published





Southern Baptists confront the church's history of racism and slaveholding. For some members, it's not enough.

The cataclysmic death of George Floyd has pushed the Southern Baptist Convention's racial reconciliation efforts back into the spotlight.




USATODAY.com - Published




Why Joe Biden and Kamala Harris would be a disastrous duo in the year of George Floyd

The theme of this rotten year is racial justice. America needs a fix to our criminal justice system, not a reminder of just how broken it really is.




USATODAY.com - Published





Unlawful assembly declared during Portland protest

Portland, Oregon police declared an unlawful assembly outside a precinct on Thursday night and ordered protesters to leave. Earlier, the city's Mayor criticized the protests that have shaken Portland..




USATODAY.com - Published





Minnesota court investigates the leak of police video showing the fatal arrest of George Floyd

In a newly leaked body camera video, George Floyd is heard pleading with officers to not shoot him or put him in the back of the squad car because he is claustrophobic. A Minnesota court did not want..




CBS News - Published





Leaked bodycam footage shows George Floyd arrest and death

The public is getting its first look at bodycam video from two of the Minneapolis police officers who were on the scene the night George Floyd died in custody. For several agonizing minutes, Floyd is..




CBS News - Published




Black man afraid to walk in his neighborhood starts movement

After the death of George Floyd, Nashville resident Shawn Dromgoole posted to social media saying he was afraid to walk alone in his gentrified community because of the color of his skin. Jamie Wax..




CBS News - Published





What Has Changed Since George Floyd

And what else you need to know today.




NYTimes.com - Published





Rep. Karen Bass emerges as a leading VP contender

California congresswoman Karen Bass has emerged as a leading contender to be the Democrats' vice presidential candidate. The 66-year-old Bass chairs the Congressional Black Caucus and led major..




USATODAY.com - Published





'Emmett Till was my George Floyd,' John Lewis says in posthumous New York Times op-ed

The late Rep. John Lewis published an op-ed in the New York Times Thursday morning, the day of his funeral service in Atlanta.




USATODAY.com - Published





George Floyd hologram projected in front of Confederate statue in Richmond, Virginia

A hologram projected the image of George Floyd in front of a statue of Confederate general Robert E. Lee in Richmond, Virginia, on July 28.  




USATODAY.com - Published





'Umbrella Man' who broke windows in initial George Floyd protests a white supremacist, police say

The man, police said, "wanted to sow discord and racial unrest by breaking out the windows." His identity has not been released.




USATODAY.com - Published




Seattle mayor says federal agents have left after being sent to protect federal buildings

Federal agents were sent to Seattle to protect federal buildings as protests continued over the police killing of George Floyd.  




USATODAY.com - Published




Where George Floyd Was Killed: Solemn by Day, Violent by Night

Two months after the killing of Mr. Floyd, a South Minneapolis neighborhood remains a police-free zone.




NYTimes.com - Published





Minnesota Twins hold moment of silence for George Floyd at 8:46

Minnesota Twins and St. Louis Cardinals stop play at Target Field in fifth inning to pay tribute to George Floyd, who died in police custody in May.




USATODAY.com - Published





In Stockton, a Powerful Program to Prevent Violence

With the pandemic, and then the eruption of protests in response to the killing of George Floyd, Julian Balderama's work has become all the more challenging.




NYTimes.com - Published





What Do Portland Protesters Want, and How Have the Police Responded?

Eight weeks after the death of George Floyd, here's a look at why longstanding protests in the city have recently intensified.




NYTimes.com - Published





Minn. governor signs police accountability bill

Minnesota Gov. Tim Walz has signed a police accountability bill into law that includes a ban on neck restraints like the one that was used on George Floyd before his death in Minneapolis. (July 23)  




USATODAY.com - Published





Derek Chauvin, ex-Minneapolis officer charged with killing George Floyd, is now facing tax evasion charges

Derek Chauvin and his wife allegedly underreported their income for years in Minnesota and also didn't file state taxes some years.




USATODAY.com - Published




Police Find Body in Building Burned Down During George Floyd Protests

The body was found at the site of a Minneapolis pawnshop that was set on fire just days after the death of Mr. Floyd.




NYTimes.com - Published





Democrats haul in big buckets of money for Senate races as Trump's woes spill over to GOP

Trump's political woes are spilling over to GOP Senate candidates amid concerns about his response to the coronvirus and the George Floyd protests.




USATODAY.com - Published