Steven Mnuchin
77th and current United States Secretary of the Treasury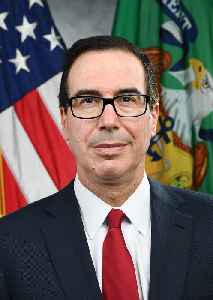 Steven Terner Mnuchin is an American politician, investment banker and film producer who is serving as the 77th United States secretary of the treasury as part of the Cabinet of Donald Trump. Previously, Mnuchin had been a hedge fund manager and investor.


Deal would fund U.S. gov't to early Dec.: Mnuchin

[NFA] U.S. Treasury Secretary Steven Mnuchin on Sunday said he hoped to have something "firmed up" with Democrats by week's end over a continuing resolution measure that would keep U.S. government open..
Credit: Reuters Studio Duration: 02:03
Published
Dow Climbs 455 points While S&P 500 Sets Record

US stocks climbed on Wednesday with the S&P 500 and Nasdaq composite extending records. According to Business Insider, both indexes closed at all-time highs on Tuesday. The rally was partly spurred by..
Credit: Wochit News Duration: 00:32
Published
No sign of talks resuming on U.S. aid deal

Talks between the White House and top Democrats in Congress over a U.S. coronavirus aid package remained stalled on Wednesday, with neither side budging. This report produced by Chris Dignam.
Credit: Reuters - Politics Duration: 01:12
Published
Pelosi, Mnuchin signal openness to resume aid talks

[NFA] U.S. House Speaker Nancy Pelosi on Sunday urged a restart of congressional talks on extending coronavirus aid, saying executive actions taken by President Donald Trump a day earlier would have..
Credit: Reuters - Politics Duration: 01:28
Published
After India, will US ban Tiktok?: Watch Donald Trump's response

US President Donald Trump has said that his government is looking at banning Chinese video-sharing application Tiktok. When asked a question on the issue, the US President said they are looking into..
Credit: HT Digital Content Duration: 01:19
Published
Mnuchin: GOP Coronavirus Relief Ready

Mnuchin: GOP Coronavirus Relief Ready
Credit: Wochit News Duration: 00:26
Published
Republicans ready piecemeal coronavirus aid bill

[NFA] A deadline looms before enhanced unemployment benefits expire, and Republican lawmakers are desperately trying to hammer out an agreement within their own party on relief efforts. This report..
Credit: Reuters - Politics Duration: 02:19
Published
You Might Like



Mnuchin says both GOP, Pelosi agree to avoid shutdown

Both parties need to agree to a government funding bill by the end of the month to avoid a shutdown.




CBS News - Published





Pelosi, Mnuchin informally agree on plan to avoid government shutdown

The two agreed the resolution to keep the government open should be "clean," meaning without controversial provisions. It would avoid funding battles before the November elections.




CBS News - Published





Mnuchin open to restarting talks with Pelosi

Pressed by Democrats to quickly negotiate a new coronavirus relief package, Treasury Secretary Steven Mnuchin said the administration remains willing to work on a bipartisan agreement to aid small..




USATODAY.com - Published





Paycheck Protection Program seen as "fertile ground" for scams

Treasury Secretary Steve Mnuchin is testifying before a House committee where he is expected to be asked about the potential for fraudulent loans acquired under the Paycheck Protection Program. CBS..




CBS News - Published





House report finds "high risk" of fraud or abuse with thousands of PPP loans

The report was released hours before Treasury Secretary Steven Mnuchin was set to testify before the House.




CBS News - Published





Senate Republicans look to roll out targeted coronavirus relief bill

Treasury Secretary Steven Mnuchin said Senate Majority Leader Mitch McConnell will "hopefully" introduce a new measure next week.




CBS News - Published





Treasury Department insists Mnuchin isn't politicizing Postal Service

A former top Postal Service official accused the treasury secretary of politicizing the Postal Service.




CBS News - Published





Administration Reaches Out to Democrats on Stimulus Bill

Treasury Secretary Steven Mnuchin talked with Speaker Nancy Pelosi for the first time since negotiations on a new coronavirus relief bill collapsed, but neither side showed any willingness to budge.




NYTimes.com - Published





Dems say Mnuchin offered to meet but refused to budge on COVID bill

Top Democrats say Mnuchin made an "overture" to meet but made it clear "the White House is not budging" in negotiations.




CBS News - Published





Trump donated to Kamala Harris years ago. His campaign says it shows he's not racist.

Ivanka Trump and Treasury Secretary Steve Mnuchin also gave money to Harris in the past.




CBS News - Published





Relief talks fail, Mnuchin sees executive action

A last-ditch effort by Democrats to revive collapsing Capitol Hill talks on vital COVID-19 rescue money ended in disappointment on Friday. (Aug. 7)  




USATODAY.com - Published





Mnuchin to ask Trump to issue executive orders after coronavirus stimulus talks fall apart

White House negotiators will recommend Trump make executive orders after stimulus talks with Democrats fell apart Friday.




USATODAY.com - Published





Coronavirus updates: White House, congressional leaders seek deal on second stimulus package; US deaths top 160K; India surpasses 2M cases

Treasury Secretary Stephen Mnuchin says that Dems and White House are "still very far apart" on some issues in COVID-19 relief package. Latest news.




USATODAY.com - Published




Meadows says he's "not optimistic" on deal on coronavirus relief

Meadows and Treasury Secretary Steven Mnuchin met with Democratic leaders on Capitol Hill on Saturday.




CBS News - Published





'It's a condescension': Pelosi slams White House over deadlock in COVID-19 relief negotiations and $600 unemployment benefits

Treasury Secretary Steven Mnuchin suggested Sunday that the $600 payments have been a disincentive that led to some unemployed Americans.




USATODAY.com - Published





Mnuchin says GOP coronavirus relief package will be released Monday

Fox News host Chris Wallace pressed Mnuchin on why a GOP plan hasn't been introduced.




USATODAY.com - Published





Mnuchin urges more stimulus for hard hit sectors

Treasury Secretary Steven Mnuchin urged members of Congress Friday to work with the Trump administration to pass additional stimulus measures for the hardest-hit sectors of the economy, like travel and..




USATODAY.com - Published





Live Stock Market Tracker: Mnuchin and Powell Talk Fed Response

The latest on stock market and business news during the coronavirus outbreak.




NYTimes.com - Published





Mnuchin and Powell to Offer Mixed Views of Economic Recovery

The Treasury Secretary and Fed chair will discuss their approach to rescuing the economy at a House Financial Services Committee hearing on Tuesday.




NYTimes.com - Published





Mnuchin, Powell to brief key House committee on pandemic response efforts

The House is weighing further economic relief because of the COVID-19 pandemic, including more aid to states and another round of direct payments.




USATODAY.com - Published





Is July 15th still tax day? Treasury may consider delaying deadline to Sept. 15, Mnuchin says

Treasury Secretary Steven Mnuchin left the door open to extending the July 15 tax deadline for a second time as Americans grapple with the economic fallout from the pandemic.




USATODAY.com - Published





Larry Kudlow backs Mnuchin call not to disclose recipients of business loans from coronavirus stimulus

Kudlow said when Mnuchin promised transparency he meant "transparency of the process," not who was getting the money.




USATODAY.com - Published





U.S. Treasury's Mnuchin: no plans to speed Harriet Tubman $20 bill despite protests

The U.S. Treasury has no plans to accelerate introduction of a $20 bill picturing escaped slave and abolitionist Harriet Tubman despite protests over police treatment of African-Americans, Treasury..




Reuters - Published





U.S. Treasury's Mnuchin: It's still not time for Harriet Tubman $20 bill

U.S. Treasury Secretary Steven Mnuchin said on Thursday it still is not time to introduce a new $20 bill picturing escaped slave and abolitionist Harriet Tubman despite recent protests over police..




Reuters - Published





Despite Racial Unrest, Treasury Dept. Has No Plans to Add Tubman to the $20 Note

Treasury Secretary Steven Mnuchin has maintained that a future administration will decide whether Harriet Tubman will replace Andrew Jackson on the bill.




NYTimes.com - Published





U.S. Treasury's Mnuchin considering changes to aid for national security firms

U.S. Treasury Secretary Steven Mnuchin said on Thursday he was considering possible changes to the definitions of companies that could access $17 billion in coronavirus aid for companies important to..




Reuters - Published





U.S. looking at various responses to China's law on Hong Kong: Mnuchin

The Trump administration is looking at various responses to China's national security law on Hong Kong through the president's working group on capital markets, U.S. Treasury Secretary Steven Mnuchin..




Reuters - Published





'Worse than any recession since World War II': Mnuchin, Powell grilled on coronavirus response

Treasury Secretary Steven Mnuchin and Federal Reserve Chair Jerome Powell faced an array of questions from senators on the response to the pandemic.




USATODAY.com - Published





AP Top Stories May 19 P

Here's the latest for Tuesday, May 19th: Treasury Secretary Steve Mnuchin defends White House reopening efforts; China criticizes Trump's W.H.O threat; Vice President Mike Pence previews return to..




USATODAY.com - Published





Mnuchin and Powell Warn of Economic Scarring, and Offer Divergent Solutions

The Treasury secretary and Fed chair said economic damage could last. One prescribed rapid reopening, the other robust policy action.




NYTimes.com - Published





Mnuchin defends U.S. fiscal response to pandemic, seeks payroll loan extension

U.S. Treasury Secretary Steven Mnuchin on Tuesday defended the Trump administration's fiscal response to the coronavirus pandemic and told senators he was willing to consider extending and modifying a..




Reuters - Published





Mnuchin defends White House reopening efforts

At a senate hearing Tuesday, Treasury Secretary Steven Mnuchin defended the Trump administration's efforts to successfully open the economy while also trying to ensure Americans are protected in the..




USATODAY.com - Published





Fed, Treasury chiefs face heat over uneven U.S. coronavirus response

Federal Reserve Chair Jerome Powell and Treasury Secretary Steven Mnuchin found themselves in the hot seat on Tuesday as U.S. lawmakers grilled them about the uneven nature of the fiscal response to..




Reuters - Published





Powell, Mnuchin face Senate grilling on U.S. coronavirus response

The U.S. government's handling of its massive economic response to the coronavirus pandemic will come under scrutiny on Tuesday as Treasury Secretary Steven Mnuchin and Federal Reserve Chair Jerome..




Reuters - Published




Mnuchin says seeing large second quarter unemployment, negative economic data

U.S. Treasury Secretary Steven Mnuchin said on Tuesday that he is continuing to see large unemployment numbers and other negative economic indicators during the second quarter, but the situation is..




Reuters - Published





Coronavirus live updates: Trump threatens to leave WHO and says he's taking unproven hydroxychloroquine; Missouri will execute a man

Mnuchin to get grilled on PPP. Trump says he's taking hydroxychloroquine despite warnings. Missouri is planning an execution. Latest coronavirus news.




USATODAY.com - Published




Mnuchin's testimony, Missouri execution, NFL's reopening plans: 5 things to know Tuesday

Steven Mnuchin and Jerome Powell will give virtual testimony, the pause in U.S. executions is likely to end and more news you need to know Tuesday.




USATODAY.com - Published





Small-Business Loan Deadline Poses Test for Mnuchin

The Treasury Secretary has given big companies until May 18 to return their Paycheck Protection Program loans or face criminal liability. Many borrowers are rebuffing those demands.




NYTimes.com - Published





U.S. unemployment rate will get worse, Treasury's Mnuchin says

The staggering U.S. unemployment rate reported by the government on Friday amid coronavirus lockdowns may get even worse, Treasury Secretary Steven Mnuchin said on Sunday.




Reuters - Published





Will international travel resume this year? Treasury Secretary Mnuchin says it's 'too hard to tell'

U.S. Treasury Secretary Steve Mnuchin said domestic trips are likely the better option for Americans this year.




USATODAY.com - Published





U.S. Treasury's Mnuchin says Trump eyeing restaurant tax changes, travel boost

Treasury Secretary Steven Mnuchin on Monday said bipartisan discussions are underway over whether more U.S. government relief funding is needed amid the nation's novel coronavirus outbreak, but that..




Reuters - Published





U.S. Treasury's Mnuchin cautious on need for more federal coronavirus relief aid

U.S. Treasury Secretary Steven Mnuchin on Monday said bipartisan discussions have begun on whether more federal government relief funding is needed amid the nation's coronavirus outbreak, but that..




Reuters - Published





Private schools with significant endowments should return PPP loans: Mnuchin

U.S. Treasury Secretary Steven Mnuchin said on Friday private schools with significant endowments and have taken loans from the coronavirus stimulus law should return them.




Reuters - Published





Treasury Vows to Recoup Virus Relief Aid Claimed by Big Companies

The Treasury secretary, Steven Mnuchin, said the administration would audit any company that received more than $2 million.




NYTimes.com - Published





President to ask Harvard to repay virus grant

President Donald Trump says he will ask Harvard University to repay money it received as part of a coronavirus relief package, and Steven Mnuchin added that the intent of the Paycheck Protection..




USATODAY.com - Published





Small business relief deal 'close', Walmart staff to wear face masks, 'The Last Dance': 5 things to know Monday

Treasury Secretary Mnuchin says a deal is 'very close' on billions for small-business loans, Walmart will require its employees wear face coverings and more news to start your Monday.




USATODAY.com - Published





'It's a terrific symbol': Mnuchin takes credit for adding Trump's name to coronavirus stimulus checks

"That was my idea," Mnuchin said of including Trump's name. "He is the president, and I think it's a terrific symbol to the American public."




USATODAY.com - Published





Mnuchin says deal 'very close' on billions more for small business loans

The deal would include $300 billion in new funds for small businesses to pay their employees, as well as $75 billion for hospitals, Mnuchin said.




USATODAY.com - Published





Mnuchin says Congress close to deal on coronavirus bill

U.S. Treasury Secretary Steven Mnuchin said on Sunday that senior Republicans and Democrats in Congress are close to reaching agreement on a new coronavirus response bill.




Reuters - Published





Republicans Fret as Mnuchin Bargains With Democrats to Break Funding Impasse

Unhappy with the Treasury secretary's willingness to offer concessions to Democrats in previous stimulus negotiations, Republicans are warily watching the talks over replenishing a small-business..




NYTimes.com - Published