Kashmir
Former princely state, now a conflict territory between India, Pakistan and China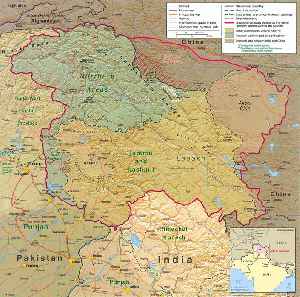 Kashmir is the northernmost geographical region of the Indian subcontinent. Until the mid-19th century, the term "Kashmir" denoted only the Kashmir Valley between the Great Himalayas and the Pir Panjal Range. Today, the term encompasses a larger area that includes the Indian-administered territories of Jammu and Kashmir and Ladakh, the Pakistani-administered territories of Azad Kashmir and Gilgit-Baltistan, and Chinese-administered territories of Aksai Chin and the Trans-Karakoram Tract.


You Might Like
India and Pakistan locked in border fighting amid coronavirus crisis
Indian and Pakistani troops in disputed Kashmir are engaged in their most frequent cross-border fighting of at least two years, official data shows, even as both nuclear-armed rivals battle surging..
Reuters - Published
Rescuers hunt for survivors as Pakistan landslide death toll rises
Army helicopters flew rescue missions for the third day running in an avalanche-hit area of Pakistani-Kashmir as the death toll from the disaster rose to 77 on Thursday, officials said.
Reuters - Published
Girl buried under Pakistan avalanche for 18 hours is found alive
A 12-year-old girl was found alive on Wednesday after being buried for 18 hours when an avalanche in Pakistan-controlled Kashmir engulfed the family house.
Reuters - Published
China postpones U.N. Security Council discussion on Kashmir: diplomats
China has postponed a discussion by the U.N. Security Council planned for Tuesday about the situation in the disputed Indian territory of Jammu and Kashmir because the U.N. peacekeeping mission there..
Reuters - Published
Kashmiris' situation is unsustainable, Merkel says
The conditions in which the people of Kashmir are living are unsustainable and must be improved, German Chancellor Angela Merkel told reporters accompanying her on a trip to New Delhi where she is..
Reuters - Published
Grenade attack hits Kashmir ahead of visit by EU lawmakers
A group of EU lawmakers will visit Indian Kashmir on Tuesday, the first foreign delegation since the special status of the region was revoked, Indian officials said, hours before a grenade attack..
Reuters - Published
Suspected militants kill two in Indian Kashmir, set apple trucks ablaze
Suspected militants shot and killed two drivers and set fire to their apple trucks in Indian Kashmir on Thursday, a senior police official said.
Reuters - Published
Death toll rises to 37 in Pakistan earthquake, as families bury loved ones
The death toll from an earthquake that struck Pakistani Kashmir jumped to 37, officials said on Wednesday, as families mourned relatives and rescue teams sent supplies to the area.
Reuters - Published
Indian police kill militant behind attack on Kashmir trader's family
Security forces in Indian Kashmir shot dead on Wednesday a suspected member of a Pakistan-based militant group who was accused of attacking the family of a fruit trader, the state police chief said.
Reuters - Published
Pakistan requests U.N. Security Council meeting on Kashmir
Pakistan has asked the United Nations Security Council for an urgent meeting on the contested Kashmir region also claimed by India, according to a letter released by Pakistan's foreign ministry on..
Reuters - Published
Lock them up: India marginalizes Kashmiri separatist leaders by detaining dozens
More than five months after they were detained without charge, dozens of separatist leaders from Indian-administered Kashmir remain imprisoned as the government in New Delhi seeks to marginalize them,..
Reuters - Published
Two killings symbolize reach of Kashmir conflict as death toll surges
More than 300 people died in the Kashmir region claimed by India and Pakistan in the first half of the year, according to previously unreported data - one of the deadliest periods in the disputed..
Reuters - Published
Rights violations in contested Kashmir continue unchecked, U.N. report says
Tensions in disputed Kashmir after a deadly suicide bombing earlier this year are having a severe impact on human rights in the region, a United Nations report released on Monday said.
Reuters - Published